Into Scottish Creatives: Interview with Barry Fratelli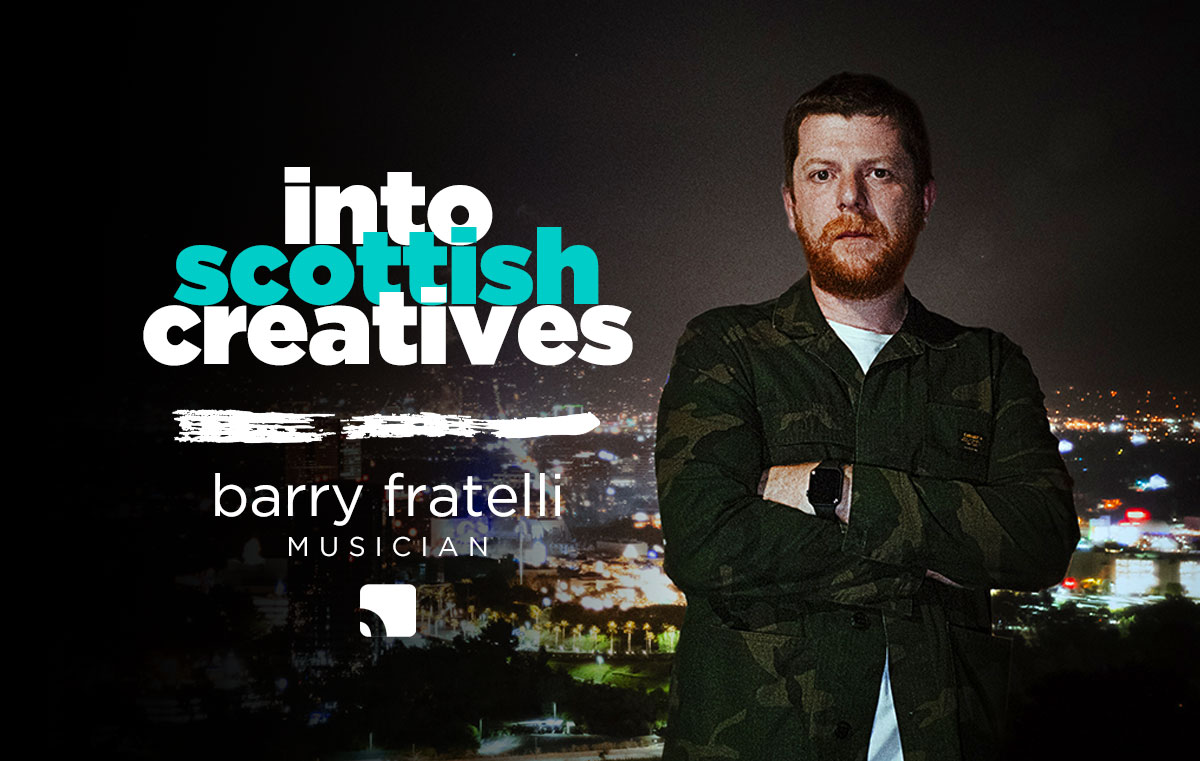 The Fratellis burst onto the music scene in 2005 like a whirlwind, releasing their debut album less than 18 months after their first show, their blend of rock'n'roll a welcome distraction to the often bland and mundane dirge the noughties was known for. Instantly memorable riffs and catchy tunes proved a winning combination and the band have been at it ever since, ploughing through 5 albums with another one in the tank, ready for release. John Welsh caught up with the bands bass player extraordinaire, Barry Fratelli to get the lowdown on the new album, recording with soul legend P.P. Arnold and loads more besides as part of our Into Scottish Creatives series.
John: Covid and lockdown. How has it been for you Barry?
Barry: Lockdown suited me down to the ground really, I'd been so busy running up to it I was glad of the break to be honest. COVID in general, it's like the start of every zombie movie I've ever seen but this one's taking loved ones and ruining my industry. Worrying times.
Have you learned any new skills or taken up any new hobbies during this time?
I got really back into my drawing again for the first time in years which was great! Treated myself to an iPad Pro. Passes hours and chills me right out which can only be a good thing!
Thinking back to your own musical journey, when did you first pick up an instrument/bass, who were your own musical influences and were you in any other bands before The Fratellis formed?
My older brother played guitar, the 3 glorious chords of Knockin' On Heaven's Door and I thought he was fucking Clapton! So that was enough for me. He's still working on the fourth chord, bless him. So, I've got him to thank for it.
I started getting serious about guitars around 11 or 12 when me and a friend Gary got into it together, trying to beat each other to learn Lithium and Paradise City! Gary sadly passed away when we were 30 so everything I do now is in honour of him, he would have lapped all this up.
Bass came around the age of 14. Another friend's sister's boyfriend was in a band and they needed a bass player. I'd never played bass before but was desperate to be in a band. Turned up at the studio with my guitar and the guy who ran it very kindly loaned me his bass and that was me hooked.
I played in lots of bands in Glasgow for years, getting experience under my belt. Played my first gig in Nice'n'Sleazys, a Glasgow institution, when I was 14. Ordered and got served a pint, again I was hooked!
Bass heroes have never really changed since those days, John Entwistle, John Paul Jones, James Jamerson, Noel Reading – the masters.
Talking of The Fratellis, can you tell us how the band formed and what you recall of the early days starting off, initial gigs and first release, The Fratellis EP?
We are the best example for putting adverts up in a music shop you'll ever find. We didn't know each other before. Thankfully I think we were the only 3 who called each other!
As I'd been playing in bands for years I was determined not to do the "pay to play" system, in that you need to sell tickets and hand over cash on the night before you get a shot. Inevitably you always end up coughing up from your own money, something that never sat right with me. So from the get go we put on our own shows. Booked the rooms, found the bands and ran the nights. Everybody got paid 20 quid or something and some beers which was a success in my eyes.
Another thing is we didn't go to London to try and get signed. We created a buzz and they came to us. Again something I'm quite proud of.
All 3 members of the band go by the surname Fratelli – is this a nod to The Ramones or something else?
I'd like to say yes but the truth is we didn't know each other's surnames in the beginning so Jon was in my phone as Jon Fratelli and vice versa so that's how it stuck. The Ramones thing is a cooler story mind!
Initial album Costello Music was an instant success, reaching number 2 in the charts, followed by the band winning a Brit Award for Best Breakthrough Act – were you aware how strong the songs were as you recorded them and how did you adapt to the sudden interest and success this brought the band?
Sounds very arrogant but I was aware of how good the songs were from the get go. There was just something about us from the start that I was in no doubt we would achieve something.
I thought I was adapting to it well, I thought it important to remember who you are while doing the most extraordinary things day in, day out. Living the dream basically. It's not until looking back and thinking, I was lucky to get through it in one piece. It's a lot to comprehend. Mind-bending stuff really if you really analyse it.
During the pandemic, The Fratellis teamed up with soul legend P.P.Arnold to release the single "Strangers In The Street". Can you tell us how the collaboration came about, the process undertaken to record the song and about the fact that all proceeds of the track will go to the Spotify Covid-19 Music Relief Project and NHS Heroes charities?
We'd always fancied having a strong female voice duet with Jon at some point, it was talked about for the Eyes Wide, Tongue Tied album actually, so when the opportunity to have P.P. sing one of our tracks presented itself, we jumped at it. Hearing that legendary voice on one of our tracks really is a great honour.
The recording itself was a new challenge, obviously recorded remotely in our homes, but it was enjoyable. Definitely showed what good can come when you're forced into a situation beyond your control. With regards to the proceeds, I think like everyone we just wanted to contribute in any way that we could for our own crew. Guys who are like family to us and, everyone else finding themselves with no work, so it just seemed like a no brainer.
You've got a new album coming out at the end of October, "Half Drunk Under A Full Moon". What can fans of the band expect for your 6th album? The album was initially due to land in May this year with a full tour in April to help promote – both postponed due to the pandemic – how are you planning to promote the album as it launches and when are you hoping to get back out on the road and tour?
There's nothing worse than "sitting" on a new album, knowing you have something great up your sleeve but you can't do anything with it right now! I'm sure by the time this goes out we will have announced a further postponement to April of next year which is shit but we really have no other choice. We are ready to roll whenever we get a green light but like everyone else, our hands are tied right now. We're a working, gigging rock'n'roll band, it's what we do and when we can't do that it's like having one hand tied behind your back. We can't really survive one without the other.
NB – The album release date and tour have since been put back to April 2021.
You're known to do a bit of DJing when the band aren't on the road or recording. Do you plan out what to play or go with the mood on the night?
I used to always plan ahead the first 5/6 tunes beforehand depending on the night. Over the years I've settled into a groove by hearing and reading the room half an hour before I go on. It's a nice feeling knowing you've got it in the bag, you'll smash it rather than turning up 2 minutes before you go on and winging it.
What's the one tune you can put on in the knowledge it will always be a floor filler?
I have some "emergency break glass" tunes because it happens sometimes and you lose the room through too bold a choice you've tried to slip in and you need to get it back. Having said that my biggest buzz is playing something I know for a fact is gonna go off that people just forget what a banger it is and by the end they're just loving it. Eminem's Without Me is great for that. You can see half the room say "urgh!" But by the end of the track they are loving it. Banger.
You also do soundtracks for film/TV – what's your approach to this as soundtracks are usually quite different from typical rock music?
I love it, I'm probably as much of a film buff as I am into music so to get to combine the 2 is fantastic. I like to get really absorbed in a project, get the script and read it 10 times and the music and vibe will start to come as I'm reading. Almost like a day dream with a soundtrack playing in the background.
I also like to visit the set during filming to really get a vibe, then you know if you're on the right track or not. It's important to be on the same page as the director from the get go. At the end of the day it's their baby and they will have a vision of how the whole thing will play in their head before you even play a note but it's a great feeling really nailing something that completely lifts a scene and takes it somewhere different that no one was expecting. Having said that it's important to get things wrong too so you know when you get it right!
I was lucky enough to get advice from the composer Clint Mansell on my first project and he very kindly wrote to me with a lot of hints and tips that I still and always will use. The allowing yourself to get it wrong sometimes was part of that. His work is a massive influence on me so I'm forever grateful for his advice.
Lastly, as a fan of music, thinking back to all the gigs you've attended, which one stands out the most as really memorable and why?
I've seen so many incredible gigs over the years but it has to be the Led Zeppelin reunion gig at the O2 in London. Just being lucky enough to hear those songs live was an incredible experience I obviously thought I'd never get.
Supporting The Who then going out front to watch them with my dad and brother was a really special moment to share together too as we're all massive fans.
It sounds strange but I guess you can forget you're a music fan first and foremost doing this job so it's nice when you can give yourself a wake up and connect your dots. Then you realise what a lucky bastard you are!
To keep up to date with The Fratellis, visit their website here and to pre-order Half Drunk Under A Full Moon click here.
---
---
---