Into Live Music Review: The Filthy Tongues/The Media Whores
Concert:
The Filthy Tongues/ The Media Whores
Venue: Falkirk Depot
Date: 27 October 2023
The Depot has long been Falkirk's main gig venue for touring bands albeit (and sadly) most just concentrate on Glasgow and Edinburgh these days and occasionally Aberdeen. A shame as other towns and cities in Scotland have much to offer both in terms of venues and gig-goers to fill those spaces. The Depot has a great set up, the rig, PA, lights and sound are all geared for gigs.  
As support acts go, you don't get much better than The Media Whores. The four-piece, with their energetic take on post-punk, certainly know their chops and have an array of great music to call upon to ensure their set went down a storm. A wise move by the promoter to get them on the bill. As a local band with a fine reputation, it helped swell the crowd with many there not wanting to miss their set.
Politically on point and socially aware, their lyrics burn with acute observations. Complete no holds barred approach, no topic is avoided and the music is just as good, a rhythm section as tight as a duck's arse, a fiery guitarist and a vocalist who spits out his lyrics with real attitude. Tracks including Big Pharma and Do You Think I'm Lying go down a storm.
2023 has been a busy year for The Filthy Tongues, releasing their third long player with In These Dark Places and recently the compilation album Black Valentine. Not only that but they performed the stunning multi-media extravaganza The Revelations Of Rab McVie at the Edinburgh Fringe alongside actor Tam Dean Burn and artist Marie Rud which defied definition in a truly unique show. 
Tonight sees the five-piece on familiar form running through a 12 song set which was all killer and no filler. Recent single Underground City was first up, a long, rumbling intro before the track came together nicely before the title song of their third album, In These Dark Places is played. Now, the band have many stand-out tracks but the more I hear this one, the more it grows. Martin Metcalfe has added a significant guitar part which showcases his fret skills as the propulsive beat took over and flooded the room. No surprise he's now playing with The Skids. 
Come On Home is laid back in feel, Fin Wilson's sleazy bass the highlight with echoes of Iggy's Nightclubbing. It's cool. Highlight of the night is undoubtedly The Ghost Of Rab McVie. The band have taken this track, stripped it down and reconstructed it in a way that adds so, so much to what was already a fantastic song. Starting with a desolate drum beat, the track builds with low bass in the background, and percussion and guitars that feel and sound like shattered glass. Only then does Metcalfe's deliberate vocal come in, flat, quite matter of fact, to the point of threatening undertones. How best to sum it up? It's like a Scottish western composition that Ennio Morricone would be proud of.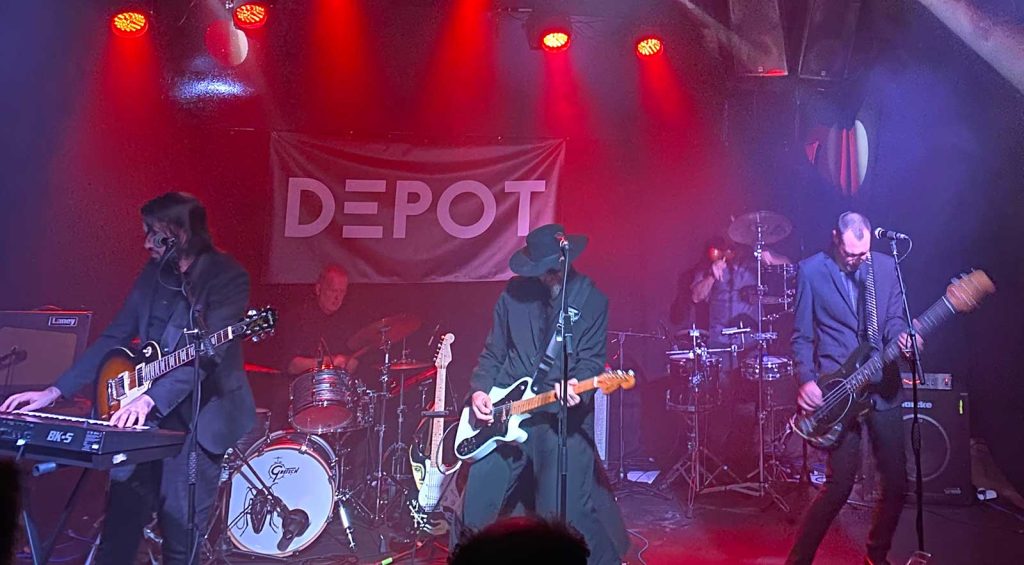 Holy Brothers is another with Metcalfe starting the song off on his own before the band gradually come in, gently, nuanced. The song builds and builds, gradually ascending to a higher plain with an almost spiritual feel. And then before we know it, it's almost over. However, a closing salvo of Jacob's Ladder and Tricky Nicky leave the crowd satisfied in what was a belter of a show. Let's hope more bands head to the Depot in Falkirk. Play and we will come. 
For more on The Filthy Tongues, including upcoming dates in Brighton, London, Corby and Newcastle, head to the official website here. 
John Welsh
@welshjb
Links:
---
---
---