Into Music : Gig Round Up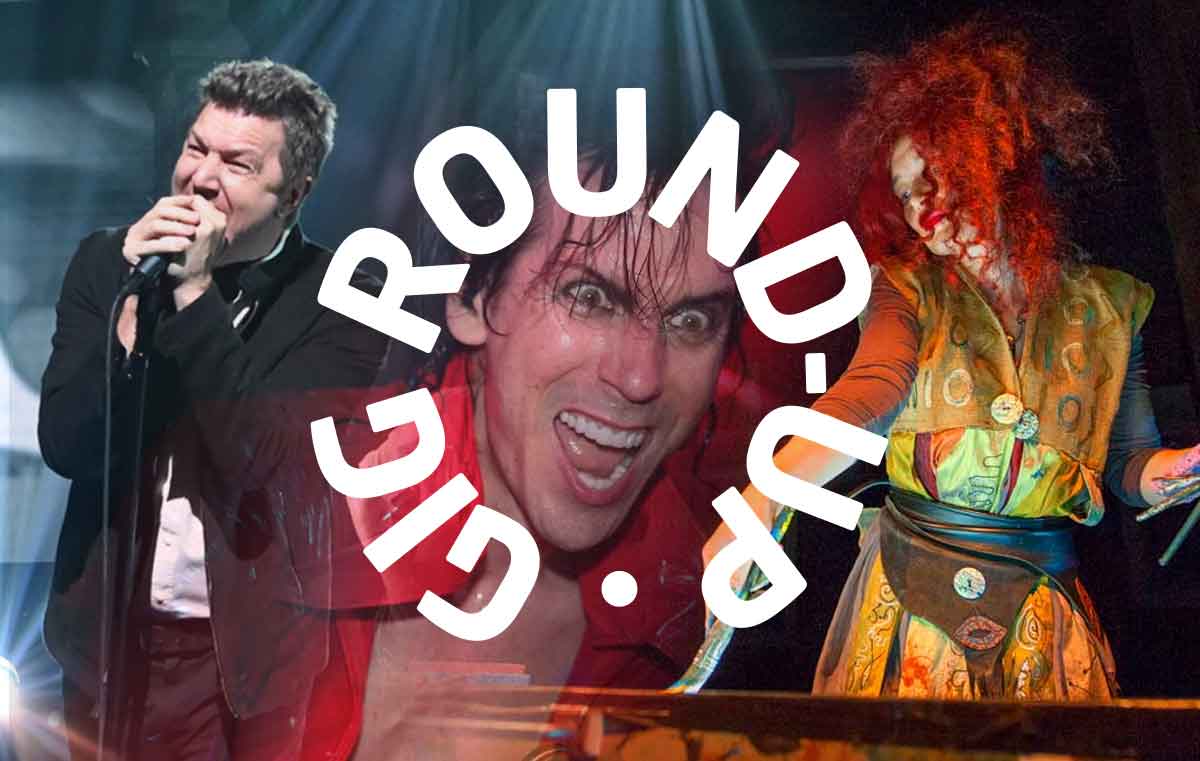 Concert: The Walkmen
Venue:Glasgow SWG3
Date: 21 August 2023

It's been more than ten years since The Walkmen played in Glasgow, their last show at the fabled ABC, seemingly at the height of their powers before the group decided to go on an extended hiatus, pretty much soon after. Side projects, solo albums and with band members spread from NYC to Seville, this had led to some fans wondering if that was it, the indie rockers leaving behind a trailblazing back catalogue with their reputation intact.  
Well, not quite and since announcing a return in 2023 and following an incendiary appearance on The Late Show, fans have been counting down the days before the once NYC-based band hit a town near you. 
Now, gigs on a Monday can sometimes be a drab affair but mind, we are in Glasgow, where that concept is not even a consideration. Indeed as lead singer Hamilton Leithauser took to the stage proclaiming "Good evening Glasgow, it may be a school night but we are here to put on a show for you, we are The Walkmen from New York City". And put on a show, they most certainly did. 
Where to start? At the beginning, of course, with the first track of their debut album in the shape of They're Winning. Immediately the music flowed, clicking into gear, hand-in-glove style as if they'd never been away. 
Paul Maroon's guitar rocked while Peter Bauer and Walter Martin slipped effortlessly between keyboards and bass duties. Meanwhile Matt Barrick kept everything in check, from the drums, the perfect backbeat, to the aural assault being projected on and lapped up by the Glasgow crowd. 
Of course, everyone went nuts for The Rat, one of the most recognizable and best post-punk tracks of the past twenty odd years. Leithauser barely had to sing but he spat the lyrics in an invective and vituperative way that only he can deliver. Anger, arrogance and attitude, it was all there and what a wonderful sight it was to behold. 
The mid-set duo of Red Moon with its crooning delivery and the exalting and uplifting Canadian Girl were highlights in a genuinely blistering set. Also evident were some of the band's influences with hints of Jane's Addiction and Fugazi coming through on occasion. 
There were no new songs and it remains to be seen if this tour will lead the band back into the studio (let's hope so) but it was certainly not a 'going through the motions' type of show, given the exhaustive effort the five-piece put into it. 
Last track Heaven was just that, sublime in its execution before the band came back for an encore, closing with the first song they ever played, We've Been Had. An imperious comeback, let's hope The Walkmen don't leave it so long for their next tour. 
……………………………………………………………………………………….
Concert: Teenage Werewolves/ She's In Bauhaus
Venue: Edinburgh Bannermans
Date: 22 August 2023

Now it ain't often Into Creative review a tribute band (let alone two) but we've decided to buck that trend, following a rocking and reeling show to a sold out crowd in Edinburgh. It's been well documented that Bauhaus have called it a day and it's highly unlikely they'll reform unless daft money comes into the equation. Of course, with the death of lead singer Lux Interior in 2009, The Cramps simply stopped and Poison Ivy has retired from public life. What both bands have left behind are significant back catalogues packed with quality and legacies that have influenced a plethora of bands and artists. 
First up was She's In Bauhaus who started with a truncated version of Bela Lugosi's Dead, bassist Harrison's eerie twang was note perfect before singer Jack Atlantis comes in with a vocal amazingly similar to Pete Murphy. The band were well versed with two guitarists and a drummer (Joni) who kept pace and time perfectly. 
Of course, songs like Bela are well known but the likes of She's In Parties and the set closing Ziggy Stardust went down well with the Edinburgh fans. For me, special shout for an excellent version of Double Dare.  
A quick change over and Teenage Werewolves take the stage to a raucous welcome before blitzing through so many songs it was difficult to keep track! Visually the band were absolutely on point, singer Jack looking magnificent, bequiffed, jet black shades and PVC suit while twin guitarists Madeleine Rose and Jess Furneaux rocked the Candy Del Mar and Poison Ivy look respectively. 
Musically, the songs are instantly familiar whether it be Human Fly, Drug Train, You Got Good Taste or the pulse of Drug Train. Sure, Atlantis's vocal sometimes goes slightly awry but so what? The effort put into the show to get not only the music right but the occasional sound effect, humour, look, and the moves, is second to none. Furneaux, especially, seems to have studied Poison Ivy to the point her sneer comes in at the right moment on the right tunes, A clever touch. For me, New Kind Of Kick is the real stand out, dualling fuzz/chainsaw guitars driving the song imperiously. 
Late on we even get a clever cover in the shape of The Gun Club's For The Love Of Ivy which goes down well before a barnstorming Bikini Girls With Machine Guns brings the show to a breathless climax.   
Granted, it isn't Bauhaus or The Cramps but in an ocean teeming with lame tribute bands, these two are burning from the inside. They ain't garbage, man…!
……………………………………………………………………………………….
Show: The Revelations Of Rab McVie
Venue: Edinburgh Pleasance Grand
Date: 25 August 2023

I've been going to the Edinburgh Fringe for over 25 years and seen some good, bad and frankly ugly shows during that time but I have NEVER seen anything come close to this. Simply put, this was a multi-media extravaganza that beguiled and drew the breath from the first minute to the last. 
Quietly, The Filthy Tongues took to the stage, before launching into The Ghost of Rab Mcvie. Its brooding rhythmic beats and dark lyrics setting the scene for what was to follow. 
The band play a number of tracks from their three albums (including Gas Mask Blues and the closing Jacob's Ladder) throughout the intervening hour which is also punctuated by a utterly compelling performance by Tam Dean Burn who plays the role of Rab Mcvie with unnerving quality. McVie's character becomes more manic as the show goes on, experiencing dreams/nightmares and waking in the house of houses, stuck in a maze and seemingly incapable of escape. Looking out from within to the outside world, good/evil, hope/despair feature throughout. 
Meanwhile, artist, script writer and creative director Marie Rud is off to the right, with a blank canvas in front of her which is projected onto a giant screen behind the band and TDB, her fingers, hands and wipes creating a blizzard of colour, shapes, and scenes which are the backdrop to McVie's story. 
At times it seems that Rud is slashing with the verve of Sweeney Todd yet with the, almost, operatic grandeur and elegance of an orchestral conductor. The background art is incredible and yet it moves (it has to) on quickly, attuned to the the shamanic beat of the music and McVie's wailings in equal measure. 
Creating a truly formative and unique multi-media experience is tough and few can carry it off but the combination of The Filthy Tongues, Tam Dean Burn and Maria Rud have knocked it out the park with a heady mix of music, acting performance and creative art, the likes of which I felt privileged to witness. This show is worthy of a longer run and perhaps could be toured at some point. Here's hoping!
John Welsh
@welshjb
Links:
---
---
---