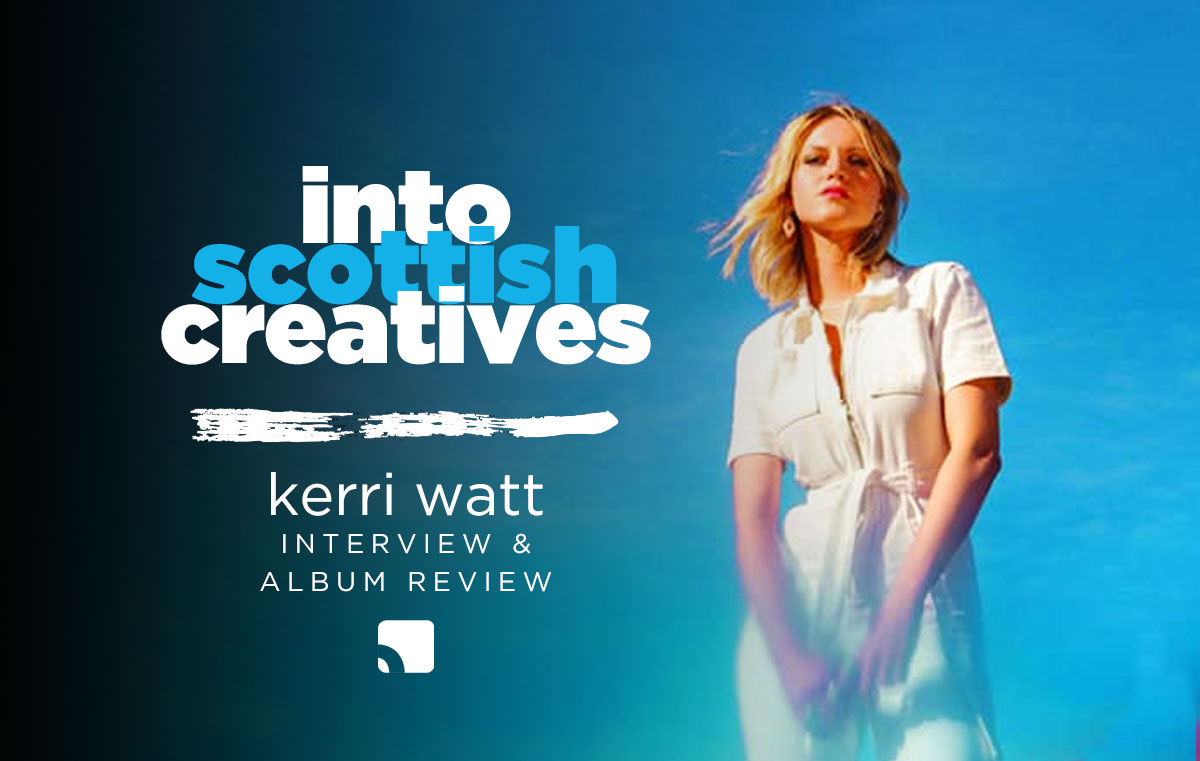 It's been a pretty hectic 2020 for Glasgow born singer songwriter Kerri Watt with lots of online gigs, recordings and releases but it was also supposed to be the year her debut album Neptune's Daughter was released. However, due to the impact of Coronavirus it was put back a few months but it's now been finally released via Cooking Vinyl and boy, is it worth the wait!
Having originally carved a career in theatre, Watt pursued a career in music and has collaborated with Embrace and supported the likes of Julio Iglesias, Keith Urban and Joe Jackson. The album saw Watt travel to Austin, Texas to work with a range of musicians and Grammy nominated producer Machine which has resulted in a fully-formed, solid and diverse debut album.
There's so much to like here, the opening track All The Worse For Me is a boots to the floor rocker which sets the template for the rest of the album. Elsewhere, we find a heady mix of Americana, pop, rock, country and blues-tinged harmonies. Title track Neptune's Daughter has a sing-a-long na na na na na na na refrain that's guaranteed to get you grooving and singing while early single Kissing Fools is 3 minutes of whimsical fun harking back to the nostalgia of teenage years. Cut Me Loose is another standout track, perhaps my own personal favourite on the album, it rolls along with Watt's vocal stretching the track upwards while underpinned by a twanging guitar and pounding piano. I Wanna Sing For You is the perfect album closer, an aching, melancholic lament.
It's January right? When we get to the end of 2021 don't be surprised to see Neptune's Daughter lauded as one of the albums of the year so check it out now and remember where you heard it first.
As the album launched, Kerri took some time out to chat with John at Into Creative to give the lowdown on recording the album, it's release and plans for 2021.
John: Your debut album has just been released – how does it feel to get it out there, what can fans expect and what are your hopes for it?
Kerri: It feels super exciting! I just hope it's a big slice of positivity for people going into this new year! The majority of the album is full of upbeat, feel good, roll the windows down kinda songs – contrasted with a couple of darker moments. It would be awesome to expand my listener base and bring on lots of new fans so I can plan a headline tour when gigs come back!
The album was recorded in Austin. Can you tell us about that and working with various musicians to bring the record together?
Working in Austin was just an awesome hot summer of making music and friends. I was so lucky to find some incredible local session players to lend their unique talents to the recording. Although I had written the songs before I went out there, putting the recordings together felt like a real collaboration and I love all the quirky moments each of the players brought to their parts. You can also hear just how much of a party we were having in songs like Neptune's Daughter.
The album was produced by the Grammy nominated producer Machine, who is more known for rock/metal so perhaps not an obvious fit. How did that come about and what did Machine bring to the table?
We were introduced by a mutual friend and just really hit it off on a personal level. We also discovered that despite coming from contrasting musical backgrounds, we shared a lot of core musical tastes and both those factors were so important to me when it came to finding the right producer. I loved the idea of what we could create together, bringing our individual experience from what we were used to working on, paired with a real excitement to make something totally new! He brought so much energy and enthusiasm to the sessions as well as obviously some killer ideas on arrangements etc. I couldn't have made this record with anyone else.
There's a mix of styles on the record but what were the things that influenced the lyrics and the music?
Really a whole range of things. Lyrically, I was inspired by the life I was living at the time. I'd recently moved back to Scotland and was adjusting to the slower pace of life, enjoying the little moments you know! I'd been doing a lot of travelling and road tripping which inspired songs like Band of Gold and Neptune's Daughter. Songs like Cut Me Loose and Hellfire were written about relationships, not just romantic but also ones I'd had in the music industry. Musically, I take inspiration from so many different artists and bands – Sheryl Crow, Train, Kaleo, The Rolling Stones, The Doobie Brothers, Allen Stone. Because of my diverse taste, the album ended up being a real blend of my favourite genres – rock, soul, blues and country.
I note the album title was changed from Chasing Aeroplanes to Neptune's Daughter. What was the thinking behind that?
The record was made back in 2018, so I've been sitting on it for a while with the title Chasing Aeroplanes. The song Neptune's Daughter wasn't originally going to be on the record because we never had time to finish it in Austin. When I decided to finish it up remotely with Machine during lockdown, I knew it had to be on the album. Suddenly the record had this whole fresh vibe just by adding that track and so I felt a title change was natural. It's also been a really interesting talking point!
With a new release, most artists will tour in support of the record but that's not possible right now. Are you itching to get on stage and play in front of a live audience again? Do you have any plans perhaps later in the year to do so?
Absolutely I am! I've been playing live shows every month since 2012, so it's been a weird time. On stage is where I'm really at home and where the songs come to life so as soon as we get the go ahead – I'll be out there!
You've been busy in 2020 with various online shows and releasing new music. Looking back on what's been an unprecedented few months, how's it been for you?
It's been a really interesting time. I've missed so much about normal life and being on the road. But I've also had time to delve into other creative projects that I'd shelved due to a busy schedule. And truthfully I've loved the time to reset and spend more time at home with loved ones.
Looking forward to 2021, what else do you have planned musically?
Besides the album and a podcast I'm working on to accompany the album, I'm also writing a musical! It's been a total passion project over the past few months and I'm excited to see what could happen with it over the next year.
Into Scottish Creatives would like to thank Kerri for taking the time to do the interview.
Kerri Watt's debut album, Neptune's Daughter is out now and can be purchased here.
John Welsh