Into Music Live Review: The Gulps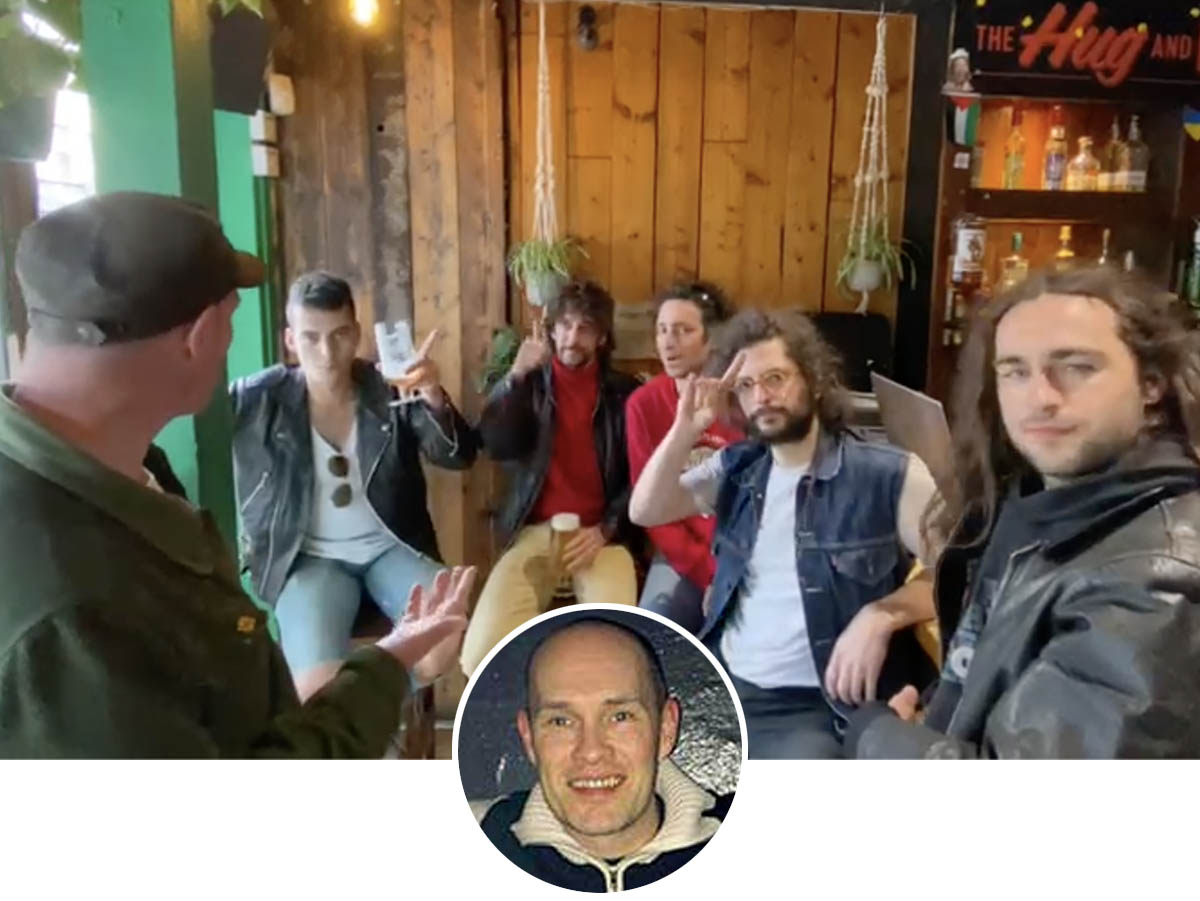 Concert: The Gulps
Venue: The Hug & Pint, Glasgow
Date: 2 June 2022

If you haven't been paying attention the chances are you've not heard of one of the most hotly anticipated bands in recent memory (if this is you, read on and thank me later). If you have been paying attention, then it's likely that The Gulps are on your radar and it's no small wonder why.
Signed to Alan McGee's It's Creation Baby label, the London based five-piece have been ripping up a storm of the back of a couple of recent singles.
Ahead of their gig at The Hug & Pint in Glasgow, Into Creative's John Welsh caught up with the band for the lowdown on all things The Gulps.
John: The past two years have been incredibly difficult due to the pandemic – what's it been like for you guys?
The Gulps: For us we got two years of just making music and then right after lockdown we got signed by Alan (McGee) so for us it's been good.
John: What was the story behind Alan signing you?
The Gulps: (Francesco) It was very strange. I work in Borough Market and I saw Alan. I told him I play in a band and we agreed to send him a tape. (Javier) He wasn't convinced but we got better and he signed us after we played an online show – we were full on, we fucking smashed it as if we were playing a stadium show. We sent it to Alan and he signed us.
John: You are just starting a headline tour – are you looking forward to playing live again?
The Gulps: (Juan) In Glasgow we've sold so many tickets which is fucking amazing for a London band. It also depends on the place, London is always full of young people, tonight it might be based on people looking at who Alan has signed.
John: New single King Of The Disco has just been released – what's the reaction been like?
The Gulps: (Javier) It's amazing, we are on the NME new band playlist and BBC6 are also playing it. (Juan) It's different to our first single, we tried to make the record with more electronic beats, make it more special but still rock and roll inside.
John: What are your influences?
The Gulps: We are five boys from different places (Spain, Italy, France, Lebanon), we love music, love UK music and the move to London brought us together as a band. We have similar tastes but also differences, our influences include (Raoul) psychedelic rock, (Simon) Nirvana, (Francesco) Italian songs with guitar, (Javier) 60s bands like The Beatles and Stones and (Juan) The Clash.
John: Can we expect new music, perhaps an album and what does the rest of 2022 hold for The Gulps?
The Gulps: We are going to start with single by single, to build things up. Nowadays music consumption is different so we feel singles are the way to do it for now. This summer we have some festivals including in Spain. We will release more singles later in the year including 3 tracks we've done with Danny Saber.
How to describe the gig? Full on just wouldn't do it justice. From the get go, the band were on the front foot, playing indie rock and roll to a packed out crowd. Some say guitar music is on the wane, not with bands like The Gulps it isn't.
There is so much going on, at times it was difficult to know who to focus on. Drummer Raoul plays as if his life depends on it, a blur at the back but in time, providing a solid backbone for Simon to lay down bass hooks. Twin guitars are shared between Francesco and Juan, effortlessly moving between lead and rhythm guitar while front man Javier exudes the raw power of Iggy and the kicks and licks of a young Jagger.
Stuck In The City, King Of The Disco and The King's House showcase the band at their finest plus other as yet unreleased tracks which sound fantastic, a heady mix of punk, glam rock and psych. Elsewhere, a bouncing, sped up cover of Blondie's Atomic has the crowd going mental.
Hopefully it won't be too long before The Gulps are back in town. As I said at the start, they are hotly tipped and on this showing, it is no surprise. Get on them now, folks.
Keep up to speed with The Gulps via their website here.
John Welsh
@welshjb
Links:
---
---
---