Into Books Reviews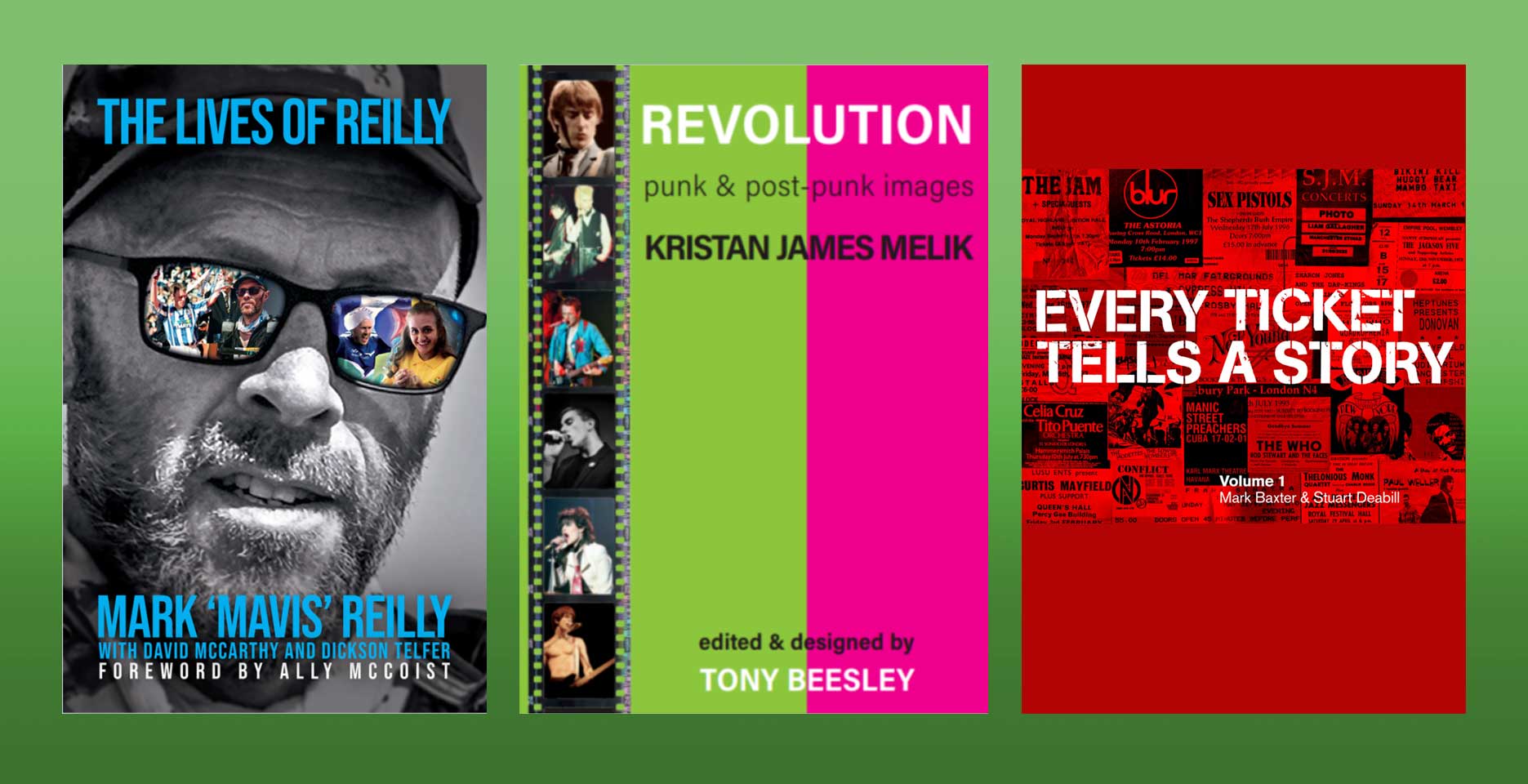 Well, we are now in full summer swing though perhaps that depends if the rain is tipping it down as you read this (we sincerely hope it isn't).  Whatever your plans, if you are staying at home or going abroad to Fife, over here at Into Creative we've got a couple of book suggestions for you.  
Author: Mark 'Mavis' Reilly (with David McCarthy & Dickson Telfer)
Book: The Lives Of Reilly
Publisher: Nameless Town
The name Mark 'Mavis' Reilly will probably mean something to those who follow Scottish football. Reilly played nearly 400 professional games for Motherwell, Kilmarnock, Reading, Airdrie, St. Johnstone and St.Mirren in a career spanning nearly 20 years. 
Now, you might think that another footballer autobiography in an already crowded market is hardly the place to start your summer reading, well think again. There are of course some great (auto)biographies out there (Tony Adams, Roy Keane and Robert Enke stand out) but by and large they can be the literary equivalent of beige. Fortunately, Reilly's book is much, much more than about football and is a completely honest take on his career and life. 
The inspiration for the book is Mavis's daughter Dionne, who was born with Rett Syndrome which is an incurable genetic disorder that affects the development of the brain, so much so that Dionne requires 24/7 care. The opening chapters set the scene from when she came into the world, the early struggles, parental worries and searching for answers that no one could seem to offer. However, those questions on her condition were answered during a holiday to the USA which eventually gave the family a base to go forward after a diagnosis from a neurologist. What followed was the inevitable devastation, anger, worry, hope, determination and a cast iron will to make Dionne's life the best it could be. 
What strikes me about the book is Reilly's unflinching attitude to succeed. The seeds of that seem sown in his young self, playing football outside in all weathers, often by himself to better his skills in the only game that mattered. That early dedication of course stood him in good stead to make a successful career out of the game. 
Once the diagnosis is known, Reilly and family throw their selves wholeheartedly into finding out more about Rett Syndrome and what they can do to raise funds, make a difference in some way to those who have it and to Dionne. What follows is a story that will capture the imagination on a purely human level, a father's love for his daughter and a positive determination to push himself to extreme boundaries as part of that journey. 
Completing The Three Peaks Challenge, marathons, a 100 mile run between former clubs and various Ironman events are quite something but to take on the Marathon des Sables, well, some would think that a step too far. For those that don't know, the Marathon des Sables is considered one of, if not the most severe ultramarathon in the world where competitors must complete c160 miles in 6 days across the Sahara Desert in baking hot conditions c131 Fahrenheit, not for the faint hearted. 
This section of the book is particularly compelling, the daily struggles, illness, fatigue, possible delirium but that unnerving iron will to keep going, to do something for his daughter in raising funds for the charity Reverse Rett. Psychology is a feature here and turning those self doubts into positives, something I think we could all learn from. As Reilly mentions in the book, George Mallory was asked in 1924 "why would you want to climb Mount Everest"? "Because it's there" was his answer. "So why would I, retired footballer Mark 'Mavis' Reilly want to run 156 miles in the Sahara? Because I can". 
Turning back to the football there are plenty of funny anecdotes about Reilly's career, particularly at Kilmarnock where he spent the bulk of his career, winning the Scottish Cup in 1997. The main inspiration for this was the late, great Tommy Burns and the admiration and love for TB comes across in spades as someone who not only nurtured his talent and career but also helped shape Reilly the man. It should also be noted that Kilmarnock had some great talent during those years including Scottish caps Robert Connor, Ian Durrant, Alan 'Rambo' McInally and Ally McCoist. Indeed, McCoist provides the Foreword for the book. 
A truly humbling read, poignant and utterly inspiring on every possible level. Trust me, you won't read a better sports book this year. 
To order The Lives Of Reilly, head over to the Nameless Town website here. To learn more about Rett Syndrome and/or to donate to the Reverse Rett charity, visit their website here. 
………………………………………………….
Author: Kristan James Melik (edited & designed by Tony Beesley)
Book: Revolution: punk & post-punk images
Publisher: Days Like Tomorrow Books
Tony Beesley has been a long time favourite of Into Creative and we interviewed him shortly after his book about The Clash, Ignore Alien Orders was published a few years back (read the interview here). Tony continues to write for the likes of Vive Le Rock as well as running his own publishing company, Days Like Tomorrow Books. 
Their latest publication is a hefty 250 page book of punk and post-punk photos from Kristan James Melik aka Marcus Featherby. Melik sadly passed away before the book was finalised but what has been produced here is a fitting tribute to the man who photographed pretty much any band worth their salt in the nascent days of punk and beyond. 
A career working for Record Mirror, the BBC World Service and behind the scenes at Top of the Pops gave Melik fantastic access and he captures the mood and the time perfectly in hundreds of photos across this book. 
There are the big hitting bands and artists like The Clash, Siouxsie & the Banshees, Iggy Pop, The Specials, Nico and Elvis Costello but also lesser known acts, particularly from the Sheffield scene who are celebrated with as much vigour here. 
More often than not, there are notes on the background to the photos from Melik and great anecdotes throughout which makes this one of the best photo albums capturing what was for many, the most important music scene(s) ever. 
As with all publications under the Days Like Tomorrow Books umbrella, the deign and finish leaves nothing at the door, it is absolute quality and the free  Paul Weller (The Jam) and Joe Strummer (The Clash) prints are an added bonus. 
To order Revolution: punk & post-punk images, head over to the Days Like Tomorrow website here. 
………………………………………………….
Authors: Mark Baxter & Stuart Deabill
Book: Every Ticket Tells A Story
Publisher: Soul Deep Books
Many people (myself included) like to keep a hold of their gig tickets as both a memento of the occasion but also as a reminder of being there, in some ways to still experience the stories, the smells, the songs, the company of a particular night. Granted, some stay strong in the memory even as the years pass whilst some others stand as a reminder of being there but little or no recollection extends beyond that. 
Authors Baxter and Deabill have taken that a stage further with the publication of Every Ticket Tells A Story and that is exactly what we get here with over 60 contributors from a variety of creative backgrounds telling of their gig stories covering the past seven decades. 
Those sharing their experiences include Mick Talbot, Rhoda Dakar and Andrew Loog Oldham and the book explores gigs by the likes of David Bowie, Bob Marley, Bill Haley & The Comets and the Sex Pistols. 
There are some decent photos and, of course, copies of the concert tickets throughout which are great to see. Consider and contrast with the bland gig tickets of today to those of yesteryear, no contest what stands out. 
Intriguingly, this is Volume 1 so that would suggest there is more to come. I do hope so as the stories in this edition are excellent, some great laughs in there but also great memories which the reader can relate to time and time again.   
To order Every Ticket Tells A Story, head over to the Soul Deep website here. 
John Welsh
@welshjb
Links: 
---
---
---