Into Music Review: Fontaines D.C.
Concert: Fontaines D.C.
Venue: Glasgow Barrowland
Date: 20 October 2021

As the cacophonous rattle of the set closing Liberty Belle sped along, I took a moment to take it all in; the swell of the crowd, fists raised, beaming smiles everywhere you looked. Up above, the Barrowland stars adorned the ceiling, shining bright on the mayhem below. The band, straining every sinew to get that feeling, that sound, totally on it in that moment. The lights dazzled and my gaze fell on Tom Coll's emerald Gretsch drum kit and it hit me, "there is no place like home" as Dorothy once said in The Wizard Of Oz. This is ain't no Emerald City (a few flying monkeys aside) but for many of the Dear Green Place's gig goers, the Barrowland is exactly that, our musical home and boy, was it good to be back.
Drawing their set from songs across debut album Dogrel and the follow up A Hero's Death, the band's walk on/intro was The Pogues track Boys From The County Hell. Having seen the latter play the same venue thirty years ago with an atmosphere akin to a raging cauldron,  it's something which I've rarely encountered since. Last night however, Fontaines D.C. owned the Barrowland producing a raucous, spine tingling set from the get go. 
Opener A Hero's Death saw vocalist Grian Chatten sing "Life Ain't Always Empty" and that message resonated for at least the next seventy minutes as the band went through their repertoire with aplomb. Chatten was constantly on the move, a ball of hyperactive energy goading his fellow band members and the crowd relentlessly to match his intense fervour.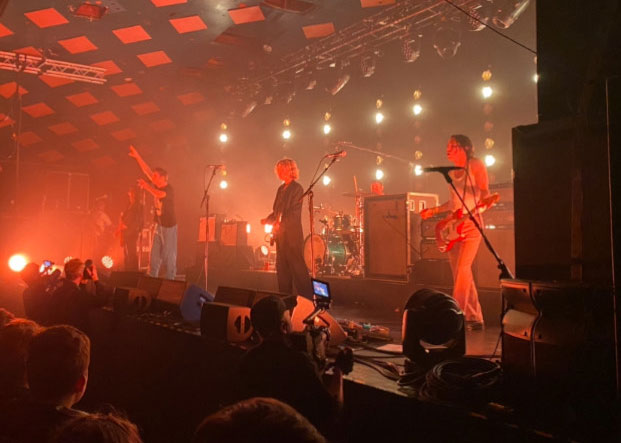 Too Real was a highlight, the track blurring into an epic explosion of psychedelic, post-punk white noise with Conor Deegan III's bass rumbling ominously in the background while guitarists Carlos O'Connell and Conor Curley made sounds that defied explanation, wonderful. 
Televised Mind and the Boys In The Better Land scaled the walls and threatened to burst through the roof as the crowd kept with the band before the two song encore rounded off what was a top, top gig. Without doubt, one of the best live acts on the circuit, if you get the chance, go see Fontaines D.C.
John Welsh
@welshjb
Links:
---
---
---