Into Music Review: Vibrations Festival – Saturday
Concert: Vibrations Festival
Venue: Callendar Park, Falkirk
Date: 04 September 2021

Into Music had a heavenly experience attending their first gig in months at the Friday night of Vibrations Festival which you can read about here. Fast forward a few hours and we were about to do it all again on the second day of this well curated festival.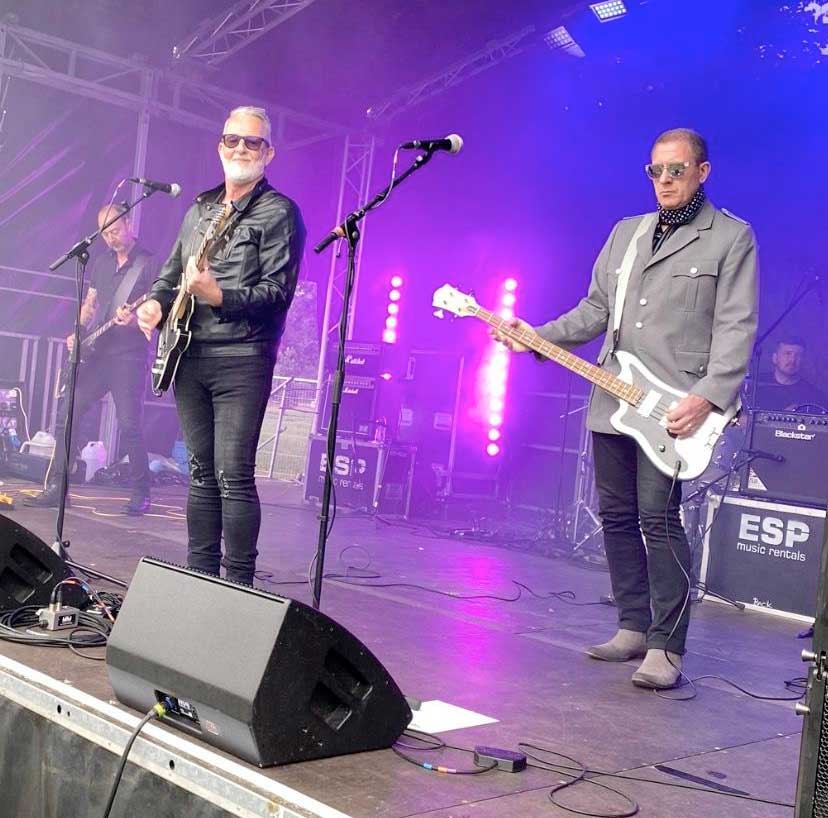 Arriving early, we headed over to the Breakthrough Stage where Falkirk's The Media Whores took to the stage. Despite having not played in front of a live audience for over a year, the band showed no slackness and were as tight as you would expect from one of Scotland's finest live acts. A 10 song salvo was delivered without compromise, including live favourites Big Pharma and Zombies In Mayfair.
Lyrics laced with acerbic and razor-edged observations are complemented by a four piece who are intuitively tuned in to each other. Affluenza is a real highlight in point, bassist Doogie Mackie laying down a bass line before drums then a piercing guitar comes in as the song builds, expands and soars with more than a hint of menace, singer Craig Anderson providing a typically stark vocal.
The set has a smattering of tracks from the new album A Light In A Dark Place which go down as well as older songs. The band have upcoming gigs with XSLF and Spizzenergi so get along and check them out.
Over at the Main Stage, we see the return of The Ray Summers with their first gig in about 10 years. Worth the wait? You better believe it. With a set laced with magnetic hooks, 60s styled grooves and packed melodies, the band who claim to be the definitive sound of young Scotland could do no wrong. Just don't leave it so long for the next gig, OK lads?
Wandering over to the Acoustic Garden, I stumbled on singer-songwriter Jamie Cleland who was accompanied by just an acoustic guitar and a mouth organ. It's a long way from Cafe Wha? in New York's Bleecker Street where Dylan and Springsteen played early gigs but Cleland evoked their spirit with songs like Diamonds Aren't Forever, Rollercoaster Of Love and For You. 
Back at the Breakthrough Stage Carly Connor mixed self-deprecating humour with an excellent short set including both original tracks and a cool version of Hit Me Baby One More Time despite some technical issues. Short in stature perhaps but Connor more than made up for that with a voice that had a far reaching range which was well received by the crowd. 
Luke La Volpe kept things moving along nicely on the Main Stage, his distinctive vocal to the fore. Personally, not someone I would usually listen to but that's the beauty of the festival experience, listening to bands and acts you don't know or may ordinarily dismiss. 
Talking about the festival experience, Vibrations caters for pretty much everyone and everything. Great to see activities for kids, whole families there from toddlers to grand-parents, a diverse range of acts, and loads more. I would certainly hope that the local Falkirk community and beyond continue to support what is a cracking festival. 
English rockers Reef put on a typically brash performance, the crowd bouncing in unison when Place Your Hands was played. With Duran Duran's Andy Taylor also on guitar duties the band also performed rocking versions of Hungry Like The Wolf and Wild Boys which was as magical as it was unexpected.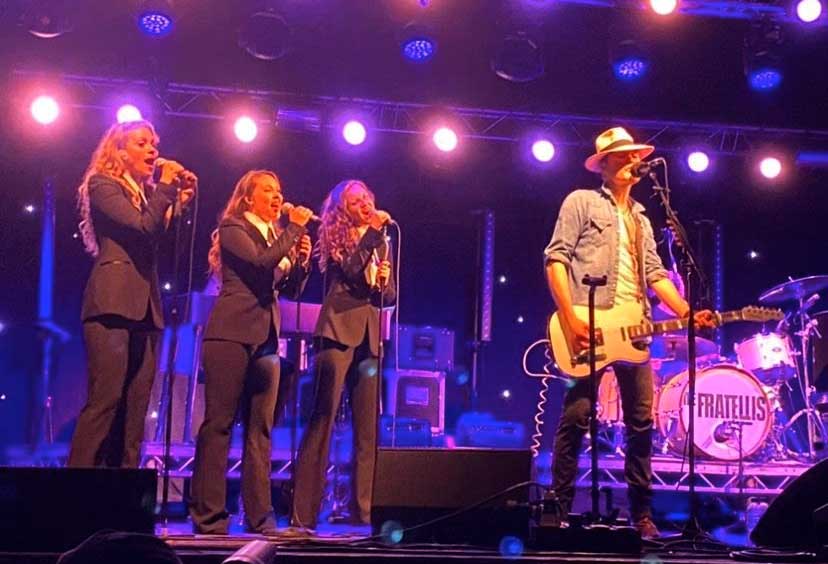 As darkness descended, it was left to headline act The Fratellis to sign off the festival in style. The full band experience was evident with saxophone and trumpet players and three backing singers providing the perfect foil for Jon, Barry and Mince Fratelli. 
Whistle For The Choir, with its sassy sax and rumbling bass, was an absolute feel good moment. The crowd joining the band in a sing-a-long and everyone smiling at the end. In short, that's the beauty of music, a real highlight. 
And then it just got better and better and better. The crowd being totally up for it, the band responded in kind with a stunning version of Baccara's Yes Sir I Can Boogie and their own Flathead. The songs kept on coming. Need A Little Love, Creeping Up The Backstairs, Too Much Wine and a rockabilly-tinged We Need Medicine.
An encore was demanded and the band thankfully obliged. Finishing with a blistering Chelsea Dagger and a sublime cover of Dion's Runaround Sue. 
Difficult to sum up how much the return to live music means after so long without it but the Vibrations Festival weekend was just perfect in every way. So lets pay it forward, go out and support live music. Those bands and artists have been wanting to play as much as we have wanted to see them play. They deserve our support.
John Welsh
@welshjb
Links:
---
---
---