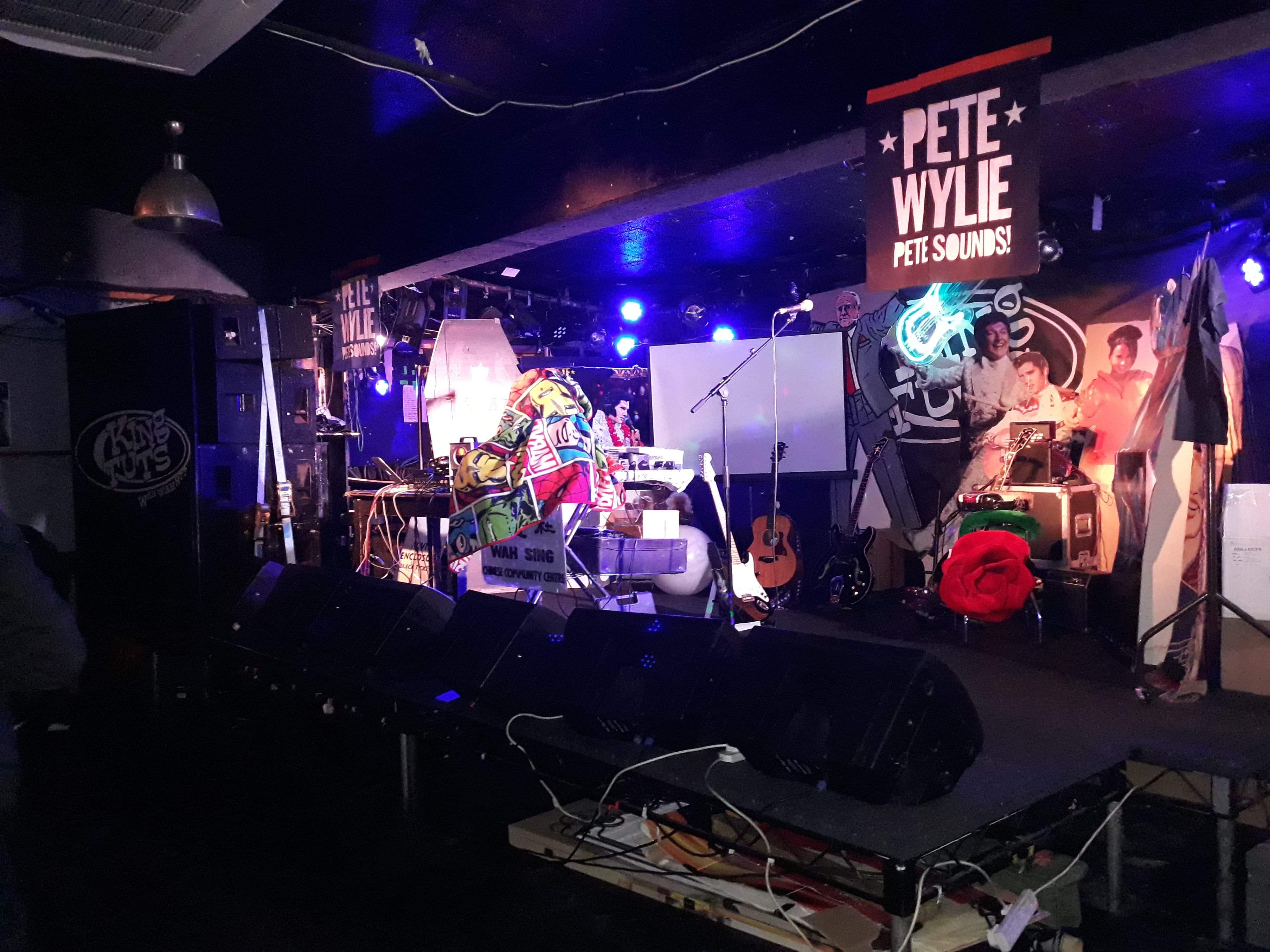 Artist: Pete Wylie
Venue: King Tut's Wah Wah Hut
Date: 23 January 2019
Celebrating the 40th anniversary of Wah! and launching his brand new album Pete Sounds, Pete Wylie put on a show for his fans at Glasgow's King Tut's. Armed with more than four decades of stories, songs and struggles, Pete pulled together a cabaret of over two hours' entertainment for his fans nestled in the famous wee venue.
Choosing to tour without the backing of a full band, Pete was joined on stage by Anders Johnson, who helped Pete mix his new album and provided the extra backing tracks on the night. The stage was set up with a video of the Clash and Bowie in their prime playing on a loop, and cut-outs of famous faces of Liverpool, Shankly's famous outstretched arms in celebration, Elvis and Liberace!
Decked in a Tupac / Makaveli shirt, Pete kicks off the set with his very first single Better Scream. This opener set the tone for a nostalgic look back, not only at his hits of the '80s, but also of those people and friends he has lost over the years. Every story had a song, as he talked us through each of the tracks in his set. For each older song played, there was a peek at the new ones appearing on the Pete Sounds album too.
As a campaigner for justice, politics was never far from his agenda – Brexit, Trump, May and the 'Justice for the 96' campaign – and he'd have known that the people of Glasgow would be more than happy to join him in his anthem, The Day That Margaret Thatcher Dies. The first half of his set finished with Sinful, where everybody was in the mood for a singalong. An expected Q&A between sets had to be cancelled due to technical issues with a talking Elvis doll (yeah you read that right).
Pete kept the songs coming as he strolled back on stage for the second part of the night in a sparkling gold suit, retelling the story of how he met Eric Cantona and tried to plan a night out in Liverpool with him. The sight of a mechanical Elvis head on stage wasn't out of place amongst the legendary tales from Pete's encounters with the good, bad and crazy aspects of his life.
New single, People, was sandwiched by the classics Come Back and Seven Minutes to Midnight before Heart as Big as Liverpool, Pete's tribute to the people of his hometown and their fight for justice for the 96 people who lost their lives at Hillsborough.
There was still time for The Story of the Blues to send everyone home happy, and although I was too young to enjoy the songs from Wah! all those years ago, it was great to hear them live, even if the night was a little surreal at times!
Martin Donaldson