Into Music Reviews: Tomorrow Syndicate, Nice n' Sleazy, Glasgow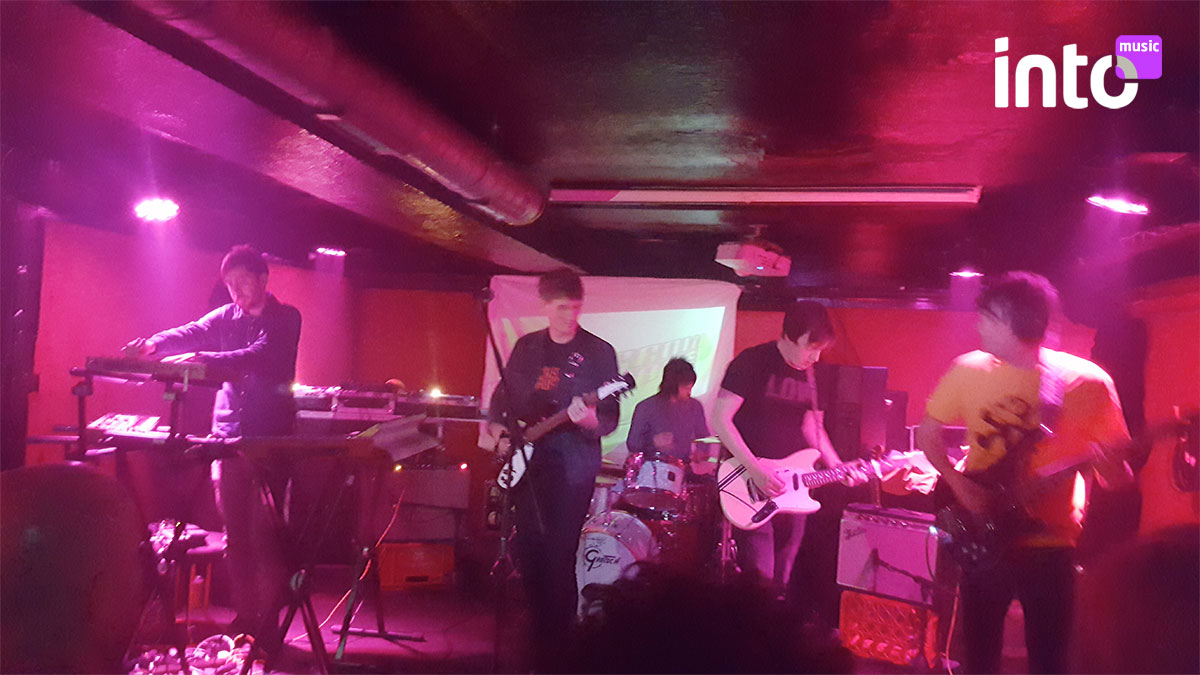 Act: Tomorrow Syndicate
Venue: Nice n' Sleazy, Glasgow
Date: 22 February 2019
One of my favourite album releases last year was Future Tense by Glasgow band Tomorrow Syndicate. A meeting of many influences, but grounded in the motorik beat of krautrock with a bit of spacetronica adding to the vibe. It ticked all my boxes and after a couple of near misses I was very much looking forward to finally seeing how they reproduced their studio sound live. Sleazys is not always the best place to see a band, with its low roof and strategically placed pillars down the middle of the room, you just have to counter that by getting down the front and getting up close and personal.
With five members in the band, space was at a premium but they somehow managed to squeeze in and started off the evening with Into the Void, which really set the tone for the evening with its incessant and hypnotic drum beat combined with layers of keyboards and synths and vocals from guitarist and occasional keyboard player Gerard Espie that just seemed to float on top of the whole wonderful sound.Altered State continued in the same vein although it firmly headed into Neu territory and it's clear to see where a major influence of the band comes from, but don't be fooled by thinking this is a straight replication of the Neu back catalogue. It is more of a starting point.
With a new release on the horizon we were treated to the debut of new song, Stranger in Space, and if that is the level of song on the new release we are in for a treat. Despite a few technical gremlins, Impulse, the Future Tense album opener, quickly morphed into the brilliant instrumental Another World. There were accompanying visuals being shown at the back of the stage but it seemed somewhat of a wasted effort in such a small venue, as it was impossible to really see anything, and to be honest, for me the music didn't really need any enhancement.
Okulomotor was followed by Lifeforce and Dreamscape which wandered into Tangerine Dream territory, which is no bad thing, before the set finished with X for the Unknown and allowed the bass player, who had been itching to rock out all night, his chance to finally let off some pent-up energy and along with the second guitarist brought the evening to a frenetic end. I was kind of disappointed it all ended so soon.
With the recent resurgence of Krautrock and its luminaries, like Michael Rother, finally getting the recognition they deserve, it is great to hear new bands taking up the genre and putting their twist on it for the 21st century. I'm definitely up for more of this and looking forward to Tomorrow Syndicate's new release and more live shows in the coming year. If Neu and motorik is your thing then get listening to Tomorrow Syndicate, you won't be disappointed.
Kevin Williamson
Into the Void

Another World

Altered State

X for the Unknown

Bandcamp – https://tomorrowsyndicate.bandcamp.com/
Twitter – @tomorrowsyndi
Facebook – https://www.facebook.com/tomorrowsyndicate/
---
---
---