Matilda In The Middle by Katy Lironi – Chapter 11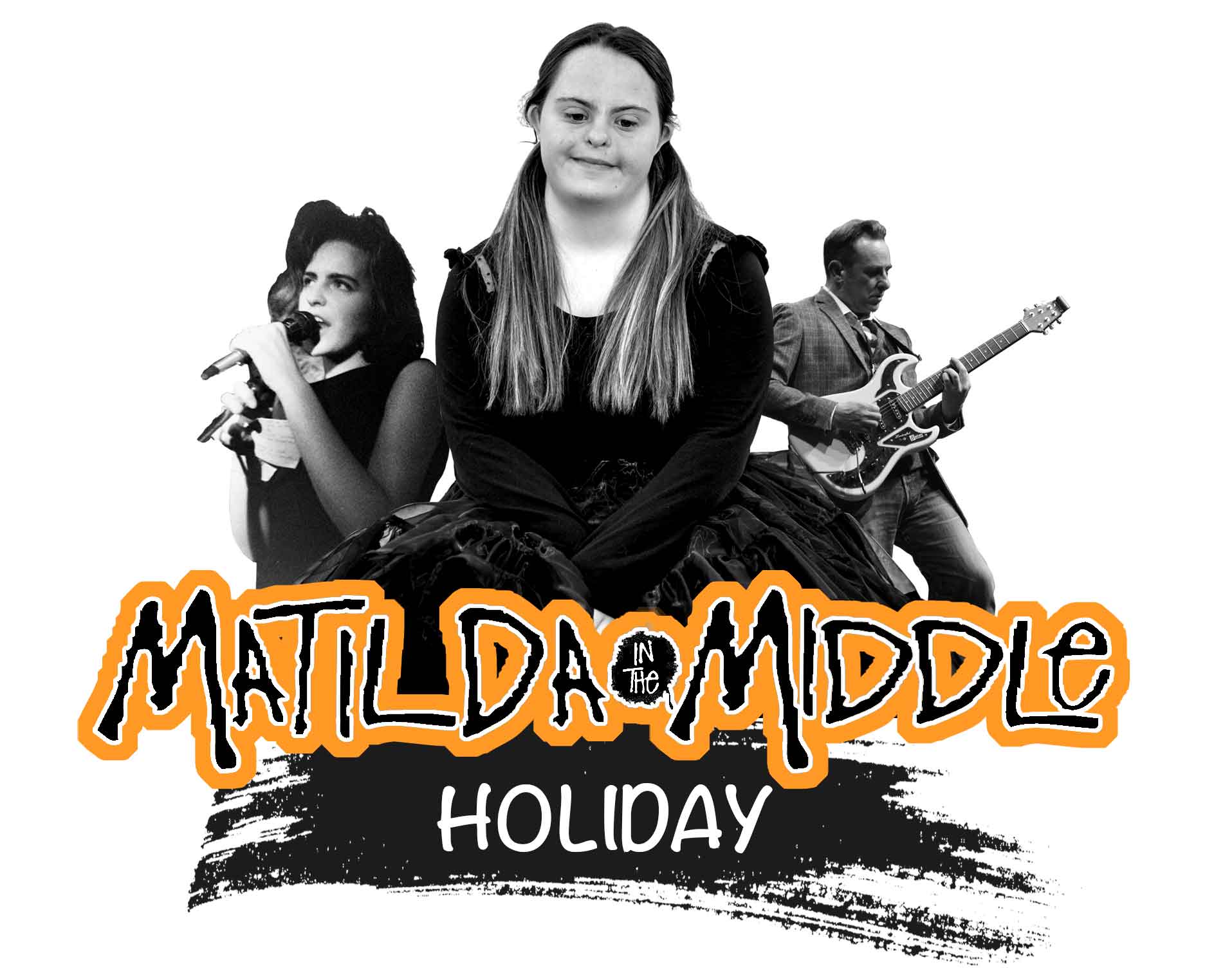 HOLIDAY
Until the pandemic of 2020 hit, we somehow managed to go abroad on holiday every summer. Douglas had academic holidays and we realised soon enough that if we got super cheap flights and accommodation, we really didn't have to do anything or spend much on a beach holiday with our kids. This started the annual month long odyssey to Port de Soller, Majorca.
Port de Soller was a magical haven for us in the first half of the century before the yacht crew discovered it. In those days it was still possible to rent a beach front massive apartment with a huge stone balcony for the month of July, for the same price as a villa in a smarter resort would cost for a week. We crammed many extended members of our family into the apartment until we grew too unwieldy and only my mum would accompany us. The beach was a stone's throw from the apartment and there was little to do except make it from the balcony to the beach on a daily basis, swim, hide from the scorching sun and catch crabs. The kids had an idyllic time. Getting us all there was the pantomime.
Douglas and I had discovered Soller a few years before Amelia was born and fallen in love with it. We first visited as a family when Amelia was 3 months old and we were being stopped on the street on a daily basis so people could marvel at her chubby thighs. It was the kind of family resort where you would happily pass your baby over to the restaurant owners to parade her through the kitchen while you ate your dinner. Fast forward a few years and the journey to reach Soller as a family of 7 was neither as cheap nor cheerful. The first year we went with the twins had an especially frantic start.
Somehow we had managed to inveigle friends with three children the same ages as ours to holiday in the apartment above ours. They flew out the evening before us, narrowly missing the terrorist attack on Glasgow airport where a car was driven into the departure lounge. This meant that all Scottish airports put in emergency access restrictions. In these early days we were always trying to think of ways to save money and get to our destination using as little of our hard earned cash as possible. This meant piling too many of us and our luggage into a 7 seater car, with my dad as driver. Not much fun when the cheapest flight was from Edinburgh airport at 6am, oh, and our 15 year old nephew Michael had been sent along to help out as Douglas's back had been playing up. I had been planning this military exercise for weeks. I had packed two travel high chairs, plastic plates, cups and bottles galore as well as everyone's clothes in two huge bags. The kids had gone to bed in their travelling clothes, co-ordinated stripes, so I could see them when let loose in the airport.
We were up and on our way in the middle of the night and then we heard about the restrictions. We couldn't get any closer than a mile to the airport. Not only that, there was a rave at Ingliston en route to the airport and the traffic was at a standstill. Summer rain fell as we disgorged our sleepy children, all in summer clothes, from the confines of the overstuffed car. Michael took the double buggy with the twins and secured Matilda on his shoulders. We took a huge wheeled bag and another child by the hand each and we ran a mile through the dark rain. Wild eyed we arrived in the departure lounge and so began the process of checking in and making it through security before we scrambled, fraught and exhausted onto the plane. There were single seats dotted all over. Five-year-old Dugald got a seat beside his cousin. Poor Amelia, six years old and shy as a mouse, sat at the very back row beside a "strange man." There was one row of 3 and Douglas and I needed Matilda between us so we could contain her and stop her from doing aerial acrobatics as the plane took off. But as we each had a twin on our knee cabin crew wouldn't allow us to sit together as there weren't enough oxygen masks to go round, or something like that. Cue trying to ask people to move when everyone around us was desperately attempting to avoid eye contact. A lovely woman in the next row who was travelling with her father and daughter moved to help us for take-off. I can cry just thinking about that small act of kindness all these years later. She sat on the other side of Matilda and read to her throughout take-off. Its random acts of kindness from strangers like that one, that have made our lives manageable.
As another money-saving tactic, I also used to make packed lunches for the plane and so began the comedic performance of passing sandwiches and juice cartons up and down the rows. How fellow travellers must have hated us. And how I hated Douglas's ability to put a new copy of Mojo up in front of his face as he ordered another glass of red wine…
But at the end of this marathon, the technicolour Mediterranean Sea and blue, blue sky made it all immediately worthwhile. We just trudged year-on-year back to the same place because it was so overwhelmingly amazing and welcoming and the kids knew what to expect. We also thought we knew where the hidden dangers were. A recurring nightmare that plagued me in the run up to the annual holiday was that I lost one of the kids. This year, with five to watch I was getting a little paranoid. Tony, the apartment owner, met us with smiles as usual. What his apartment lacked in amenities it made up for in space and friendliness. We ushered all the kids up the flight of stairs above Tony's beach shop,  to our huge, sea facing home-from-home and collapsed in the back, dark and dim dining/ kitchen room. We had made it!
Then I saw, like in a dream, one of my dark fantasies play out, but in the reality of the here and now. Douglas's face was stricken before he transported himself in one leap onto the balcony at the other end of a long, tiled corridor. He managed this manoeuvre silently and in a split second had the balcony-dangling Matilda back on the side of safety and sanity. I sat in the dark dining room, the long corridor separating me from the fantastic globe of light that was the balcony, with my head in my hands sobbing. What kind of holiday was this going to be?
Active and tense in equal measure was the answer. I struggled to get the vision of Matilda, standing on the wrong side of the first floor balcony, previously our safe haven, from my overwrought mind. What were we thinking of? Coming on holiday with our children? Why did we think we could do this? How could we keep them safe? It usually took about a week for my holiday neuroses to calm down and the holiday to really kick in. The first year we took Dugald as a 10 month old he speed crawled up and down the beach searching for cigarette douts to eat and shovelling fistfuls of sand into his gaping mouth. The following year he was stating "want go home" on an hourly basis, followed the next year by
"Where we going today?"
The beach of course
"How long we stay? I want go home"
It's pretty evident now that this was a child who needed routine, who found change discombobulating and for whom the sensory overload of the beach was just all too much. But back then we didn't even have time to notice, we just thought he was hard work, while at the same time being a magnetic ball of fun and energy who always compelled rather than repelled.
Amelia at this stage, as well as being our extra pair of eyes, was perfecting her horse gallop. She had taken on the name Willow, the first horse she'd ever ridden, and pawed her hooves at the surf as she galloped and whinnied her way along the shore. It's fair to say our children were never entirely "normal" whatever normal may be.
It was during this holiday that I took up my own gentle form of running with my friend Sabine who was staying in the apartment above. Douglas and I took it in turns to get up early in the morning, creep silently from the apartment out into the glorious sunshine for a run round the bay, a chocolate croissant and coffee on the beach and a dip in the sea. That couple of hours every other morning gave me the strength and patience to get through the days. And as the weeks wore on we all settled into a routine that seemed unimaginable in the initial sun-burned, sand-eating, upset tummy, heat-rash engulfed, first week. The kids got brown and relaxed, they made friends or didn't, they had each other and could guarantee the shape of their days. We were assured of that month each summer, just us together, sun, sea and sand, no TV and no devices at all beyond a CD player blasting out The Beatles, Bob Marley and Lee Dorsey. We counted down to it from Easter to July each year. We were still erratic mobile phone users at this time and friends and family would descend at some point throughout the month of July, knowing they would find us on the beach in front of our usual apartment. They would lend a hand and their eyes, cook for us, buy ice cream and bounce kids on their sandy knees. Over the years various friends came and went from the upstairs apartment and Matilda engaged them all as beach guardians and book co-readers at some point during their stay.
In no particular order, here are some stand out moments of holidaying with Matilda as part of our family. The balcony episode aside, there have been a few hair-raising moments.
Nanna loves a sweetie. A holiday treat is a bag of fruit Mentos from the local beach front Spar, always 2 packets tucked in her hand bag and dispensed as "shivery bites" after a swim, along with a TUC cracker. Now there is no question of shivering on Port de Soller's Repic Beach, but this was Nanna's West Sands of St Andrew's tradition and so it persisted with my children. Until she slipped 6-year-old Matilda a Mentos which she promptly choked on. I went into full zero to ten panic mode as is my wont, which alerted two local Majorcan families sitting on either side of us. With a stroke of luck one of them just happened to be a paediatrician who managed to dislodge the offending sweet before giving Nanna a lecture. Phew. This family was to remain annual holiday friends and helped me out later that same year when I contracted a severe bout of tonsillitis that required hospital treatment. There was never a dull moment.
I look back now and wonder, in pre-mobile phone times for us, at the trust I placed in other families. Perhaps I was too preoccupied to worry about obvious dangers, like sending your child off with almost complete strangers? We went back year on year so I suppose the family who owned the café below our apartment weren't total strangers, but still, Dugald was a 5 year old non-swimmer when I allowed Amelia and Dugald to go to their family home and pool in the town of Soller for the afternoon. At eight, he befriended a Dutch boy on the beach, or rather, one of the boy's two mums introduced herself to me and engineered a friendship between the  boys, hers being an only child. It was great for Dugald, and of course for us, Dugald being the source of most family upheaval. They took him on the bus to Palma one day to the Miro museum, and hiking in the hills another day to a friend's BBQ. They were on hand with homeopathic medicines when he ran headfirst into a slide at the local park and knocked himself out. No harm done, but I look back in wonder at my relaxed parenting style. Truth is, one less child present was one less to look out for.
The year the twins were on the move was particularly manic. Each trip to the beach, bearing in mind it was opposite the apartment, metres from the front door, was planned with military precision. The manoeuvre back from the beach was similarly coordinated and timing was everything. Plan was to have them all off the beach, bathed, fed and dressed for a brief evening outing by 7pm. Then, with a can of San Miguel in my hand bag, we'd run (aware of the eyes of fellow holiday makers on us as seven-year-old Amelia pushed the double buggy and we ran behind Matilda and Dugald, a nightly procession not to be missed) to the park at the end of the promenade where they would climb, squeal, slide, or knock themselves out till darkness fell. Then home to bed and … relax. We could sit on the balcony, enjoy the view, eat dinner and read, then do it all again the next day.
The year the twins were one and a half my eldest brother came over for a week to stay in a neighbouring apartment. He took Amelia and Dugald along with him to hang out with his daughter and organise pre-dinner drinks for us and we were to follow when we were all ready. So off we went, the twins in the double buggy and Matilda getting a tiny bit of four-year-old freedom, walking two paces ahead on the pedestrianised prom. We must have taken our eyes off her for a nanosecond. She turned the corner into the apartment block and I ran after only to find she'd literally vanished. There was a car park behind the apartments and a security door that was closed. We couldn't conceive how she'd disappeared in such a short space of time. Cue panic once more. It turns out the security door must have been left ajar, she had slipped in, darted into the lift, pressed number four for the fourth floor and taken herself along to her cousin's apartment, where she'd been only once before. Panic over.
Another year when she was a bit older and more wily, we lost her as we headed out for the evening. Again she was walking just ahead and this time I'm fairly sure there was more planning to it on her part. She was eventually located after a fraught ten minutes of us running in and out of shops and restaurants. She was sitting at the back of a Chinese restaurant, hiding behind an open menu, having ordered herself a Coke. The lovely owners were just waiting for her to be found.
Uncle Stephen and Auntie Clare often arrived for a few days or a week, staying in some far more upmarket hotel, usually with a pool. Our kids loved the novelty of a few days at a hotel pool, being fed ice lollies on tap by a generous uncle and the forbidden holiday pleasure of DVDs with their cousin. On two occasions we returned the following year to find these hotels had changed their guest access policy. Es Port, a fantastic old traditional hotel with relaxing pool and grounds banned non-residents the year after we took advantage of the pool and bar. Hotel Soller went one better and banned children, becoming a couples only hotel. What a reputation to have!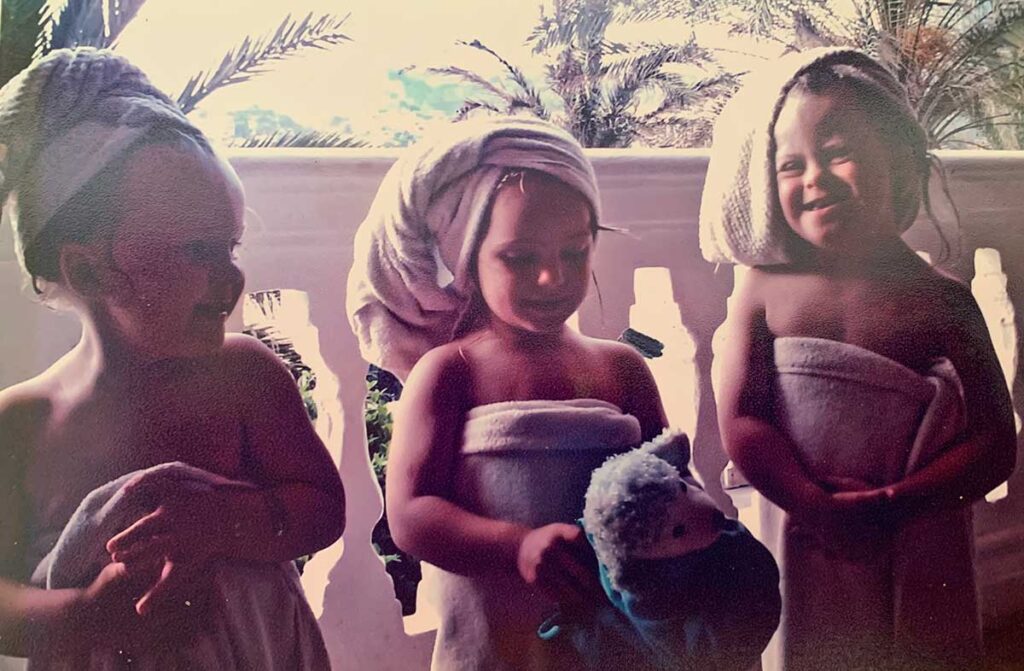 And then of course there was always the drama of the return journey to plan for. One year in particular stands out for its disastrousness. We made it on to the plane and were happily reading to four-year-old Matilda and distributing food to the other kids as the plane taxied along the runway. Goodbye Majorca, we sighed, wondering why the plane seemed to be losing power. Why we were back, stationery on the run way. There was so little information and neither of us had a phone to find out what was going on. Luckily other passengers put us in the picture. There had been what was assumed a terrorist attack at the police station in Palma and all flights were grounded, ours being the first one! So close and yet so far, we had almost made it into the air and back home to normality. But here we were. Picture the scene. Two frazzled parents and five kids aged eight and under in a roasting hot, jam-packed aeroplane on the runway at Palma airport, for four hours. FOUR hours! I still look back in wonder that we survived it without cracking and demanding to be let off. But situations like that, what can you do except make the best of it. No-one had a major meltdown as far as I can recall and we were in absolute luck that we were sitting in front of a nursery teacher from Glasgow. Matilda naturally was standing on her seat trying to engage everyone and managed to catch this woman's attention. Her family basically took care of, played with, read and sang to Matilda for the whole incarceration period, leaving Douglas and me to deal with the twins, and Amelia and Dugald to entertain themselves. This was in the days before every child had their own ipad and I was a bit of a stickler for no screens on holiday, so no doubt they coloured in and ate rice cakes and raisins for four hours, I honestly have no idea. I do know that the rest of the plane resolutely refused to look at us, they were all obviously terrified that they may be called upon to offer a hand.
Eventually we were released from the plane and left in the limbo of the departure lounge. No one from Easyjet was there, no one offered any explanations, passenger anarchy was about to unleash. At long last, word filtered through that we wouldn't be going anywhere until the following day. People began to bed down for the night or head off into the Palma evening to find alternative accommodation. Having got to the end of our holiday budget we decided to try the former cheaper option. But after chasing Matilda up and down the escalators while the twins slept in their double buggy, I had premonitions of falling asleep with her by my side and waking up with her … who knows where? I sent Douglas off with her to see if he could find a solution/someone to take pity on us. He found just the right taxi driver. This lovely man used his own mobile phone to call around hotels until he found one with a vacancy for seven people. Another very welcome act of kindness. He also bundled us all and all our luggage and buggies into his 5 seater car and helped us check in. Thank you Majorcan taxi driver wherever you are.
The kids were ecstatic, never having been in a hotel before. The breakfast buffet was something to be discussed for many years to come. I transmogrified into my mother and made sure everyone left with a napkin full of bread, cheese, fruit and chocolate croissants for the rest of the unpredictable journey home.
While Majorca was our holiday of choice when the kids were wee, we found ourselves beginning to be priced out of it as the boating crowd moved in. Eventually Tony and his family sold their beach side apartments and they have since been turned into a boutique hotel well out with our budget. This coincided with my mum being left some money by a cousin and buying a house in the hills of rural Molise in Italy. It couldn't be further from the beachside resort atmosphere of Soller, but it has the most beautiful serenity and quiet ambience. Going to Selvone is like stepping back in time. The first year we went for our summer holiday, the twins were three and Matilda six, we found the emptiness so relaxing after a busy holiday resort beach full of people for Matilda to accost/attempt to befriend. The lakes were empty and we could just sit and gaze at the surrounding hills and forests while she perfected her new trick of sitting down for five full minutes at a time to read … phew. That month was spent driving up and down to the lakes and wandering around our tiny village meadows and surrounding walk ways, eating pizza and ice cream and meeting every local going.
The journey to and from Molise was not quite as straightforward as Majorca. It involved a flight to Ciampino airport on the outskirts of Rome and then either car hire or a lift from Mauro, the local taxi driver, then hiring a car from his local company. The Mauro option had the advantage of us not having to negotiate getting to the crowded car hire base hidden in the back of beyond of Ciampino airport car park and waiting in the non-queues of Italy to be given an entirely inappropriate car and clearly not the one we rented, then try to negotiate getting the car we actually rented … all in a language I am very rusty with although my mother claims I am the linguist of the family. It was never a good start to the holiday. We went once at Easter when the twins were only five months old with the back-up of my mum, sister and niece. We arrived at 11pm and didn't make it out of the airport in our two hired cars until at least 12.30am. Douglas and I had the joy of fitting three car seats and three buggies into a small Fiat before setting off on my least favourite type of driving, Italian motorways. Added to that torture was the underlying tension that we hadn't been able to locate the child locks meaning I spent the entire journey terrified Matilda would make her way from the middle seat to one or other of the doors. Within three minutes I had missed an exit and was on my way to the centre of Rome. Why I was driving as the breastfeeding, sleep-deprived parent I have no idea. Next time we went we splashed out on a return trip with Mauro.
The return journey could be equally fraught. When we flew home from our first Italian summer holiday the twins were three and Matilda six. It was a late-night flight and no one slept the entire way until we were just about to begin our descent and then the twins got really grumpy and tired and required some attention from both Douglas and me. Again the kindness of strangers arrived out of the blue to turn a stressful situation on its head. Matilda was sitting on an aisle seat and the teenage boy on the seat opposite her read the entire story of Tiddler by Julia Donaldson, voices and all, throughout the landing. There were no words to express our gratitude to him for doing that with no prompting,  beyond Matilda shoving her book at him and saying and singing "book." He literally saved the flight from descending into anarchy, for us and everyone else. I can still hear his patient, animated voice reading "Tiddler! Tiddler! Tiddler's late!" He seemed as entranced as she was as the night-flight gently made its way back home to Scottish soil, to the sound of Julia Donaldson's fantastic rhyming text ringing in everyone's ears.
Another year I felt brave enough to try something entirely new. I found the cheapest flights I could and they just so happened to be going to Corfu. Matilda was eleven years old and a much calmer presence. I hadn't bargained with the main island road running right outside the garden of the villa we'd rented, but it wasn't such a hazard as it would have been in previous years. We discovered many things to love about Corfu, not least the amazingly hospitable people. There was nothing about Matilda's proactive form of socialising that upset the Corfiots. To our delight, we realised that eating out was actually cheaper for us than shopping at the local supermarket, so began a leisurely three weeks of Greek dining, with Matilda as waitress in training. Various restaurants gave her aprons and caps, paid her in ice creams, and totally accommodated her desire to be a waitress without batting an eye. They loved her rather than tolerated her, and that made all the difference to our holiday.
We visited various little coves after Dugald got us banned from the local pool, but that's another story. The area was dotted with vertiginous, pebble coves lapped by clear warm water, with little tavernas perched above and alongside them. We loved Glypha and Nassaki especially, although the walk along the road to them was somewhat hair-raising. Boat renting is very popular in Corfu and holiday makers can rent boats without any licence. Being fearties and realising we'd need to rent two boats for our number, we decided against it. However, the pier at Nassaki was awash with hired boats, right at the same spot as our kids were leaping into the sea. The relaxation halted, Matilda realised she could just as easily leap into a boat as into the sea. So a day was spent dragging her from holiday makers' boats until she jumped aboard a vessel of very accommodating people and as I went to remove her for the zillionth time that day, they offered us both a trip out to sea. And so I once again found myself meeting and chatting with some friendly people who I otherwise would never have met. Matilda can have such a positive effect on people and can engage anyone regardless of age or nationality. Quite a skill! This was an extended English family who gave us a trip around the bay and, on our return home, sent us a lovely DVD of the photographs of the day. Another small kindness that makes all the difference and was a highlight of Matilda's holiday. Of course, it also stopped us from going to that bay again, because what people fail to understand, that while that was a lovely gesture and Matilda had a great time, she would then expect every boat owner to be as accommodating and a boat trip to be part of her daily ritual. Goodbye beautiful Nassaki!
While Matilda has matured, her innate ability to engage and communicate with others has only expanded. She is more socially aware of who she should and shouldn't talk to and doesn't approach people on the beach with her book in hand any longer, as she did on Glypha as an eleven-year-old, apparently to the delight of two English women who lay under their parasol reading Jacqueline Wilson's Sleepovers (Matilda's novel of choice for a good five years. She had multiple tattered copies) with her one scorching afternoon. As they read I gave up going over and trying to prise her away when they insisted they were happy and instead fell into a hazy post-lunch, sun-induced slumber while the other kids leapt off the pier and Douglas searched for mussels in the rock pools.
Our last foreign holiday before the pandemic hit was to Italy. Surrounded by hills and forests and lakes there is little to do but swim at the local lake and sit on the balcony gazing at the surrounding hills. There is no TV, no landline, no pub or shop in the village and a very dodgy mobile phone connection that requires you to hang dangerously over the balcony or wander up to the nearest Madonna statue and wave your phone around in her vicinity. It usually works. Holidaying here with five teenagers over the last few years has produced various results, from the wonderful let's-remember-those-halcyon-balcony-scrabble-playing-days, to the traumatic… Let's not even recall those moments, and there were many. It takes everyone a few days to come down from their technology norm and revert to Selvone-time and pursuits. Rural walks, rural swims, rural pizza, and very little else. But it's in that space where technology, school, clubs and everyday commitments usually reign that little bits of magic can happen. And so it was with Matilda's song writing.
The last time we visited Selvone, Matilda was 15 years old. For the first 10 years or so of her life Matilda was almost impossible to contain – clambering over balconies, disappearing into lifts, sprinting round corners in foreign streets, she caused us many an anxious hour or so, then her teen years hit and she became almost impossible to move, motivate or inspire. I know it's similar with many teens, but Matilda's extra chromosome can make the stages that little bit more extreme and protracted.  But the last time we were in Selvone she surprised us all with her sudden and prolific love of song writing.
We were sitting, as we did most afternoons, on the grassy banks of Lago Selva, a 15 minute journey up the mountain, reading, lazing, swimming, playing bat and ball, when we became aware that Matilda was very engrossed in her new notebook. "Can you help me?" she asked.
"What are you doing?"
"I'm writing a song"
"Oh! Okay, what's it called?"
"Invisible"
She had the title and the first few lines and was very focussed on the song style and how it should progress. It was the first time I'd known her to show any interest in song writing and it was an interest that continued throughout the holiday and for many empty months of future lock down back home, filling several note books. We sat together on the banks of the lake, me offering her some rhymes and her directing the feel of the song, and by the end of the afternoon "Invisible" was born.
For the last couple of pandemic years, foreign holidays have been off the agenda for us as a family. I know others have taken the plunge, but those with Down's syndrome have been identified as clinically vulnerable to Covid 19 and we aren't willing to take the chance. Added to that, the changing rules, additional paper work and costs for various Covid tests for 5, 6 or 7 of us, and we're out. It's been a great excuse to discover Scotland. We used to holiday on Scottish islands or in the far North when my sister lived in Wick, we'd take the kids for Easter and October breaks. But in recent years, the lure of spending a week walking in the rain hasn't seemed so appealing to our teenagers and they've opted to stay at home. We miss those holidays though. So for the last two summers we've gone to the North East, just outside Aberdeen where my sister now lives. We've been really lucky with the weather and experienced the long sandy beaches and dunes of the Aberdeenshire coastline. Matilda is pretty hardy and often eschews the wet suit for straight North Sea swim suit swimming. She even had a go at paddle boarding and was a natural.
2022 is the year Matilda turns 18 and leaves school, and like every other 6th year I know, she has a 6th year holiday planned. She hopes to be able to go to Majorca with her older and younger sister to go clubbing and drink Sex on the Beach. As this date gets closer her sisters and I get slightly more nervous. A few years ago it seemed so far-fetched and the idea of Amelia taking her sisters as a twenty-two-year-old appeared manageable. Now the reality is that twenty-two seems far too young to have the responsibility of Matilda hell bent on sampling cocktails and clubbing till dawn. Of course they may just as easily end up in Arbroath, not sure the night clubs will live up to Matilda's expectations. I would really love to feel confident about the three of them heading off alone for an adventure and maybe the reality will be okay. Her sisters know her so well and they are aware that she can, in her own words, have meltdowns.
But recently they have been very few and far between and she seems to have stabilised from the mid-teenage years which were mired in some confusion and anxiety. This manifested itself in scenes of dramatic crying and some aggression. The unfortunate recipient of her first physical act of aggression since toddler-biting and hair-pulling, was Amelia. Matilda had been bought tickets for The Vamps for her fifteenth birthday, and eighteen-year-old Amelia was taking her. They'd been to the Hydro together a couple of years before to see Matilda's all-time favourites, One Direction. Only Matilda could come out of that concert clutching Harry Styles' sweaty stage towel! Much to the delight of the staff at school when she took it in to show them the next day. Auntie Clare had managed to get them seats in front of the stage, so for Matilda that's what going to The Hydro meant. When she returned two years later and found herself up in one of the side galleries, not only was she displeased, she was terrified. Poor Amelia had no way of coping, none of us had experienced her like this before. She started deep breathing in her seat, telling Amelia she couldn't stay there. Then she charged out of her middle row seat, Amelia in pursuit. They made it to the toilets where she slapped Amelia hard across the face. Both girls were distraught. Amelia managed to persuade her out of the toilets while trying to protect herself, Matilda has got some force in her fists. The staff were supportive and helped Amelia calm Matilda while she called me and I went to collect them. Matilda gets distressed to think of what she did to Amelia and there have been other sporadic hitting incidents, but only in private and only with those closest to her.
Still, I think it might be a good idea for me to take a wee trip to Majorca if they get that far and check in somewhere nearby with a good book, just as a precaution.
Previously:
Chapter 1, Pt I,
Chapter 1, Pt II,
Chapter 2
Chapter 3
Chapter 4
Chapter 5
Chapter 6
Chapter 7
Chapter 8
Chapter 9
Chapter 10
Katy Lironi
@LironiKR
---
---
---