Matilda In The Middle by Katy Lironi – Chapter 12
I AM WHAT I AM
Matilda joined The Ups and Downs Theatre group as a five year old and had a solo in her first show at age six, Hey Jude by her all-time favourites The Beatles. Her love of music has been a joy to witness over the years. Seeing her perform as a tiny six year old at the 500 seater Hamilton Town House, for a run of five nights. A Primary One pupil, who'd begun the school year practically unable to sit still and communicating mainly in Makaton, standing on a stage and singing her heart out, was nothing short of miraculous. To get to that stage, Matilda had been rehearsing for three hours each Sunday with a cast of about seventy, consisting of children and young people with Down's syndrome and their siblings and volunteer helpers. The group had been set up in the early 1990s by a committed band of parents and ASN teachers who recognised the special love of music in the Ds community, and knew that these were kids who just wanted to perform. By the time Matilda joined as a five year old, some of the original cast members were in their mid-thirties. Ups and Downs had been a huge part of their and their families' lives.
Tuning in to Ups and Downs and the whole concept of it was something I admit took me a little while. Up until Matilda joined, I had never been around anyone else with Down's syndrome beyond G, Matilda's friend from nursery. Here was a church hall full of children, teenagers and adults, all with wildly varying abilities. And then I heard them sing, and my confusion grew. I had never been to an Ups and Downs performance and I didn't really know what to expect. It took me some time to realise that the tunefulness of the singing isn't really the point. It's everything that goes into reaching the pinnacle of performing to a few thousand people over the course of their annual weekly run, and the chance for each and every cast member to shine, that is important. Ups and Downs and groups like it, although it is rather unique, couldn't do what they do without the support and dedication of parents, sibling helpers, volunteers and the musical and production directors. It's a monumentally cooperative effort that benefits the Ds cast enormously, and provides them with this creative outlet. It's also an opportunity for siblings to meet each other, support their brother or sister with Ds to do something exceptional and be engaged in a great opportunity, learning valuable life skills along the way. Not only do all the children and young people have a social outlet each week where they are required to rehearse, learn words and dance moves, listen to instructions and pay attention for three hours at a time, but also, at the end of all, that they get to showcase their hard work to friends, family and the wider community.
I don't think I fully appreciated at the time how intrinsic Ups and Downs was to Matilda's language development and her self-esteem and confidence as a performer. I was concerned in those first few weeks that no-one could sing in tune and assumed that would all be ironed out by the time of the performance in six months' time. What I didn't realise was that it's not about singing in tune, it's about giving these young people a platform, a moment to do what they do best, perform in their own inimitable way and to the best of each individual's ability. There are kids on stage who have secondary diagnoses, who communicate using Makaton or BSL, who have sensory needs, behavioural issues, minimal attention span, but everyone is supported to perform to the best of their own ability. Verbal language can be an uphill struggle for many children with Down's syndrome, but learning to sing can be a joyful way to circumnavigate that. All the learning, repetition and articulation that goes into learning a song as well as all the rhythm, rhyming and co-ordination of actions and dance moves is a massive learning opportunity for children and young people with Ds. The impact of her Ups and Downs years on Matilda's speech, language and literacy skills cannot be underestimated. And throughout it all she had a ball and made great friendships.
But just before lockdown, after 10 years, she chose to leave Ups and Downs. It was a huge step to take. There is a years' long waiting list to join Ups and Downs, so it's not as if it's something she could stop and start on a whim. I was concerned she had no idea what she was doing and that she'd regret it immediately. But it didn't come entirely out of the blue either. During her last two years at Ups and Downs, I had to more and more persuade her to attend her Sunday rehearsals. Once there, she could be the life and soul, but getting her there could be a battle. She had gone from being an overly confident child to a confused teenager and she was upset by the attentions of an older teenage boy. As a younger child she'd loved his attentions, but she had obviously become more aware and realised the inappropriateness of some of his actions and this could lead to her not wanting to attend rehearsals. However, when it came to show week there was a whole other new agenda to deal with.
Here was a girl who had been performing on stage since she was three years old in her annual dancing display, singing with Ups and Downs since she was five and a huge part of Sandfest since she was an infant, and suddenly she was beset by crippling stage fright. This would start during the two days of dress and technical rehearsals within Hamilton Town House that preceded their five night run. It was a big ask for everyone, cast, crew, musicians and family members alike, and the kids generally rose to the challenge, but it could come at a cost. I'm sure I wasn't the only parent who found it nerve shreddingly stressful. No-one knows the effort that goes on behind the scenes to get our kids to the point of entering the venue, then there's the added tension of everyone else's collective drama to deal with. The show never appeared ready on those last two rehearsals, but with a monumental effort, the production crew and cast always managed to pull it out of the bag on the night. But tensions often ran high and Matilda is not alone in the Ds community in having an acute empathy and ability to tune in to a collective intensity. In fact she identified with such aplomb, that it would eventually signify the end of her time with Ups and Downs.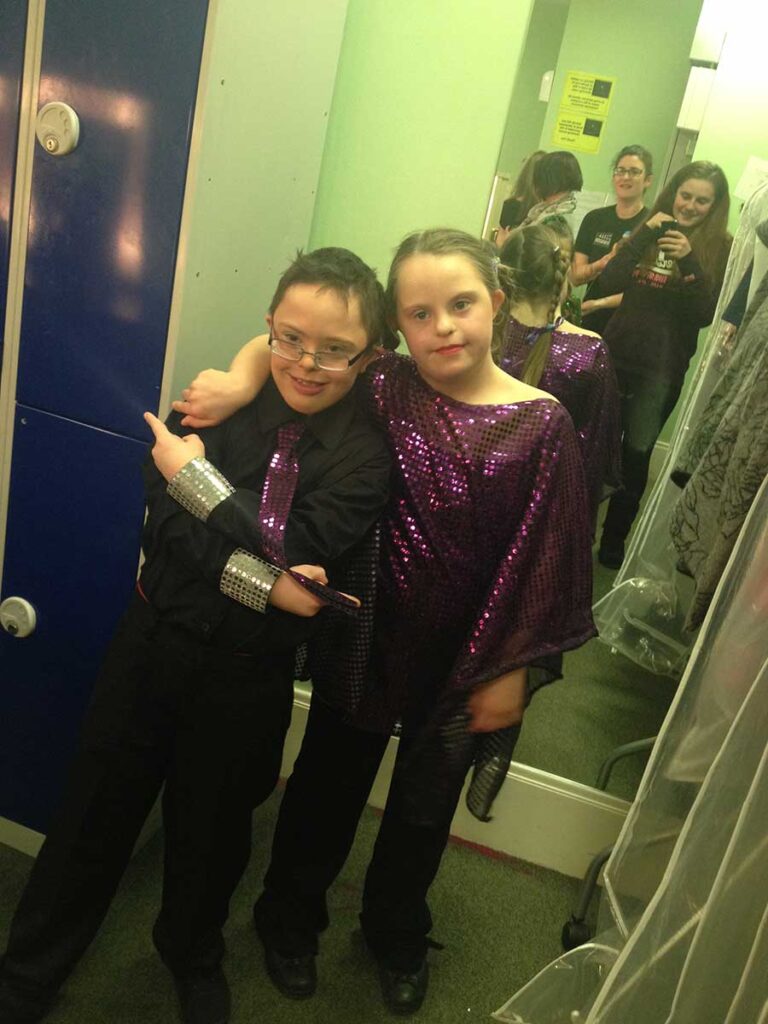 In her final show week she only managed one full night on stage, hiding at the back behind the rest of the cast. She had a solo performance that year and would run off stage before getting to it, hyper ventilating and crying. This coincided with her years of lashing out when she was under pressure, although she never did that at Ups and Downs. I could see the strain she was under though, and there comes a point when a fifteen-year-old has to be listened to. I had to make her aware of everything she'd be missing out on in the hope that she would understand this would be permanent. The weekly rehearsals, time with her friends, performing every year on stage, the TV performances she'd been part of, The Edinburgh festival appearances. She was adamant.
And then suddenly, after ten long years, our Sundays were eerily empty. So often I had cursed Ups and Downs, especially on sunny Sundays when, up until she was aged ten, I was forced to stay in the rehearsal venue for three long hours while Douglas juggled the family at home. We missed family walks and outings to allow Matilda this opportunity, and now it was gone I wasn't sure what we would do to fill the void. At fifteen, her passion for walks, always an uphill struggle, was waning.
Through her years with Ups and Downs, Matilda had the opportunity to audition and appear in a couple of BBC productions. These were amazing opportunities for her where she once again rose to some very real challenges. The first show we heard about was a Cbeebies production called My Story, a family history programme looking for 3-8 year olds to appear on screen delving into their own family history. There was a list of occupations they were looking for and there amongst them was musician. I did definitely ask Douglas before volunteering my three younger kids to take part in the programme. The brief mentioned the need for kids to be confident and outgoing and I knew I had at least one of those. A producer duly contacted me and arranged to come to the house to do some test shots and chat to the kids. The day arrived and he was met by Matilda in full performer mode, a mini Lena Zavaroni, dancing on the table and asking impertinent questions as the camera rolled " What are you doing? What's your name? How old are you? Are you married? Why? On and on and on, without an inhibition in sight. Sonny and Flora had to be prised from under the table their sister was performing her solo routine on, then they promptly hid behind me, mute. The call back was for Matilda and the story was to revolve around her relationship with her musician dad who had been in many Scottish bands in the 1980s, most notably Love and Money. She got the gig and what an amazing experience that first dip of her toes into the world of TV was for her.
Filming was scheduled to take place towards the end of the summer term 2012, when Matilda was a precocious eight-year-old. We had to apply to South Lanarkshire Council for Matilda to be granted three days leave of absence from school. Filming began at 8am one bright and sunny Wednesday morning. Immediately I wondered if we were in over our heads…at this point all five of our kids were attending Sandford Primary, the twins in P1, Amelia in P7. Getting all kids up, breakfasted, dressed and out to school was still proving somewhat of a challenge, I had boys who liked to behave like perpetual toddlers and Matilda who thought they were the best role models imaginable. It was a riot. So having to have everyone ready, including myself and with a tidy house for 8am felt like a monumental challenge. Somehow we pulled it together…the crew arrived promptly at 8am. Matilda was immediately fascinated, introduced herself to everyone and got in amongst the lights, sound equipment, cameras….I wondered if they knew what they'd taken on. It was much more us who had no idea the amount of hours and toil involved in producing a 15 minute kids' TV programme! There was a lot of trial and error, and of course, it wasn't a reality show, so the picture that is portrayed is very much an airbrushed version of our manic truth.
The producer wanted to open with Douglas involved in a creative  activity with Matilda. She already had her own vision and it didn't match with what Matilda and Douglas's actual join pursuits were – nature walks, fishing, football, playing in the garden. She wanted them to paint. To my knowledge Douglas has never painted with any of the kids and I only have because I was the primary stay at home parent and felt I should. I'd much rather have baked all day. But paint he did and one of my favourite charity shop shirts, purchased on a trip to LA when I was pregnant with Amelia, still bears the stain and pain of that day. I think they immediately saw what I saw, Douglas was not a natural in front of the camera. I had sold the whole concept to him that he'd just have to play his guitar a bit and talk about his life "back in the day" as it came to be called. He was a fish out of water, so I suggested a pursuit that he actually, in real life had a passion for and was passing on to his kids, fishing. There then ensued a hilarious half day attempting to get all the equipment set up at the burn behind our house, with Matilda and Douglas in position, doing and saying what the producer wanted them to do and say at the right time ….was never going to happen. Once Matilda started wading down river, following whatever had caught her flighty imagination, they gave up and returned to plan B. And that's why My Story – Popstar Episode, starts with a shot of Matilda and her daddy Douglas (hahaha…we hadn't seen that one coming either) sitting happily in the back garden doing stuff with paint. She had a vision, though, this producer, because that playing with paint transmogrified in the next scene to a shot of Matilda sitting at the table with her dad chatting about the picture of a guitar that she had coloured in, and so started their musical family history story.
The filming days were long and fascinating and full of learning and exploring for Matilda. When the producer realised I have no qualms about being a Makaton signing, singing mum on camera and can actually do that stuff quite naturally, I was moved from the side-lines to centre stage, much to Douglas's relief. The three days of 8am-4pm filming culminated in a garden shot of the whole family waving at the camera. This was fraught. The crew had been amazing with Matilda, but having each of her siblings to contend with all at once almost pushed them over the edge. Ten-year-old Dugald was nowhere to be seen and the clock was ticking, if they didn't have it finished in fifteen minutes they'd have to stop as they'd be over the allowed filming time for Matilda that day. Douglas was dispatched to find him while I tried to keep all the other kids in the garden and happy enough to be filmed. Matilda had had enough. It was about to all go completely pear-shaped, when Douglas returned from the back glen with Dugald in tow. We hastily re-assembled on a garden bench and smiled and waved through gritted teeth while Dugald made silly faces at the camera and pinched his siblings. Happy families TV style.
Matilda and daddy Douglas were minor celebrities in our Lanarkshire town for years to come, Douglas cringing behind supermarket aisles and swimming pool cubicles as another mother would point out to her child – look, there's daddy Douglas!
Matilda however, unsurprisingly got a taste for life in front of the camera. We heard about another BBC opportunity a few years later. This time it was a CBBC production and they were looking for children to audition for the remake of fantasy game show, Raven. I've always been keen for Matilda to have as many opportunities as possible, and this involved creating a fantasy character, submitting your ideas and then possibly being invited for audition. She and I together created some combination of Matilda/Rapunzel/warrior wrestling princess – her favourites of the moment –  and so her alter ego Matawi, was born. We went along to the audition at the BBC studios on the banks of the River Clyde in Glasgow. It was teeming with kids aged 8-12, all clutching their alter-ego image and character outline, being signed in under their new moniker at the front desk. This could have been a huge deal for Matilda. It could've been too noisy, overwhelming and confusing, to suddenly be known by a character name. But Matilda is nothing if not unpredictable. She thrived on the creative chaos of the place. I had no idea I was meant to relinquish her for the next three hours. There were escorts there to oversee the safety of the kids, but that was her, off into a room full of strangers to showcase her talents in, who knew what, tasks and activities.
I fully expected it to be a fun day's experience for her and hear nothing more. But within the week we'd received a phone call to invite her to take part in summer filming for Raven, taking place over the course of a week at the Rothiemurchus Estate near Aviemore in the north of Scotland. Luckily it was over the final week of the summer holidays and I was able to accompany her. The BBC put me and another mum up at The Hilton in Aviemore, while our daughters, Matilda, the first with a learning disability and her new friend, the first with a physical disability, stayed at the hostel deep in the Rothiemurchus Estate with the rest of the cast and crew. I was on set each morning by 8am to support Matilda and oversee how she was coping with what was expected of her on that day of filming.
Raven was a huge experience in so many ways. She'd never stayed away from home other than with grandparents, and here she was sleeping, eating and coping with full days' filming, with all her co-cast members and crew. Everyone was amazing, patient and inclusive with Matilda, but still, there was a definite lack of understanding just what a huge leap this was for her. The first day was cold and bright on the loch, Matilda and her fellow warriors had to kayak across the loch before grabbing a ring, which were the tokens they were trying to collect to win the game, then talking to camera to introduce themselves. They had all had their hair, make-up and costumes done before this, and Matilda loved it all. She managed the re-takes, the talking to camera, the direction of how she should be delivering her lines. I was amazed and delighted with her performance.
Then came the afternoon activity – zip wiring across the River Feshie. She was up against her new crush, a gentle, lovely eleven-year-old boy who was also tall and athletic and naturally talented at these things. The poor boy stopped half-way across the river because he could see that Matilda was stuck, dangling above the fast flowing water, tears of frustration flowing down her cheeks. I was on the opposite side of the river, watching her suspended above the rapids, clinging to the wire. I was fighting tears and the self-admonition that I had set her up for failure.
From then on I managed to explain to the crew that Matilda needed a dry run at every activity and that no, this wasn't giving her an unfair advantage but was just levelling out the playing field ever so slightly. There was no way she was ever going to win, but reasonable adjustments had to be allowed for her if they really wanted to include her in any meaningful way. This took a bit of explaining. Just telling Matilda what was expected of her and having her nod her head convincingly at verbal instructions is not good enough. She wants to please. She wants to get it right. Looking capable and agreeing with you is the easy part. Comprehending the nuances of what is being asked of her and retaining that information, then manipulating it to either give the correct response or carry out said instruction adequately is the tricky part. I am constantly up against people first totally underestimating Matilda because she has a visible learning disability, then entirely overestimating her capabilities when she interacts with them because of her conversational skills, sense of humour and general sussed-ness.
So I found myself being Matilda's advocate for the BCC crew who really wanted to include these two kids with very different disabilities, but really hadn't thought through what that inclusion might look like beyond making sure they each had a parent with them. It ended up with the poor girl with the amputated leg in tears of frustration and fear as she was asked to body surf down the river rapids. This was a prize-winning swimmer, but she was well out of her comfort zone and under pressure to perform and it really felt cruel at one point.
For the remainder that Matilda was in the running for Raven, I made sure that she got a dry run at each activity – one of those saw me crouched on the opposite bank of the River Feshie, while Matilda clung to an overhanging plank pursued by the evil demons who were trying to foil the contestants at every turn. Explaining all the intrigue and filming trickery took some time. Once given the chance to practise and learn by doing, the physical feats demanded of her became a more realistic and fun challenge – Matilda, ever the daredevil has jumped into rivers and pools from various heights her whole life, it was like she'd been in training for Raven her entire childhood. But still she was never going to win. Matilda really had no clue about the collecting of the rings and what it signified, and of course she wasn't capable of calculating how many points she had, let alone her position in the team.
I knew the first knock out day was coming and the scores were bizarrely close. It all hinged on a river rapid plunge,  grabbing for a ring as they leapt from a plank protruding over the rapids, while steering clear of the ever-present demons. She leapt on cue and she grabbed and she caught, at least one of the three rings. It was between her and another child and you never want another child to fail, but I so wished Matilda could go through to the second round. She lost by one point and suddenly the whole focus of the crew changed, she was out. It was all a bit Dragon's Den. I was devastated. I had to ask one of the producers to explain to Matilda that she was out and wouldn't be taking part in the show any longer. I couldn't do it. They seemed to assume she realised from her points that it was all over. All she knew was that she'd completed her daring task and caught a ring, she wasn't keeping a running tally. It was heart breaking for her. "But I caught the ring … I love Raven, I want to stay."
The next day we were asked to stay around to film a final shot. We sat in a cold bus waiting for the production crew to call for us and eventually, after hours of Matilda sobbing on the bus I snapped and said it's now or never, this is just cruel. We filmed an ending scene on a remote Scottish fort and then drove snivelling down the road, stopping at Pitlochry for a well-deserved huge slice of compensatory chocolate cake.
We were both physically and emotionally exhausted after one of the most exciting and dramatic weeks of Matilda's young life. I don't use this word ever, but I was so proud of how she coped with everything, from living with a group of strangers, assuming a character, acting and filming long days in cold, remote locations and undertaking new and courageous physical tasks over the course of that amazing week. It lives on in our memories and, of course, on Youtube. I hope it is viewed by some other parents of children with Ds and the children themselves, who can look at Matawi, warrior Princess, and see that anything is possible.
Previously:
Chapter 1, Pt I,
Chapter 1, Pt II,
Chapter 2
Chapter 3
Chapter 4
Chapter 5
Chapter 6
Chapter 7
Chapter 8
Chapter 9
Chapter 10
Chapter 11
Katy Lironi
@LironiKR
---
---
---