Matilda In The Middle by Katy Lironi – Chapter 13
YOUNG AT HEART
The Story of Sandfest
Two years after moving to the country we were on the move again, leaving our lovely wee cottage for another bigger cottage in the village of Sandford in South Lanarkshire. We'd outgrown a one-bedroom flat, then quickly a three-bedroom cottage. We felt palatial in our four-bedroom terraced cottage. However, a year to the day after moving in the twins arrived and pushed us into overcrowded conditions once again. We'd remain like that for the next 14 years and Sandford would become the location of one of our most memorable and long-lasting musical ventures, Sandfest.
In March 2007, on the Sunday closest to World Down's Syndrome Day, we held a party in our back garden celebrating three occasions – our eldest daughter Amelia's seventh Birthday, welcoming our five-month-old baby twins to the world and raising awareness of Down's syndrome. Instead of gifts in a house already bursting at the seams with kids' paraphernalia, we asked guests to contribute to our favourite charity – Down's Syndrome Scotland.  Matilda was three at the time and we knew we wanted to fundraise for DSScotland. This seemed like the perfect excuse to combine our love of music and the desire to raise money and awareness, not to mention bring music to the rural community that we found ourselves living in.
The sun shone and March winds stayed under control as friends lugged amps, speakers and musical instruments onto the makeshift stage at the bottom of the garden. Douglas took to the stage with a little bit of help from his friends, Ken and David McCluskey of the Bluebells, and musicians Andy Alston and Mick Slaven, to entertain a garden-full of family and friends.
Everyone danced, money was raised, and the sun continued to shine as Ken McCluskey climbed atop the garden hut in the fading afternoon sunlight to sing "Young at Heart"; a whole village singing along with him. He finished with the announcement, "Thanks for coming everyone, see you at Sandfest next year!"
And so Sandfest was born ….
Every year between 2007 and 2017 Sandfest raised money for DSScotland and entertained locals in its regular venue of Sandford Village Hall.  The original line up of Douglas, Mick, Andy and The McCluskey Brothers was added to by James Grant (Love and Money), Grahame Skinner (Hipsway) and  Justin Currie (Del Amitri) on vocals, with musicians Campbell Owen (Aztec Camera) and Gordon Wilson (Love & Money) joining in to form the now legendary Sandford City Rockers. Sandfest swiftly transmogrified into a heaving, sweaty, mosh pit kind of legendary happening, where far too many 80s- pop- loving- adults squeezed into one tiny village hall and sang and danced the night away to their favourite popsters.
In 2018 Douglas and I joined together with Down's Syndrome Scotland to bring Sandfest 2018 to the Royal Concert Hall, Glasgow. It was an overwhelming success and so exhausting for us that we have yet to organise another Sandfest! The line- up remained the same, with the welcome addition of my sister-in-law Clare Grogan and an all-female Altered Images performing on the Sandfest stage. As well as raising a whopping £50,000 for Dsscotland, we were delighted to be able to raise awareness of Ds among a music loving audience who were largely there to see their favourite bands performing on stage in one big extravaganza. Sandfest 2018 was kicked off by Choir 21, a group of singers with Ds from The Ups and Downs Theatre Group, who opened the concert to an unbelievable response from journalists (Billy Sloan nominated them his highlight of the whole evening) and audience members alike. The crowd went crazy for them and the Choir members played up like the professional performers they are.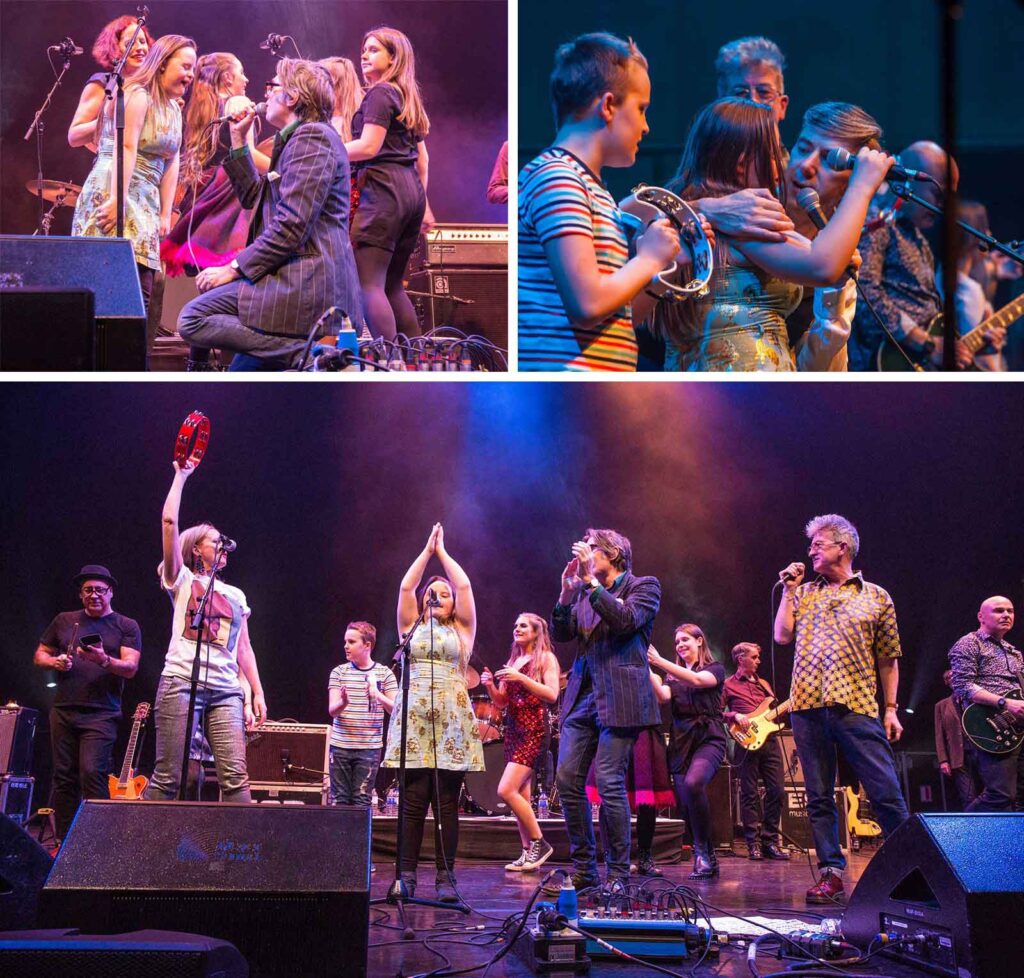 The most memorable part of the night for me was the finale. It was like a big family party except the venue for it was the main stage at The Glasgow Royal Concert Hall. Every one of our kids was on stage, apart from the most stage-shy who stuck to the shadows in the wings. All our closest friends and family were either on stage or dancing in the immediate mosh pit below. The atmosphere was one of pure love and generosity. I can still see 14 year old Matilda centre stage, commanding the mic while Justin Currie was on his knees attempting to wrestle it from her, or at least get close enough to it for his solo verse of the finale, Bowie's Rebel Rebel.
Not a chance Justin, we all knew who the real stars of Sandfest 2018 were. There is never any denying Matilda's and her extra chromosome compatriots star quality and amazing potential. All they need is a stage big enough to let them shine.
Previously:
Chapter 1, Pt I,
Chapter 1, Pt II,
Chapter 2
Chapter 3
Chapter 4
Chapter 5
Chapter 6
Chapter 7
Chapter 8
Chapter 9
Chapter 10
Chapter 11
Chapter 12
Next:
Chapter 14
Katy Lironi
@LironiKR
---
---
---