Matilda In The Middle by Katy Lironi – Chapter 14
SCHOOL'S OUT FOREVER
Going To School With Matilda – by Flora Lironi MacIntyre
I enjoyed going to school with Matilda, but sometimes she was a bit embarrassing on front of my friends, like the time when she sat on my head and wouldn't get off or when she ran around the playground chasing me and trying to kiss me.
On my first day of school I was a bit nervous, but it was ok because Matilda was always looking out for me, like when she showed me where to put my schoolbag and coat. I liked being in the same class as Matilda so that I wasn't all alone. When I was in P1 she helped me with my spelling for news.
She always told me how much she loves me and that she misses me at school.
Sometimes the teachers asked me what Matilda was saying when they didn't understand her, which made me feel glad I could help because I am with her more and I understand what she is saying.
I feel really happy that I will be in the same classroom as Matilda again next year so that she can tell me what to do because she will be in P7 and I will be in P5. I feel a bit upset about her going to high school because I have never been in school without her. I think she's going to a different high school from the one I'll go to which makes me feel a bit sad because Amelia and Dugald will have left when Sonny and I go.
……………………………………………………..
From an article in Down's Syndrome Scotland's members magazine "Full Potential" in 2014
Matilda, my 11 year daughter with Down's syndrome, is a P6 pupil at her local mainstream primary school, and her Dad and I have always assumed that she would progress, like her brothers and sisters to our local catchment high school. Matilda, the middle of 5 siblings, has always accessed the same educational, sport, leisure and social activities as her brothers and sisters and I never envisaged a time when this would change. This article charts her Dad's and my long, drawn out decision-making process that ended with us requesting specialist provision for Matilda's secondary education. We have been back and forward and over and under this decision, and I think at long last my heart and head have finally aligned in deciding that this is indeed the best thing for Matilda.
So, how did we get from a completely positive mainstream nursery and primary education, to requesting an ASN secondary school?
To begin with, Matilda's mainstream primary is somewhat outwith the mainstream. At present it has a pupil roll of less than 50, giving it 2 multi-composite classes. This benefits Matilda in that she doesn't work in isolation, but can be in maths/reading groups with younger kids who're working at the same level, or can receive pupil support from the older kids in the room. Her independence is encouraged and nurtured and she has chances to take on responsible roles within the school and work independently on tasks.
Backtracking a swift 6 years, Matilda started P1 as a Makaton signing five-year-old with limited verbal communication, newly toilet-trained and still having "accidents". A proficient escape artist who required constant watching, she also struggled to sit still. All of her idiosyncracies and needs were adapted to and managed within her supportive school.
Back in the present, her most recent report card reads –
"Matilda is a well-mannered girl who has grown in maturity this year. She works hard in class and this has been recognised by Achievement Awards … She has shown she is a responsible citizen by taking on responsible roles within the school. Matilda has participated in the paired reading programme supporting the younger readers within the school and is on the Pupil Council … Matilda is a successful learner who completed this year's Swim Safe programme."
Six years ago none of us knew what she would achieve, and she has surpassed all our expectations. School is great, it's outwith this protected environment that the problems arise. With maturity comes an expectation of more freedom, and for a sociable wee girl like Matilda, a hankering for independent play with her friends. And there is the crux of the matter; outwith school and structured environments like Guides and sports clubs, Matilda, I hate to say, is essentially friendless.
The truth is, able and competent, articulate and sociable as Matilda is, she is also a liability. Just last week she disappeared from the house one Sunday evening as we were making dinner. It was 45 minutes till we knew she'd gone, and when her wee sister mentioned she'd changed into a spy outfit and gone spying, my heart sank. She was eventually discovered in a neighbour's back garden, after, so she told us, she'd done some great spying in another neighbour's house, upstairs and downstairs!
I hope this illustrates the crux of the reason why we have opted for ASN high school education. As Matilda matures, she becomes more, not less vulnerable.  She is pushing at boundaries and desperate to exert her independence and make friends. As her parents, it's our job to ensure she gets chances to build her independence in the safest way possible and, personally, I think she deserves to experience the joy of reciprocal friendship.
We don't believe that our local mainstream high school is equipped to cope adequately with either Matilda's unpredictable behaviour in terms of personal safety, or her learning profile. I want Matilda to continue to be celebrated for who she is. As her 15 year old sister said on the way to a family reunion lunch, "I wish I was more like Matilda, she's great at these things." And the truth is, she is great, she does the rounds, shakes hands, chats to everyone. "Hello I'm Matilda I'm 11. Who are you, how old are you? Is that your husband? Why?" It may be unconventional, but I want her to be educated in a place that accepts and moulds her individuality, while teaching her how to safely access the mainstream world as an independent adult. I fear our catchment high school has neither the resources, the staff, the expertise, nor the creativity to offer Matilda the learning and social experiences she deserves.
Of course I want her challenged academically, but also to experience success, and not "I am ollys (always) last" as she wrote for her spelling sentence last week. For all these reasons and countless others too nuanced to give voice to, we are now living in hope that the authorities agree with us that our bright, talented, unique daughter should be educated in an ASN secondary school. We believe that this is the right place to help her reach her academic and social potential, make important teenage relationships and to prepare her for independent living in a mainstream world.
……………………………………………………..
From a blog in 2021…
And just like that another 6 years have flown by and Matilda turned 17 this week. Like every child and young person in the country at present, she is accessing school on line in the midst of the Corona virus pandemic. It hits her hard and her birthday was a confusing day which ended in tears and an uncharacteristic tantrum. Let's rewind to that school decision though.
If truth be told I always had second thoughts, but I loved the ethos of her ASN school. She did not appear to me to be particularly academically challenged, and some of the teaching, especially maths, could and should have been far more specialised towards her abilities and needs, but for the most part the positives outweighed the negatives. She was happy and appeared to be sociable at school. The hoped for 'out of school' social life never materialised and that was a disappointment to Matilda and us. She's in the lucky position of having a very close relationship with her siblings, her sisters in particular, one older one younger, but of course, they have their own lives and their own friends.
Two things brought the matter of Matilda's ongoing ASN education to a head.  In 4th year, she started complaining to me about the behaviour of some of the boys in her class, and at the same time she began attending  a drama group with kids from the local mainstream high school. I first knew something was amiss when Matilda started displaying some strange behaviour, tears, and wanting to sit and talk to me at bedtime.
"The boys are using their sex voices to me and I don't like it. I don't want to have sex with them."
Very hard to hear, but at least Matilda was able to articulate this and realised it was wrong and that she didn't feel comfortable with it. I was straight on the phone the day after this revelation and the school appeared to take it seriously. Matilda and I went in for a meeting and she was supported with the use of visuals, to explain in more detail who had said what and when. The boys in question were spoken to. It was explained to me that they had no comprehension of the seriousness of their behaviour. School continued albeit more reluctantly. Matilda started talking about not feeling safe, feeling humiliated (her words) and asking me to take her to school as opposed to getting in the taxi. And then one day, at work, I got the call that changed my feelings totally about her school placement. She had been inappropriately touched by one the boys she'd already complained about. She had gone through the school day and eventually disclosed this information to one of the support assistants. I felt a sense of panic and guilt as I took that phone call. I was at work and I was assured that she was ok and not distressed. I made an appointment to speak to the school the next day.
It's a hard to accept truth that children and young people with a learning disability are at significantly higher risk of sexual assault than their non-disabled peers. Matilda is lucky in that she has a voice and an idea of right and wrong. She's also growing up in an era when children and young people are listened to and know their rights. To cut a long story short, this incident at school, which had the added confusion of the perpetrator being one of her best friends, was the catalyst for Matilda choosing to move from her ASN school to our local high school. The pandemic of course got in the way of something which was always going to be quite tricky to negotiate anyway. The incident at school coincided with us moving house from the village where the kids had grown up, to the local town where the high school is. The move was primarily to give more independence to all the kids, and looking to the future, for Matilda especially. Almost as soon as we moved Matilda wondered why she wasn't walking to school with her siblings. She had never ever asked why she attended a different high school to her siblings, but now it was in her face. School pupils, all in matching blazers, paraded past our front door each morning as she got into her taxi to be whisked off to a neighbouring town. She came up with a very convincing argument.
Matilda – I want to go to the academy.
Me – Why?
Matilda – Because I can walk there and I won't have to go in a taxi. All my drama friends go there. Sonny and Flora go there. I want to go there too.
That was the trigger and it was such an obvious point. Then the sexual harassment started and the confident girl who loved school began having nervous conversations at bed time and refusing to go to school in the taxi because she "didn't feel safe."
I managed to speak to the head of inclusion at our local authority and he seemed very open and accommodating to the idea of Matilda starting one afternoon a week at the local school to see how it went. This was January 2020. The timing was really rubbish. She had her few weeks of one afternoon class and then we were in lockdown. I struggled to speak to anyone from education until the last week of term before school broke up in June. When I finally did, it was to let them know that Matilda had made her choice. She wanted to start full time from August at the Academy. We reached a compromise that she would continue at her ASN school until the right 1-1 support assistant was in place which meant she eventually started full time at her local high school in the last week of September 2020. Then we had winter lockdown and her school had to scramble to try to support her online as did we, like working parents all over the globe.
When asked, Matilda is still happy she made the transition to her local school. The school itself have really thrown themselves into supporting her to the best of their ability and she has a fantastic 1-1 support assistant. Unfortunately, her after-school drama club didn't restart until the following year and she lost out on valuable friendships and socialising. The school is becoming more and more aware that it's not just academic achievement that is the measure of a good school placement for Matilda, but how they can support her independence, social interactions and friendships too, that are vitally important. The fact that she walks to and from school with all the other kids is a massive achievement for Matilda and encourages her own sense of  independence and ability. There will always be tricky things to navigate and my heart sinks when she talks about 6th year parties that she hasn't been invited to but "Can I just go mum, cos it's one of my best friend's who's having it?" She's lost her heart to a couple of lovely boys from her drama group who have both turned out to be gay, and this makes the whole heartbreak thing easier to bear. Matilda can get her head round that easier than being rejected for who she is.
I had to tell her she couldn't have a boyfriend at this new school and she asked me why. There will be those who think that's wrong of me. I honestly don't know what's right. I was told by a psychiatrist at CHAMS, also the parent of a young adult with LD, to be upfront with her, tell her she couldn't have a boyfriend who didn't also have a learning disability. Matilda knows she has Down's syndrome, and she doesn't like it. I have no idea if she understands what a learning disability is and I balk at the idea of introducing the fact that she is disabled. She's not, she's very much differently abled. She has so many fantastic abilities that none of the rest of us in the family have. I tried it once when she fell for the first leading boy in the drama group. She said she wanted to tell him how she felt, we were in the car after drama and we parked outside the house.
Me – Matilda, you can't have G as a boyfriend.
Matilda – Why not? He likes me. He helps me all the time.
Me – He's your friend. Not your boyfriend. He doesn't have a learning disability like you and he can't be your boyfriend.
Cue Matilda sobbing swiftly followed by me. The next day she discovered he was gay and that helped diffuse the situation. She has a type. When drama group resumed it started again. G had left school and moved on to University, the same one Matilda now has her sights set on funnily enough. A new name started cropping up. For the start of 6th year the school had also set up lunchtime friendship circles for Matilda so she was never alone. One of the circles revolved around L. I mentioned my concerns to school stating that I really needed her friendships to be with girls, as boys being nice to Matilda is generally misconstrued. They assured me he was such a lovely boy and part of a big group. Alarm bells were ringing. She had already had to deal with the confusion of her best friend at school coming out as a lesbian, which made Matilda question whether she too was a lesbian as she loved C. She got her head round that, then another of her drama friends started identifying as a boy and changed her name, she accepted that and explained it to me in such a kind way when I raised the subject after school called to alert me in case she had any questions.
"Mum, it's his private business, his name is ••••••••••.  He's a boy now because he feels like a boy inside."
The issue of the new love interest was more complicated. She started telling me little things about him and her eyes were shining, she couldn't top smiling, I could so easily recall that mad teenage crush feeling that she was experiencing.
Matilda – I ate lunch with L today on the stage. He helped me down. He gave me his hand like this. Then he held the door open for me. He's very kind. I really like him.
Me – Yes, he sounds like a good friend……
She came home from school one day that week and spoke to me, her dad and elder sister separately and in confidence. She told each of us how she felt about L and that she really wanted to tell him her feelings. We each tried to dissuade her from this, but as you know by now, Matilda is a girl with a mind very much of her own.
The next day after school she wasn't too upset to report that L was flattered by her revelation but that he likes boys. She had just really wanted to tell him and it doesn't seem to have affected their friendship. Maybe she's right and honesty is the best policy.
She now only has a few months left of her high school education and then? Who knows and who knows how much the pandemic will limit her choices for a few years yet. How will we balance it as working parents and what will it mean for her future? I can't spiral into the great unknown. Whatever happens, we need it to be what Matilda wants and make sure that she is building on all the great skills she's accumulated over her years at school. It can't all be for a bedroom bound virtual life. And being in so many ways a typical teenager, she could so easily slip into that.
And so more time has passed and we are approaching the end of 2022. The huge life transition that I had been preparing for since Matilda was in third year at high school, has come and gone without too much of an upheaval. I say that, but actually, the amount of preparation I put in was fairly monumental. But it has paid off. So we moved house when Matilda was in 4th Year, suddenly aware that school would end in the foreseeable future and she would have no independence in a tiny, rural village with no public transport.  It was the right time to move for all of the kids but it was a wrench for us, we had loved Sandford and it had been the perfect family home for us when the kids were wee and growing. Far enough from traffic dangers for the adventurous Matilda, and full of outdoor play for them all. But again, it was getting cramped and three pre-teens in one room was stretching things, especially Matilda's anxiety as the twins had their nightly, very voluble, stand-offs.
So into Strathaven we moved. A house on the main street with a bedroom for everyone and within walking distance of everything for Matilda, which means she can walk to her job at The Strathaven Hotel. With Douglas running FRETS Concerts there monthly, we have got to know the owner Hans and the hotel staff and they have all got to know Matilda. When I asked Hans if Matilda could get some work experience at the hotel, he was more than happy to offer her shifts on the understanding that she will go on the paid rota like everyone else once she and they are happy that she is ready. At the moment she does two, two hour shifts a week with her own PA supporting her in her role.  My fear was she'd get two or three days at college and then spend 2 days on her phone in her bed. But perseverance and planning have paid off. She does have 3 days at college, New College Lanarkshire in Motherwell doing Independent Living Skills. She desperately wants to study drama, but this feels like the right transition from school to college and, crucially, she is really happy there. Hopefully she will have a chance to study drama at a later date.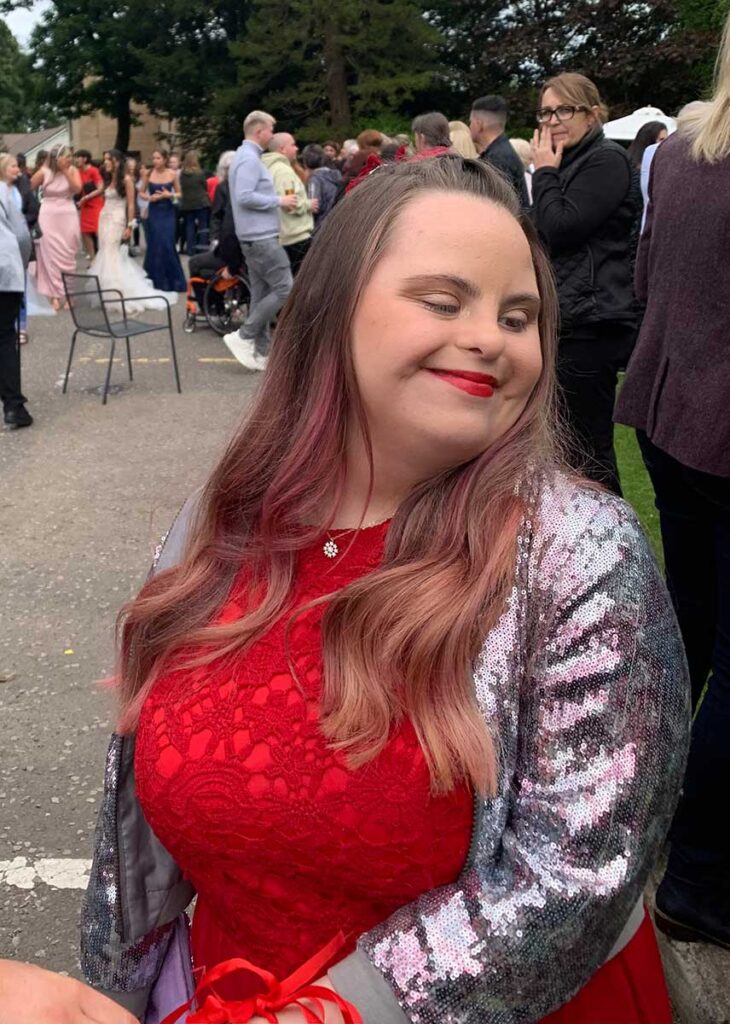 She is collected by bus  from the house each college morning and dropped back home. She has no support at college and this was a bit of a gamble in the first few weeks, especially the first day, saying goodbye to her at the front door at 7.30am as she stepped on the bus and not seeing her again till 5.30pm. I will admit to tears as I walked back into the kitchen after waving her off, my mind racing back to that terrible day sixteen years earlier when she covered her two-year-old face with her hands as the taxi took her off to nursery in East Kilbride and I, eight months pregnant with the twins, stumbled inside to sob at the kitchen table. I was more restrained this time. Pulled myself together and hoped for the best. There have been a few hiccups at the start but things seem to have settled down. She had a boyfriend for a day, but when they were caught kissing in college, she decided just to keep boys as friends for the time being. Of course, she's eighteen and allowed to kiss who she wants, but it's a juggle for college. Teaching young people with learning disabilities about personal safety and boundaries, while allowing them their personal freedom and encouraging independence. At the end of the day I need to know that she is safe where she goes to study three days a week, but she also needs to experience a bit of the real world and this seems to be what is happening. The staff have been great at listening to any concerns I have and getting back to me. I accept that she is a young adult and wants some privacy, but I also know that I'm lucky that she's able to tell me when she feels something isn't quite right. Typically, this comes in the form of a late evening chat, usually as I'm trying to prise her phone from her and get her light off.
M "So, something happened at college today"
Me "Do you want to tell me about it?"
M "well, J said to me, 'Are you a virgin?' and I said no, I'm not, and she said yes, you are. And then she asked L (a boy in class) and he said yes I was, and I don't like them saying that and why am I still a virgin!?"
Me "do you like this girl?"
M – "No I don't, she's not nice. I don't like her saying that to me."
Me – "Can you tell her to stop and walk away?"
M –"No, I can't. I need you to phone college."
So I do feel quite comforted that she comes to me and tells me these things. She knows what is outwith her comfort zone and her course tutor seems very keen to discuss all these issues and doesn't make me feel like an over-protective parent. The virgin issue is a bit of an ongoing theme, and I think it's just a word that gets discussed and I don't imagine Matilda has a complete handle on its meaning.  I need to make sure  teasing doesn't turn into bullying or peer pressure, so open discussion I think is always the way forward.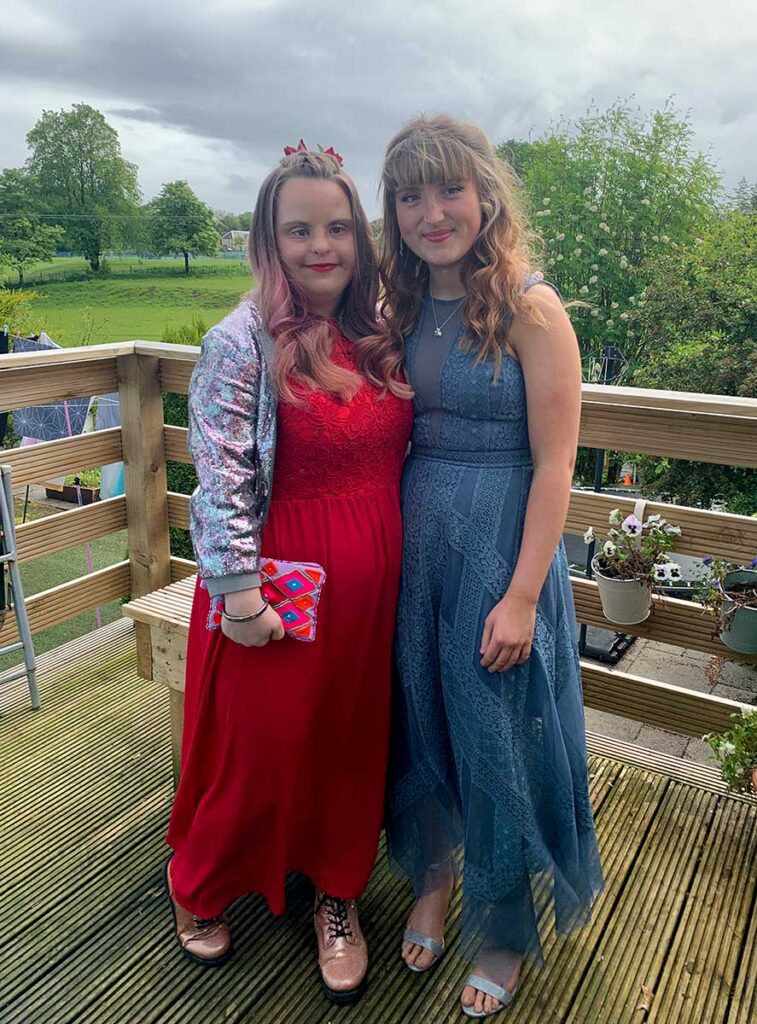 But, of course, college in itself isn't enough to constitute an after-school, young adult life. From the January that Matilda reached her long awaited 18th birthday and was half way through 6th year at school, planning was well underway for what she would do in the spaces between college and other social activities. The question of how we could help create the opportunities she wanted, while we both worked full time and she couldn't travel independently, raised its head. Cue a busy six months of grant applications, support assistant recruiting, school review meetings and interviews.
This has resulted in Matilda enjoying her part time job at the Strathaven Hotel on the days she's not at college. After that she heads into Glasgow with her support assistant for one of her music activities.
Previously:
Chapter 1, Pt I,
Chapter 1, Pt II,
Chapter 2
Chapter 3
Chapter 4
Chapter 5
Chapter 6
Chapter 7
Chapter 8
Chapter 9
Chapter 10
Chapter 11
Chapter 12
Chapter 13
Katy Lironi
@LironiKR
---
---
---