Matilda In The Middle by Katy Lironi – Chapter 15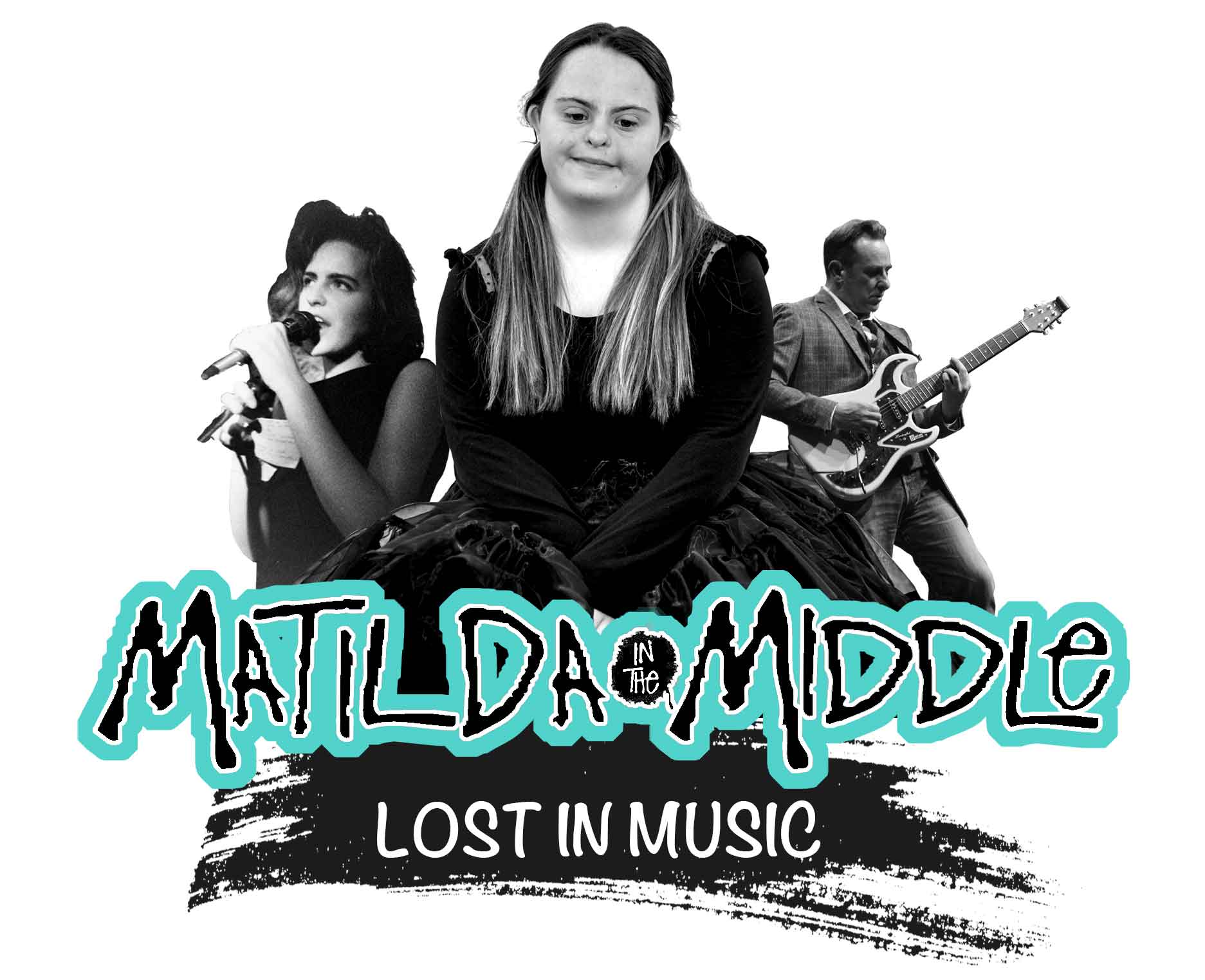 LOST IN MUSIC
Matilda leaving Ups and Downs coincided with Douglas starting a new musical venture, Frets Concerts, intimate gigs staged at our local Strathaven Hotel, just up the road, handily within walking distance. The first saw Lloyd Cole, who Douglas once upon a time used to tour with as a session guitarist, play an acoustic set in front of a hushed audience of 200. James Grant of Love and Money followed the next month and 2020 kicked off with Norman Blake along with Euros Childs from Teenage Fanclub. An eclectic mix of great songwriters have subsequently been drawn to the concept of performing music for a roomful of listening fans. It was proving to be popular and we had acts booked for each month of 2020. The Bluebells were booked to play the same night as our daughter Amelia's 20th Birthday. Our band The Secret Goldfish were the support act, with a special appearance by CHOIR 21, the local Makaton choir I was running. We were going to raise awareness of World Down's Syndrome Day 2020.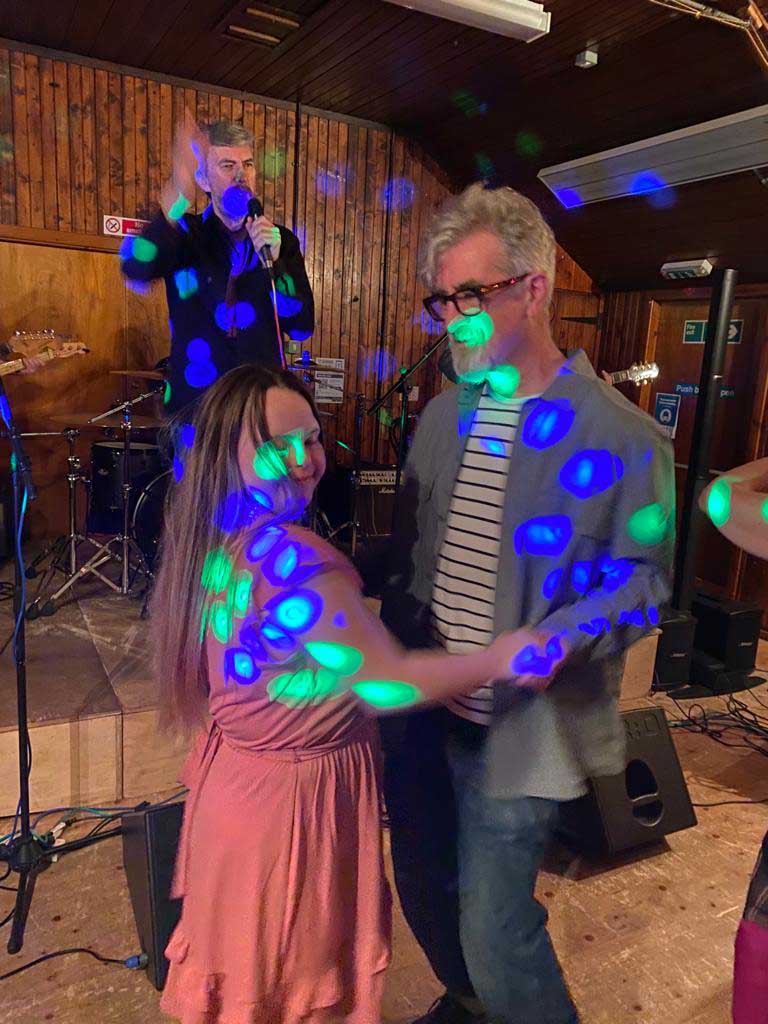 I had asked Matilda if she'd be willing to be part of a Makaton Choir on a Sunday afternoon to fill the void left by Ups and Downs, and so our new creative outlet was formed. We began in January 2020, a group of about 6-8 of us in the Frets Creative building in Strathaven, learning Makaton signs and singing along to pop songs. As Matilda said, "I'm not really a fan of Makaton" but there is no denying its help in learning lyrics and making them stick, even in a forgetful mind like mine. Makaton is a huge benefit when it comes to learning and retaining lyrics, and Makaton users and non-users alike enjoyed that added element to the Choir sessions. We were working on three songs to perform at Frets Concerts, raising awareness of Word Ds Day in the most positive and joyful way possible. It was to be our inaugural performance, supporting Matilda's favourite Glasgow 80s band, The Bluebells.
Of course, like everything else that week, it was one of the first gigs to be cancelled. So disappointing for all involved and this moment of lockdown would herald a dark day of impending isolation for the whole population, few more so that the learning disabled community. Comprehending exactly what was happening was impossible for any of us, but for Matilda it was confusing, stressful and hugely upsetting. On that Friday night in question we had no real option but to let her perform in whatever way we could. It was on the kitchen calendar therefore it was happening. How could it not? The explanation was too complex and the reality too grim to explore in further detail. And so began our Friday Night kitchen concerts. A pale equivalent to what the real night would have offered her, but better than nothing.
Here is the story of what happened next, from a blog I was asked to write at the time by Down's syndrome charity, 'Wouldn't Change a Thing'
MATILDA'S LOCKDOWN ADVENTURE
For the last three months my husband and I have been in lockdown with our five teenage children. Actually, that's a lie, our eldest turned twenty on the first day of lockdown. To celebrate we started our series of Frets Kitchen Concerts on Facebook. I was a FaceBook novice, but I seem to have taken to it with a fervour usually reserved for  food in these lockdown times. Our kitchen is perpetually filled with freshly baked chocolate chip cookies, pizza and pancakes. The children eschew all home schooling apart from Home Ec and PE. The first Kitchen Concert wasn't only to celebrate the eldest's 20th Birthday, it was also to ease the disappointment that we weren't at the Strathaven Hotel performing the inaugural gig of the Makaton Choir supporting The Bluebells.
This was the first of many cancelled gigs and events, and as for everyone, it became normality. Not everyone in our household adapted quite so easily. For weeks our middle daughter, Matilda, 16 years old, a teenager with an extra chromosome, scanned the calendar for missed events and counted the days in what she should have been doing – It's Friday, can I go to the swimming pool inflatable? It's Monday, is it gymnastics? She knew the answer, but what did it really mean to her? Who knows?  She calls it the Stupid Corona virus, an apt description. But like the rest of us, she has adapted. Her isolation would be overwhelming if not for the fact she is the middle of five siblings.
Matilda is used to going to activities six out of  days of the week. On top of school, that doesn't leave too much time for her other teenage passion, being left alone in her own room to speak with pals on Snapchat and make intricate TikTok videos. Now of course she has all the time in her own little world to really and truly indulge that passion, and as the weeks roll on and the charade of home schooling is eased, it's getting harder and harder to persuade her to take part in other activities. I fear that she may have adapted too completely to her new normal and finds she quite likes it.
Never did I think I would be thanking social media for saving us from meltdown. I am the wrong generation, and social media was something I tolerated rather than embraced. But it has provided us with a focus, a weekly timetable and given Matilda a little window into the outside world. When that inaugural gig was cancelled and the seven of us found ourselves stuck in the house together on the first of many Friday nights, we knew we had to do something to ease the boredom, attempt to celebrate Amelia's goodbye to her teens and alleviate the disappointment of a cancelled gig. Why not perform anyway? I heard myself thinking out loud. Maybe some people who were coming to the gig could be entertained and it would give Matilda something to do since she couldn't go swimming, her Friday night activity. We quickly rehearsed a cover of Altered Images Happy Birthday segueing into Happy Birthday by the Bluebells, got a suitably mortified Amelia on filming duties and posted the first kitchen concert to a captive audience of likewise incarcerated families.
I can assure you we are not the Von Trapps. The rest of the kids run from the kitchen when they realise it's that time on a Friday evening and Amelia, the real singer in the family, refuses to perform with us. Still, we enjoy it. Matilda is having a great time and we at long last have a repertoire of sing along classics that we can perform at future family get togethers, whenever that may be. The response to the first Kitchen Concert was amazing. People sent beautiful messages of support, and these messages have continued throughout lockdown, and it's not just friends and family. We've had messages from all over the globe and the lovely thing is, people are noticing the growing confidence in Matilda's performances.  She is a natural show off who has been performing on stage and screen since the age of five, when the concept of her coming stage fright and anxiety were unthinkable. She has broken down barriers, coped, adapted and been hurt and challenged along the way, but everything that she's done is because she wants to do it. We are merely her facilitators, and so it was strange and unsettling to see our daredevil daughter, not a fear in the world, being beset by anxiety and running hyperventilating from stage at the Hamilton Townhouse Theatre in 2019. A short year earlier she had mesmerised audiences as part of Choir 21 at the Royal Concert Hall when we staged our fundraising Sandfest gig for Down's Syndrome Scotland, where she  effortlessly worked an audience of 2,000.
I hope this puts in context the fact that Matilda, although a natural performer, has been experiencing teenage angst that could have stopped her in her tracks. Lockdown has provided a perfect opportunity for her to rebuild her confidence in the comfort and security of her own home.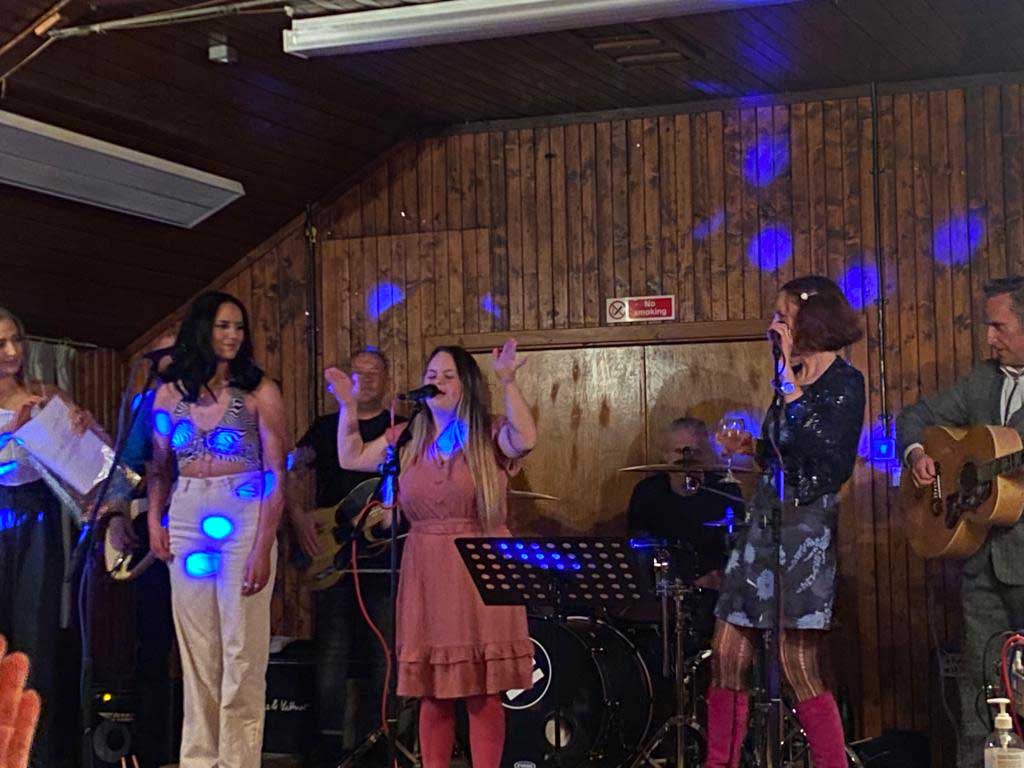 As Frets Kitchen Concerts continued, other charities began to get in touch. Home-start Glasgow North were first, asking us to provide some online Makaton activities for families with children under five that they support. They've done an amazing job during lockdown, moving their extensive support to an online model almost immediately with weekly story sessions by their ambassador Kaye Adams and sing-alongs with community musician, Rachel Lightbody. Being flat out learning how to move my own day job with Down's Syndrome Scotland, supporting babies, children and young people with their communication, to an online model, I initially declined the Home-start request. As the weeks went on and I discovered that on-line provision was both meaningful and enjoyable, I decided to enlist Matilda's help in reaching a new audience and spreading the wonderful world of Makaton. This again has been a whole new learning curve, not only in the technology department with FaceBook Live, but also in the performance aspect of being live! Matilda and I have discovered our inner comedians and it's really disciplining for Matilda to be there in front of that camera for 11.30 on a Wednesday morning with at least some knowledge of what we are trying to achieve and how the session should unfold. There have been many tense moments before she presses the "go live" button, as I'm sure many parents can empathise with! The chocolate button bribe is continuing to work, but I dread the day when that bribe has to include a bottle of cider or worse still, a can of Dragon Soop, but since it's the drink of choice of her beloved sister role-model, I'm not holding my breath! She's on countdown to her 18th birthday so wish me luck.
Nothing was more tense, but eventually more enjoyable, than being asked to perform as part of the Tiny Gigs FaceBook Live Festival to raise money for the Tiny Changes charity supporting mental health in young people. It was set up by Grant Hutchison in memory of his brother Scott, lead singer with Frightened Rabbit, who took his own life after suffering from depression for many years. It was a real honour to be asked, and highlighted to us that what we were doing was reaching and resonating with people out with our own family, friends and community. We were also part of something that has raised in excess of £15,000 for this charity that supports something that affects more and more children and young people.
If Frets Kitchen Concerts entertains, lifts spirits and provides some light relief during these dark days, that's all we could hope for. If seeing Matilda blossom, and witnessing her joy of performing helps change just one person's perception of what it is to have Down's syndrome or be a parent of a person with Down's syndrome, then we have achieved far more than we set out to do one Friday night at the start of the 2020 pandemic.
*********************
Since that first Frets Kitchen concert, Matilda has been adamant that she only participated until concerts could resume. She sees her rightful place as being on the tiny stage at Frets Concerts. Unfortunately, due to the higher risk posed by Covid19 to the Ds community, I didn't feel confident enough to invite the members of CHOIR 21 back into a concert environment when gigs finally resumed, with two sold out nights from The Bluebells in September 2021. With the result that Matilda is still waiting.
As for the Kitchen Concerts though, they were a life saver. For the next six months, if we achieved nothing in a week, and by that I mean, no school, no reading, very little activity, we at least managed to learn one song to perform on a Friday evening. It was not always easy, it was not always enjoyable, it was often fraught with anxiety, technical and familial, but the end result was always widely met by warmth, positivity and love. And for us, Matilda had a weekly moment to shine again, to perform, do what she does best, add humour to any situation and crucially, learn the lyrics to another great song.
As the weeks wore on it also had another unexpected benefit. As we drew closer to the summer holidays Matilda began to get excited about her impending holiday to Soller. We hadn't been for a few years but had found a wee house to rent and were counting down the days. As May fell into June we began to realise the truth, our holiday wouldn't be happening, not to Soller anyway. Matilda turned her heartfelt disappointment into one of my favourite songs and most popular Kitchen Concerts ever, Port de Soller, a ballad for our collective disappointment into which we poured everything we love most about Matilda's favourite childhood holiday destination. It was a joy to write and sing it with her and best of all, we got a beautiful message from a Soller resident who'd heard it and loved it too!
Writing and performing her own song for Kitchen Concerts, reminded us of an activity she'd started the summer before, on the banks of Lago Selva in Italy. Matilda has a few essentials when going to the lake for the day, including pens and a notebook. There's usually lots of relaxing colouring-in on holiday where there's no mobile phone activity. But the last year we were in Italy she began song writing, completely unprompted. This particular day she began writing "Invisible". She wanted some suggestions for rhyming lyrics and then she needed a tune, so off the top of my head we began to sing aloud together and the basis of her single "Invisible" was born. Song writing was not such an outlandish pastime for Matilda to fall into, having grown up around music and being an active member of Sandfest throughout her childhood.
Lockdown was to hand us another opportunity –the space and time to rehearse, record and film a video for Invisible, Matilda's inaugural single, released digitally to coincide with World Down's Syndrome Day 2021. Sometimes life is just too busy to fit in these creative ideas and concepts that float through our minds, but lockdown was our window of opportunity and I'm so glad we saw it and grabbed it. We weren't the only ones in the family to take creative advantage of incarceration. Auntie Clare and Uncle Stephen managed a whole new album! Writing, recording and producing the first new Altered Images album in 39 years – Mascara Streakz – impressive.
*********************
And then when lockdown finally lifted, it coincided with that huge life transition that we'd been hurtling towards – the end of school days. And where would music and performance fit into Matilda's new life?
Previously:
Chapter 1, Pt I,
Chapter 1, Pt II,
Chapter 2
Chapter 3
Chapter 4
Chapter 5
Chapter 6
Chapter 7
Chapter 8
Chapter 9
Chapter 10
Chapter 11
Chapter 12
Chapter 13
Chapter 14
Katy Lironi
@LironiKR
---
---
---