Matilda In The Middle by Katy Lironi – Chapter 16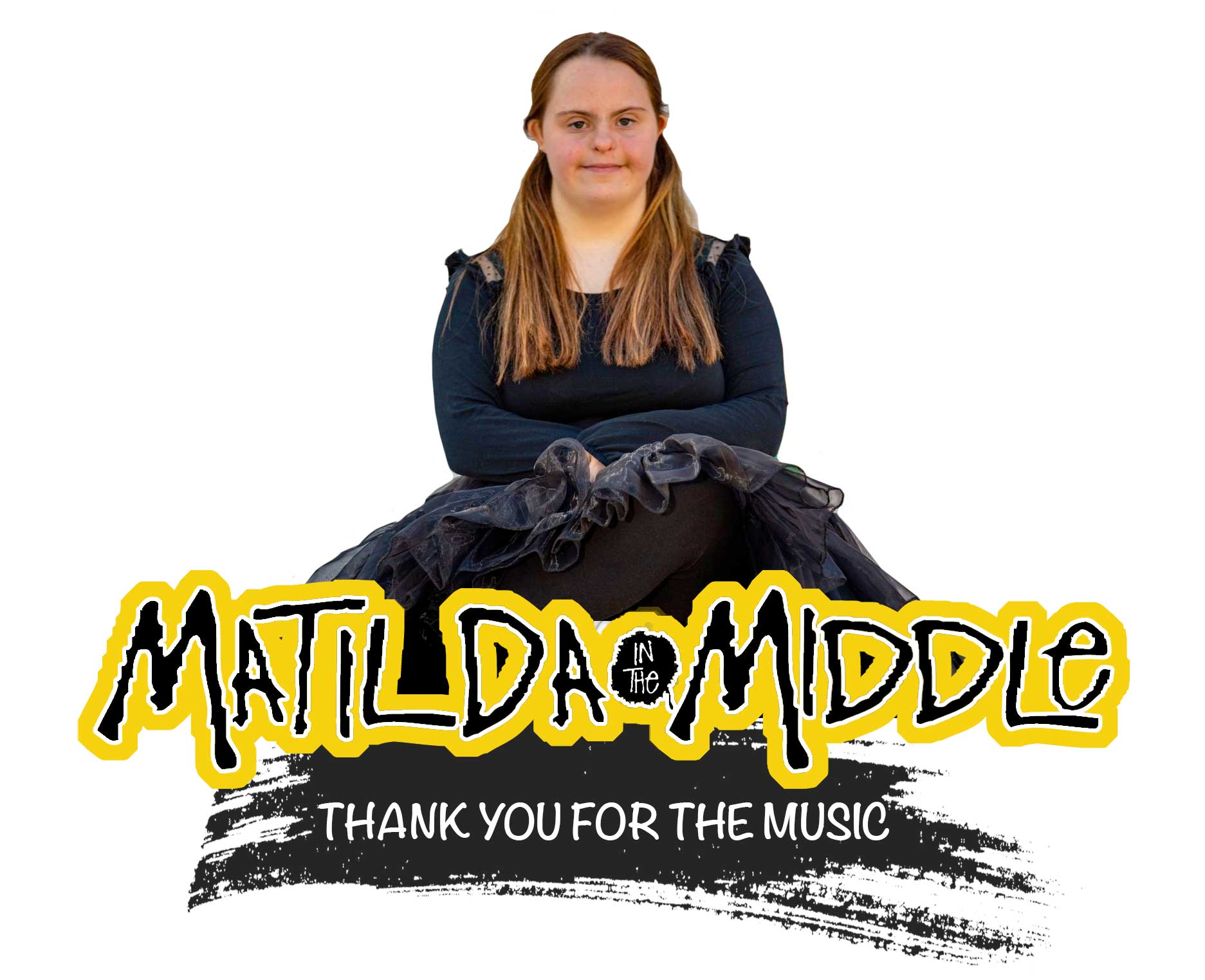 THANK YOU FOR THE MUSIC
Finally, here is the creativity Matilda manages to shoehorn into her week  between college and work.
PARAGON MUSIC
After work on Mondays Matilda has her 1.5 hour Groove session with the wonderful Sarah Rose, one of Paragon's team of talented musicians/ actors/ choreographers. Paragon is a charity dedicated to equality and inclusion through inspiring young people and adults in Scotland to create new music and dance.
Matilda works one-to-one with Sarah Rose and together they decide what each session will consist of. This is funded through an ILF (Independent Living Fund) grant, which is available for disabled people in Scotland and Northern Ireland to help them live a more independent life. It has opened up a world of opportunity for Matilda where she can share her copious notebooks full of lyrics with Sarah Rose – sometimes they refine a song she has worked on, sometimes they put a tune to it and record it together, perhaps add some choreography, other days they embrace Matilda's love of the musical and belt out hits from the likes of Sound of Music and Moana. Other days are entirely different and she learns the intricacies of stage combat. At the start of each session they work on tongue-twisters to help hone Matilda's articulation, something she still really needs to concentrate on. And to be able to do all of this in a fun, creative environment with a dedicated one-to-one mentor is something remarkable.
MusicALL
'Our work breaks down barriers, changes perceptions and tackles the exclusion young people with disabilities frequently experience. We focus on nurturing talent, building skills, developing confidence and bringing people together, enabling participants to fulfil their potential and enjoy their lives.'
On Fridays Matilda disappears into one of Berkeley 2, the UK's largest rehearsal studios',  fabled practice rooms. Douglas and I have been rehearsing there for many years and all touring musicians passing through Glasgow will rehearse there at some point or another. It's perfectly placed, just a stone's throw from some of Glasgow's biggest venues – the Hydro, the SECC and the Armadillo. So far, Matilda has only bumped into her dad and sister rehearsing for Port Sulphur (number one album in the Scottish vinyl charts in summer 2021!) in the corridors of Berkeley 2, but she is on the look-out for Lewis Capaldi.
So one day a week Matilda gets to enact her dream, one I admit to having for her when she was a wee girl – why wouldn't she be the lead singer in her own band? I knew she had the stage presence for it. So now she fronts her own band of two other young adults with disabilities, brilliantly supported by MusicALL musicians. The first day of band rehearsals she edged towards the vocal mic and there she has stayed. They rehearse a combination of covers and, as the weeks progressed, Matilda felt confident enough to share some of her own songs, so they now practise them too. What a fantastic opportunity!
Ydance Horizons
YDance (Scottish Youth Dance) is the award-winning national dance organisation for children and young people in Scotland.
Horizons is their inclusive dance group that Matilda has been a member of for a number of years. They meet monthly for a four-hour rehearsal and perform beautifully choreographed contemporary dances as part of the Ydance annual 'Destinations' showcases. Matilda has performed twice at the Macrobert Arts Centre in Stirling and twice at Eden Court theatre in Inverness. These are amazing opportunities made possible by fantastic organisations and their staff and volunteers.
It's very important for Matilda not to be viewed as disabled. She is not particularly happy to identify as having Down's syndrome – she knows she has Ds, but doesn't want to make a big deal out of it and is not ever very comfortable being in groups only with others with Ds.  I don't know where this feeling emerged, as she was involved in ups and Downs from a young age and appeared happy there. Although, in retrospect, she probably aligned herself with the helpers and siblings quite a lot. Perhaps going to mainstream primary and mainstream activities throughout her childhood with siblings surrounding her. Who knows? Whatever the reason, she definitely embraces  activities that she doesn't perceive as being for those with a learning disability.
I made one mistake in my bid to fill up her week as school days drew to a close. I took her to a drama group for adults. Not young adults. Adults.
So one Monday, straight after her hotel shift, we descended the stairs to an old church hall. We were met at the door by an extremely tall man in his 50s who shook our hands and chatted to me about football for the next ten minutes, in minute detail. The room was busy with other adults of all different ages, busy and loud. This was the first week of term and people were excited to see one another after the long summer break. The choreographer spotted us and came over to welcome Matilda. But by then we had lost her, hands clamped over her ears and a look of rising panic in her eyes.  I needed to take her out to the hallway and after that it was a short step to her sitting on the floor, covering her face, desperately trying not to cry as she asked me "Why did you bring me here?"
It was a glimpse into a world neither Matilda nor I were quite ready for. Thank goodness these groups exist, and in ten years' time it may be a saving grace for all of us. But Matilda is an eighteen-year-old girl who still wants to be like any other eighteen-year-old girl. That doesn't mean hanging out with men the same age as her dad who socially display some of the behaviours she is naturally wary of. Life is just so full of contradictions and social obstacles that she is ill equipped to navigate.
And a word to those providing services for people with learning disabilities – would I want or expect my non-disabled daughters to hang out at social clubs with men in their 50s and 60s? Probably not. Provision for young adults is vital, to give the space and security to grow into adulthood, which as we all know, doesn't happen in the space between going to sleep one night as a seventeen-year-old and waking up the next morning as an eighteen-year-old. No matter how many tattoos you may have.
Saturday Citizens
This is the legendary Citizen's Theatre's drama group for young people with a disability aged 14-18. Matilda has been a member since just before she turned fourteen and, except during lockdown when she stopped attending anything creative on Zoom, she has been a regular face at Saturday Citizens. It's another inspirational outlet that helps her build confidence, fires her imagination and allows her to communicate and create with other like-minded young people, led by a team of dedicated and enthusiastic drama practitioners.
And something for the future…
So as you can see, Matilda loves to be actively engaged in creative pursuits. It is her dream to study drama at college. Wouldn't it be a fantastic thing if some of these amazing organisations which deliver such brilliant creative opportunities for young people, were to group together and partner with an educational provider to offer a further education pathway in creative arts accessible to all? Please send the application form Matilda's way when it's up and running. She has a lot yet to learn and a lot still to create.
In the words of Edwyn Collins from Orange Juice –Upwards and Onwards!
Previously:
Chapter 1, Pt I,
Chapter 1, Pt II,
Chapter 2
Chapter 3
Chapter 4
Chapter 5
Chapter 6
Chapter 7
Chapter 8
Chapter 9
Chapter 10
Chapter 11
Chapter 12
Chapter 13
Chapter 14
Chapter 15

Katy Lironi
@LironiKR
---
---
---