Matilda In The Middle by Katy Lironi – Chapter 5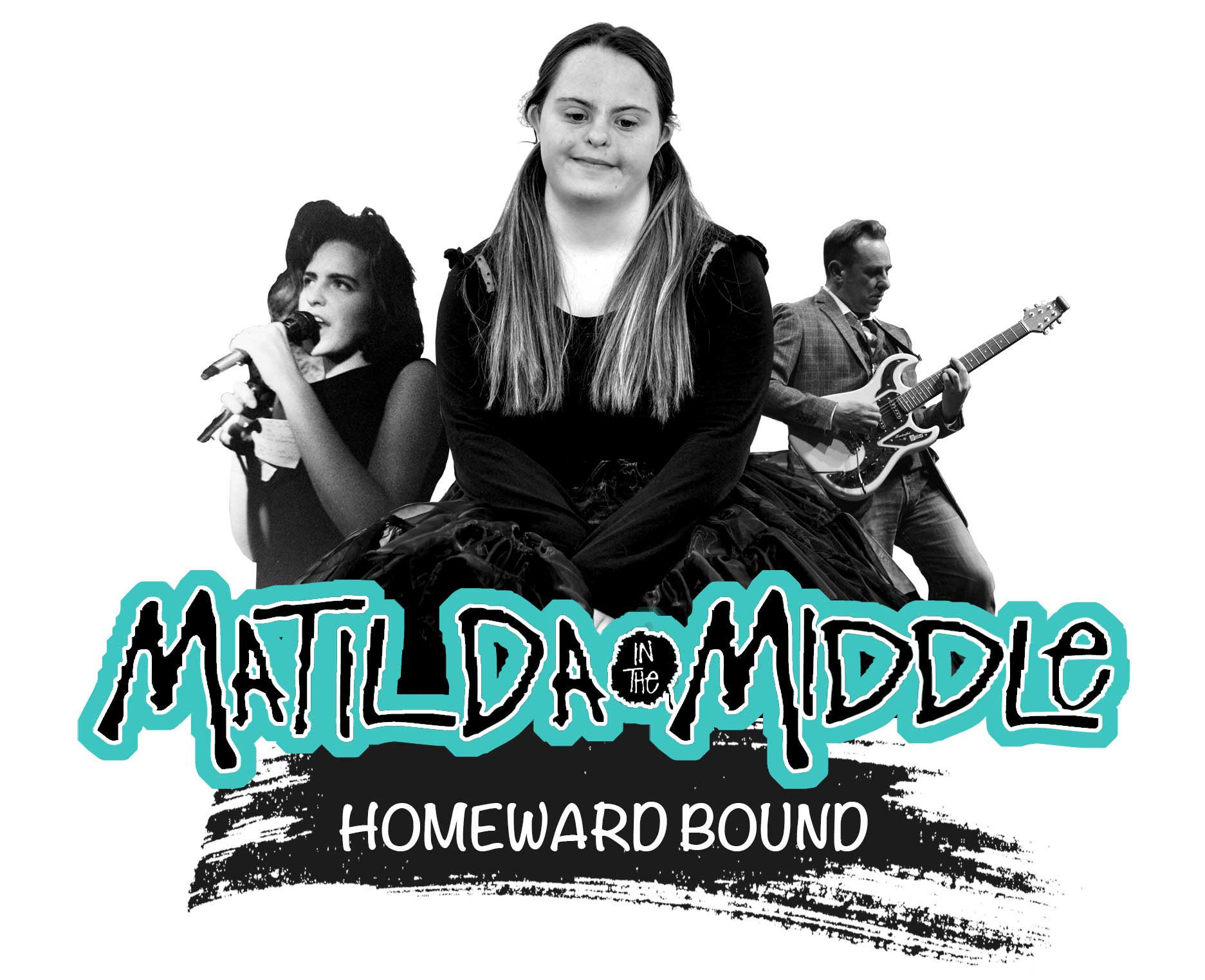 Homeward Bound

There was no plan. I just felt it was the right time to figure out what I was doing with my life. I didn't, but I did find myself back in Glasgow. My two great loves are music and books, I can add walking and the wonderful outdoors to that short list now, but in my mid-twenties, I really couldn't care less. I got a job in Waterstone's Booksellers in Union Street in Glasgow and a flat with Ann in the West End. I was writing short stories and poems and became the buyer for the poetry section at Waterstone's. Life was trundling along. I could say I missed the more dramatic highs and lows of living in foreign cities, and the collaborative creativity of being in a band, not to mention being a show off on stage, even if no-one else realised that's what I was doing. But I'd convinced myself that 27 meant it was time to grow up.
And so my brother's best friend from teenage years stumbled upon me in the bookshop basement, I called home, and changed the course of my life.
Macky started appearing in his navy blue duffel coat in the weeks running up to Christmas 1993 and requesting obscure books about gamekeepers. We had known each other since I was 12 and he was 16, rehearsing with my elder brother Stephen in the bedroom next to mine. We chatted, he left, he came back the next day for more obscure books, and so December continued. Traditionally, in the days between Christmas and New Year, a group of family and friends would often take a trip to the Hidden Valley in Glen Coe. This year, with all the treacherous proper snow, the roads were too bad to travel so far but Stephen suggested a trip to the Queen Elizabeth Forest Park, near Aberfoyle. It turned out to be just me, Stephen and Macky, my brother's matchmaking skills coming to the fore. I was oblivious.
My main memory of that walk is both Stephen and Macky slipping and falling on the snowy track, and their lack of perceiving this as being obviously hilarious. These were serious musicians. Macky, Douglas as I fairly soon got used to calling him, also discovered Creeping Bent, a flowering grass on that trip, and was to name his new, independent record label after it.
And that's where life and music once again collided and started to make sense. I could see why I'd come home. We went on a first date to Fratteli Sarti in January 1994 and by March had formed The Secret Goldfish with Ann's boyfriend Paul on drums and my brother Graham on bass. Everything seemed to slot into place. Working in the bookshop by day, helping out at the Creeping Bent offices on my days off, sending 7" singles around the world and making photocopy fanzines, while writing, rehearsing, recording and playing with The Goldfish.
It was a revelation to me to play with a band of musicians who knew how to use a capo. Suddenly I could sing in a comfortable key without bellowing to be heard above a cacophony of fuzzy, distorted guitars. Being able to write together was a welcome creative outlet. Douglas is such a naturally musical person that he could seemingly effortlessly concoct my lalalas and hummed snippets of melodies into three minute pop songs in the blink of an eye. There are many highlights of the 1990s Goldfish years, but here are some that spring to mind.
Creeping Bent slowly germinated alongside the Secret Goldfish throughout 1994 but well and truly sprang into life and public consciousness on 12th December 1994 at an event masterminded by Douglas. It was A Leap Into The Void, and was his announcement of Creeping Bent as a label and art movement to be reckoned with. The venue was Tramway in Glasgow's south side and the Scottish weather almost scuppered the event before the sound checks could even take place. There were rains of biblical proportions and in the days before rainfall and winds had special names, this truly was a storm like no other. The River Clyde burst its banks and concerts in the adjacent SECC had to be cancelled. Tramway was a bit safer and at the last minute the gig got the green light to go ahead. It all added to the tension of a big night with what seemed like a lot riding on it at the time.
The great and the good of the Scottish arts media and music scene turned up in force and took advantage of the free Vodka Douglas had managed to secure through a friend, and the night was a huge success. The Goldfish took to the stage alongside the Leopards, Spacehopper, Adventures In Stereo and a great opening DJ set featuring the bloodcurdling scream of Frankie Teardrop by Bent artist Revolutionary Corps of Teenage Jesus. If nothing else, A Leap Into The Void got Creeping Bent and its artists noticed.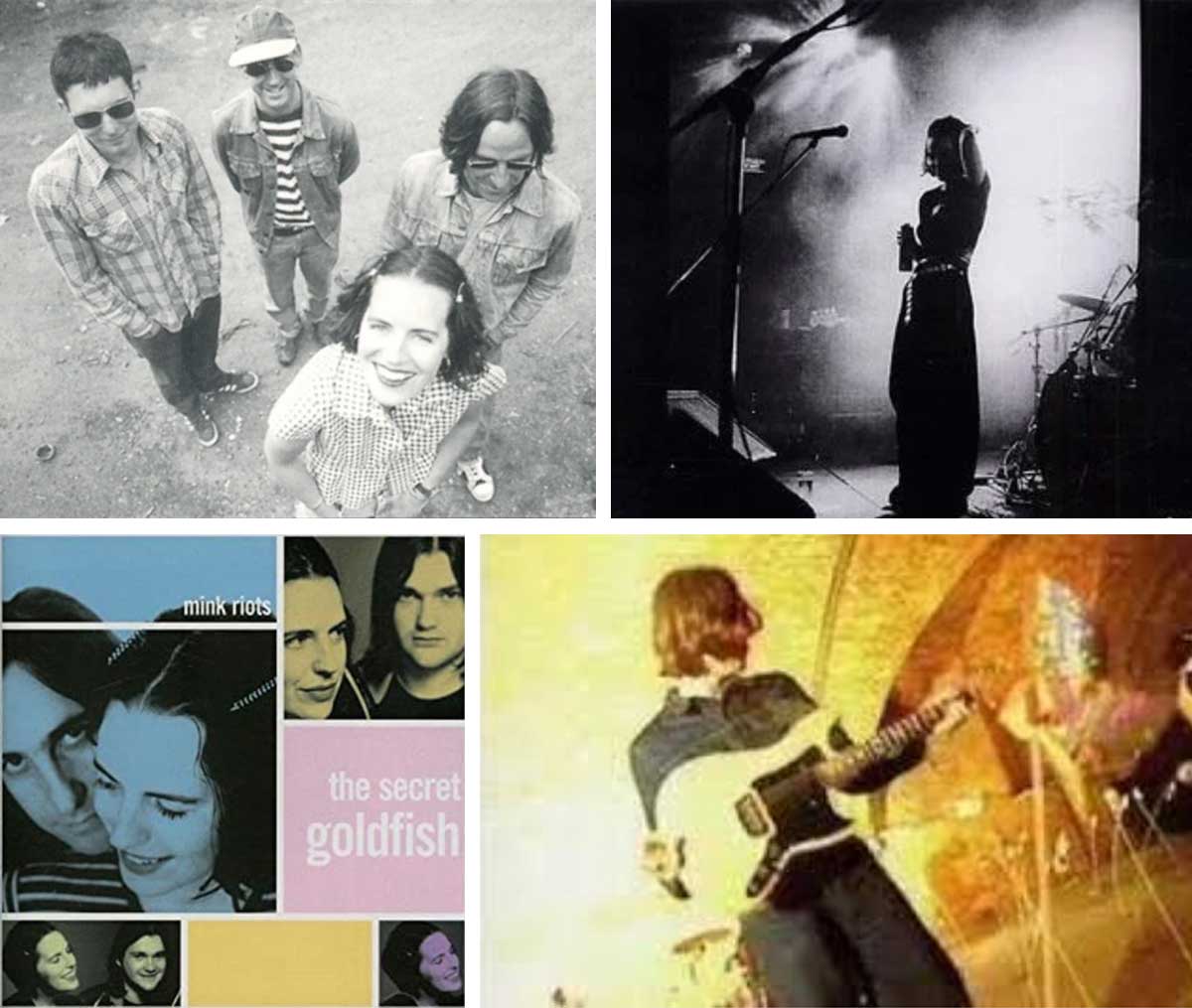 Another uber highlight has to be our trip to Hungary as guests of the British Council, part of a Scottish Arts Festival. We arrived in Budapest bemused, bewildered and delighted. My bewilderment was in no small part down to the Diazepam I had consumed in the airport toilet. This is not so much a tale of rock and roll excess as my story of fear of flying and raiding my parents' medicine cabinet. My mum suggested my dad's medication he'd had for a previous heart attack might help me out on the flight. I was lucky I saw Hungary. I didn't quite get the timing of self-medication right and, still feeling panicky in the departure lounge, I swiftly swallowed down another couple of tablets. I was aware of my brother looking at me strangely as I walked towards him from the toilets.
I made it onto the plane and next thing I knew we were in Budapest being collected by a local music lover and his pal, a girl with yellow hair, who would feature in a song about our Hungarian experiences, 4 Excited People. We seemed to go straight to our accommodation and from there straight to a pub with homemade wine/fire water in five-litre plastic bottles. I fell asleep sprawled on the table as the Diazepam continued to work its magic.
Our accommodation lasted one night, until Ann, who accompanied us as tour manager, managed somehow to get us moved from the mouse-infested basement hostel that we'd been put up in, to a penthouse suite at the top of the same building.
The gigs themselves were slightly terrifying affairs, again immortalised in the song 4 Excited People."Big men in leather pants, wouldn't even give us half a chance…."  The Hungarians, it appeared, liked their music loud and rocky. The Goldfish could never be described as rocky, sometimes quite loud but not in the way the rest of the bands on the bill were. They also played immensely long sets and we were expected to as well, except we were hard-pushed to top half an hour. It's fair to say the gigs weren't the high point of the whole Hungarian excursion. It was just great to be 4 excited people and really, just listen to the song, it says it all.
The scary audience members, especially the bar full of neo Nazi skinheads, drunken walks across the Danube bridges, train journeys into the hinterland to play small college gigs, and frolicking in thermal baths. The closest we got to a European tour and it was all over before any of us fell out. It was enough for my brother Graham though, with 2 small children at home and a full time job, he couldn't commit to band membership and we soon recruited "young Steven" (Steven McSeveney) as his replacement on bass guitar.
Another highlight would be John Peel asking Creeping Bent to curate an evening at the South Bank Centre's Queen Elizabeth Hall as part of his Meltdown Festival in July 1998, coinciding with the World Cup. (Peel had giant screens installed in the foyer showing the matches.) We played alongside label mates Adventures in Stereo, The Leopards and Nectarine Number 9, the Scottish contingent taking London and my brother's Crouch End house by storm. Great gig, great venue, great line up. When John Peel passed away unexpectedly a few years later, I wished again, as I had on the night, I'd had the guts to go up and speak to him in the foyer. But I didn't, I looked his way and looked away again. We were there to play because he liked our music and had asked us down to record two Radio One sessions at Maida Vale, but we'd never met him. He was notoriously shy and two shy people can make an uneasy mix, so I missed my chance. Then I never got another one.
We also had the opportunity to play the second T in the Park in 1995, when it was still held at Strathclyde Park in South Lanarkshire. It was an unusually hot Scottish summer day when we took to the newcomers' stage at 11am, which left us plenty of time to enjoy our back stage passes complete with rider and proper portacabin toilets, for the rest of the day. Living the rock and roll dream. The gig itself was the same as most at that time, nerve wracking with poor sound quality. The perils of being bottom of the bill and getting the shortest sound check with the most pissed off crew.
Between 1994 and 1999 The Secret Goldfish recorded two albums, released on both Creeping Bent and German indie label, Marina, recorded two John Peel sessions for Radio 1 and appeared live on Mark Radcliffe and Marc Riley's Radio 1 show. We filmed several videos, frequently sold out local venues King Tut's and Nice-n-Sleazy and played as part of an independent records night at the Edinburgh Festival.
In September 1999 we played The 13th Note in Glasgow and announced the next Bent release on stage, our future daughter, known then as The Captain.  We played our final gig at Dingwalls in London in October 1999 supporting Vic Goddard and Edwyn Collins. Little did we know life would get so busy it would be the best part of 20 years till the Goldfish took to the stage again, with said daughter making a more visible and vocal appearance as backing singer. So what happened in that intervening 20 years?
Previously:
Chapter 1, Pt I,
Chapter 1, Pt II,
Chapter 2
Chapter 3
Chapter 4

Katy Lironi
@LironiKR
---
---
---