The McCluskey Brothers | Tiny Changes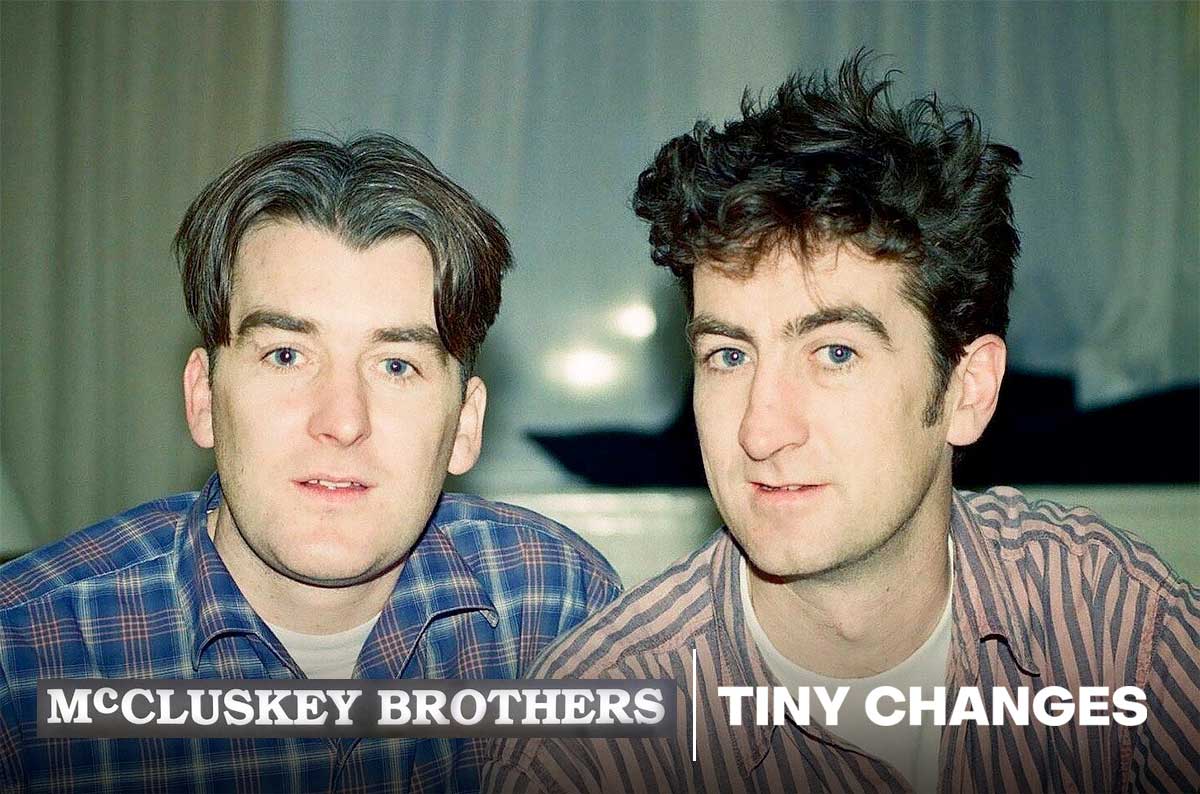 In a fantastic gesture, Ken and David McCluskey (The Bluebells, The McCluskey Brothers) have given us a 'never before available' recording of their cover of Todd Rundgren's classic from 1972, I Saw The Light, to boost our campaign to raise funds for the Tiny Changes mental health charity. The track also features Ali MacLeod on guitar.
The mastered track landed on our desk last week just as the general mood of optimism seemed to be dancing in the spring air. As, bit by bit, we start emerging from lockdown, it felt like this was the right song at the right time!
Our immediate reaction was to arrange a meandering walk through Kelvingrove Park with Ken and soak up the uplifting sense of the promise of a light at the end of the tunnel. The film to the song, linked below, is the result of that life-affirming saunter around one of Glasgow's most beautiful parks. The film features our lovely, but deserted, Kelvingrove Bandstand (a very special place for Glaswegian music lovers) which will be joyous again when the music returns.
Here's Ken with a few words on the recordin"While recording our second McCluskey Brothers album Favourite Colours (1991) on our then newly-established Kingfisher Records label, we were discussing the idea of a few classic songs that we could maybe cover for an upcoming tour of Donegal for the annual Earagail Arts Festival. The nature of the Festival was that you performed in a variety of venues dotted about in villages and towns around Mount Earagail with Letterkenny being the "Big Smoke". At some of these gigs it was expected that you would play three or four sets of up to an hour at a time so we had to rehearse a lot of material.
The classic was Leo's bar in the lovely wee hamlet, Crawley. Leo was the father of the world renowned musicians Enya and the Brennan's who made up the band Clannad. Leo would meet you as you arrived and in a very friendly way inform you that "if you just play maybe 45 minutes every hour or so and when a tourist bus pulls up". The old man would play a couple of songs as a warm upon on his accordian and always give us a fantastic introduction "All the way from Glasgow, Scotland. The McCluskey Brothers" every hour or so from 2pm till close. It was great fun and we were well looked after but we needed loads of songs.
The 7" single of Todd Rundgren's "I Saw The Light" was put forward by our lead guitar player Ali MacLeod who always had great taste in music and as soon as we put it on the record player we were totally in love with it. It was a joy to learn and perform and the harmony's are a treat. We probably played it on the hour every hour at Leo's.
We recorded the track around 1992 at Riverside Studios, Glasgow with Johnny Cameron at the controls but never released it. I came across it on an old DAT tape recently and it sounded really fresh after all these years. We are re-releasing Favourite Colours on the Past Night From Glasgow label in October 2021 and are considering adding the track to the vinyl as a bonus."
We hope you enjoy this joyous sound and support the Tiny Changes charity fundraiser detailed at the bottom of this article.
Other cover songs in aid of Tiny Changes:
Collaborations | Hodgens + McPhee
Collaborations | Port Sulphur + Ross Sinclair
Collaborations | Deerin + Hodgens
Collaborations | Carla J Easton + Kris Boyle
Collaborations | DopeSickFly + Into Creative
……………………………………
FUNDRAISING FOR TINY CHANGES
All the cover songs are FREE to download on our Bandcamp page but we would ask that you donate however much you can manage to the Tiny Changes charity which was set up by the family of Scott Hutchison who was a founding member of Frightened Rabbit. Scott took his own life after years of battling with mental health issues. The family felt compelled to set up Tiny Changes as a mechanism to support projects which positively impact on young people's mental health.
Here is the link to Into Creative's Just Giving page which is raising funds for the charity…
JUST GIVING – TINY CHANGES
Please also visit the Bandcamp page where you will find the FREE download links to the songs…
INTER-CREATIVE COLLABORATIONS BANDCAMP
Here is the link to Tiny Changes' page…
TINY CHANGES Website
---
---
---