Music Books Review – Grant McPhee
Alternatives to Valium – Alastair McKay
Any book which starts with an anecdote describing Brigitte Bardot filming on a beach in East Lothian, where I currently live, is always going to get a top score from me. The book is filled full of joyous little memories such as this and it's their vividness which brings this youth centred autobiography fully to life. Lesser writers would ignore the small details to focus on more contrived events.
The quality of writing is no surprise as McKay has worked work for most of the UK's press, not just broadsheets such as The Guardian and Independent but more importantly for its subject, many of the UK's music press during the prime Punk and 'Indie' years. While it's subtitled 'How Punk-Rock Saved a Shy Boys Life', it's really more about how writing changed someone's life. Bookshop shelves are now stacked with band autobiographies describing their journey from one moment listening to Genesis until their Year Zero Punk moment and going off to seek their riches in the pop world. It's almost forgotten that Punk was not just about forming bands but impacted many other aspects of art, literature, filmmaking and writing. Although this book does have some humorous early dalliances with joining a punk band this really is above all a story – and a very funny and poignant one – about the power of music.
Buy from the Publisher – Birlinn
The Golden Road: The Recorded History of The Grateful Dead – John Kilbride
At the complete opposite end of Punk we have John Kilbride's The Golden Road: The Recorded History of The Grateful Dead. I love The Grateful Dead. I own their first 3 psychedelic studio albums that still get a regular listen and I've also got their two completely unexpected but astounding Country-Rock follow-ups, Workingman's Dead and American Beauty. And that's it: I don't own any bootlegs and as far as I can remember I don't think I've ever listened to any, but should I want to then this book would be the perfect guide.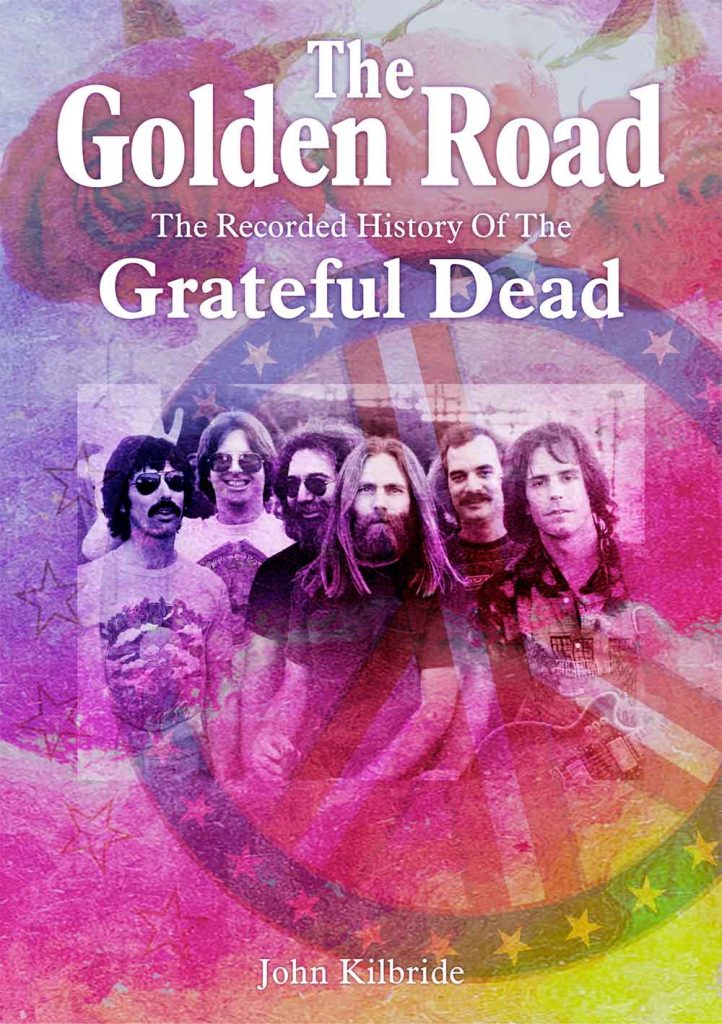 The Grateful Dead are as famous for their lengthy jams as they are for the multitude of band sanctioned live bootlegs; they're probably the most bootlegged band in the history of recorded music. This book is an impeccably researched tome documenting almost everything they've played, by virtue of their evangelical audience self-recording. This is clearly an absolute must-have for super-fans of The Grateful Dead but also an amazing labour of love that will stand as a textbook tome for generations.
Available from Waterstones
Pin-ups 1972: Third Generation Rock 'n' Roll – Peter Stanfield
This publication takes a similar format to Jon Savage's '1966' to posit the claim that 1972 is another important milestone in 'the story' of music. It's a well-argued point that focusses on 1972 being when Rock 'n' Roll went back to its roots, in order to reclaim itself from the patchouli self-indulgence that it had sadly fallen into. Other writers have made a claim for 74/75 being when Rock and Roll went back to basics, but this makes a convincing case that 1972 was where it began.  Rather than starting with Dr Feelgood or New York Dolls, we have Bowie and Bolan, Iggy and Lou, Roxy, The Who's Quadrophenia and most refreshingly, Mick Farren, an unsung hero and huge influence on the soon to emerge Punk sound.
The level of research is quite astounding; I know that Peter meticulously went through hundreds of period magazines, NMEs, Melody Makers, Newspapers, Fanzines and more to ensure historical accuracy, rather than falling into the trap of repeating oft-heard myths. This trawl through culture really pays off as it gives a tremendous sense of period for the reader and envelopes you completely in the world of the greaser as the story emerges.
Available from Reaktion Books
Grant McPhee
@GrantMcPheeFilm
---
---
---