Into New Music Review: The Pierce Kingans and Weekend Lovers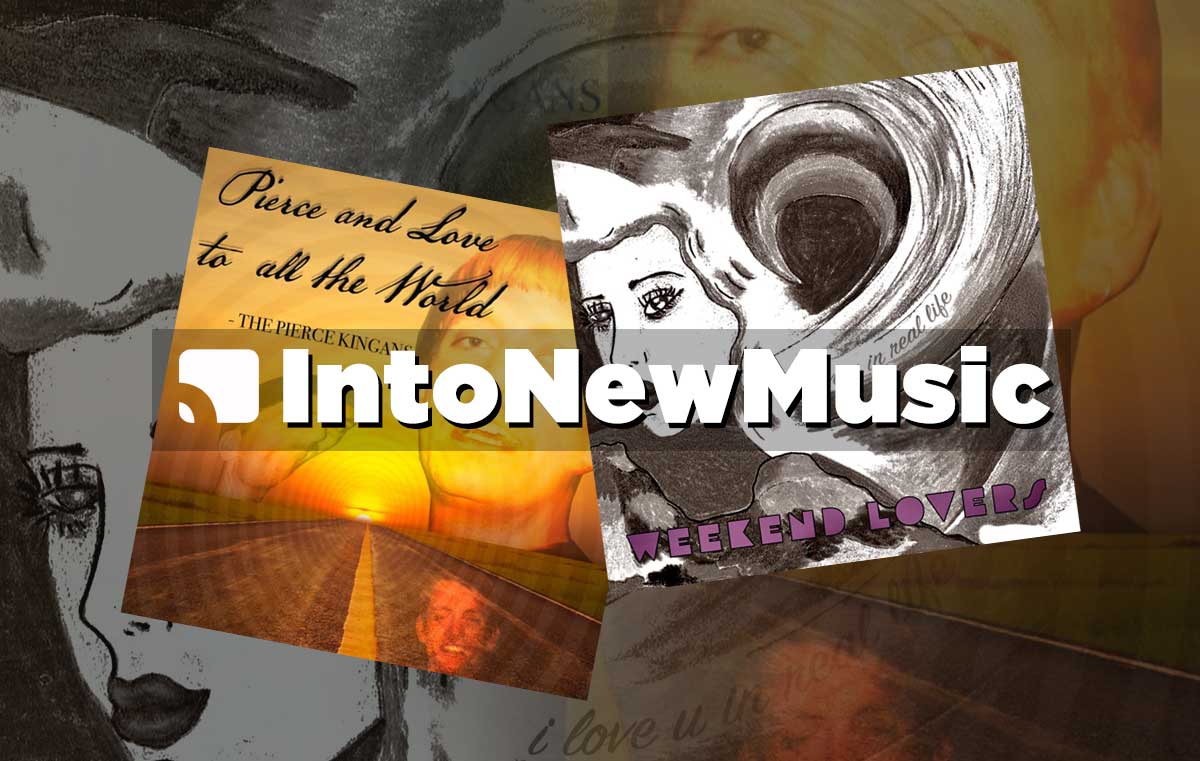 Into Music continue to squirrel away in the background, listening to an array of artists, from the established to the underground in our quest to bring you some top tunes. Speaking of which, the following have made an impression…
Artist: The Pierce Kingans
Album: Pierce and Love
Label: Subjangle 
Subjangle Records have delivered some lesser known acts to a wider audience in 2020 and they've pulled another rabbit out the hat with the introduction of Pierce Kingan. The Vancouver based artist has previously been in bands such as The Prettys and The Orange Kyte and has successfully released a series of solo and collaborative EPs in recent years.
Making up Pierce and Love is the recent EP Rona plus a "best of" from Kingan's back catalogue, 20 tracks in total which are more than enough to delve in and discover this eccentric, avante-garde artist. The Rona tracks showcase Kingan's lo-fi, indie musings with opener How Could I Forget You forging a Travis-eque vibe before the impulsive No One Owns You glides along against a mesmerising vaudeville beat. Sometimes, with it's tinkling piano and barber shop harmonies, is a feel good toe tapper, boogying and beguiling along nicely despite the song's lyrical focus on isolation.
The album has a smattering of tracks with lush,  guitar pop sounds, harmonies and simplistic melodies which wouldn't be out of place in 60s Laurel Canyon/West Coast bars, clubs and house parties. Stand outs include So Close, Only Wanted To Be and Leishmaniasis.
But there is more, particularly on tracks such as Coercion where The Pierce Kingans make a bolder nu-wave statement heralded by an expansive guitar/drum sound. Elsewhere, the band wig out and rock out on the likes of Spontaneous Human Combustion and the slacker indie-rock, Pixies inspired It's Bleed Too Long. If I have one criticism regarding Kingan it's that there is not enough of the latter type of track on the album – I'd like to think he has more of that in his cannon and time will tell if so. An artist I'll be keeping tabs on with some interest.
Pierce and Love by The Pierce Kingans is available to buy on the band's Bandcamp page here.
Artist: Weekend Lovers
Album: I Love U In Real Life
Label: Totally Real Records 
The debut release from Tucson based Weekend Lovers is an assured and accomplished album with 9 songs that immediately grab the attention from the get go. Album opener Baby combines exuberant harmonies, subtle bass lines, sharp drums, a dominant organ sound and confident vocal by singer Marta DeLeon.
The following track, Me starts off as a pretty standard indie track before being raised a level or two by another catchy chorus, pleading vocal and kaleidoscopic guitars. Big As The Dark sees the band reach into the dark depths to channel a grunge inspired, bass heavy rabble rousing song. Lost In Face continues the theme, a ballsy rocking epic which is best played LOUD!!!!!
A somewhat unexpected (but they are always the most interesting) cover of George Michael's Father Figure works really well, poptastic in its nature and providing a feel good factor and if you're not singing along by the end you really aren't paying attention.
The somewhat mellow The Man On Mars is the perfect closer to the album, a gentle-paced track that provides DeLeon the opportunity to deliver a heartfelt and at times aching vocal similar in style to All About Eve/Julianne Regan.
I Love U In Real Life by Weekend Lovers is available to buy on the band's Bandcamp page here.
John Welsh
@welshjb
Links:
---
---
---