Into Music Live Review: The Courettes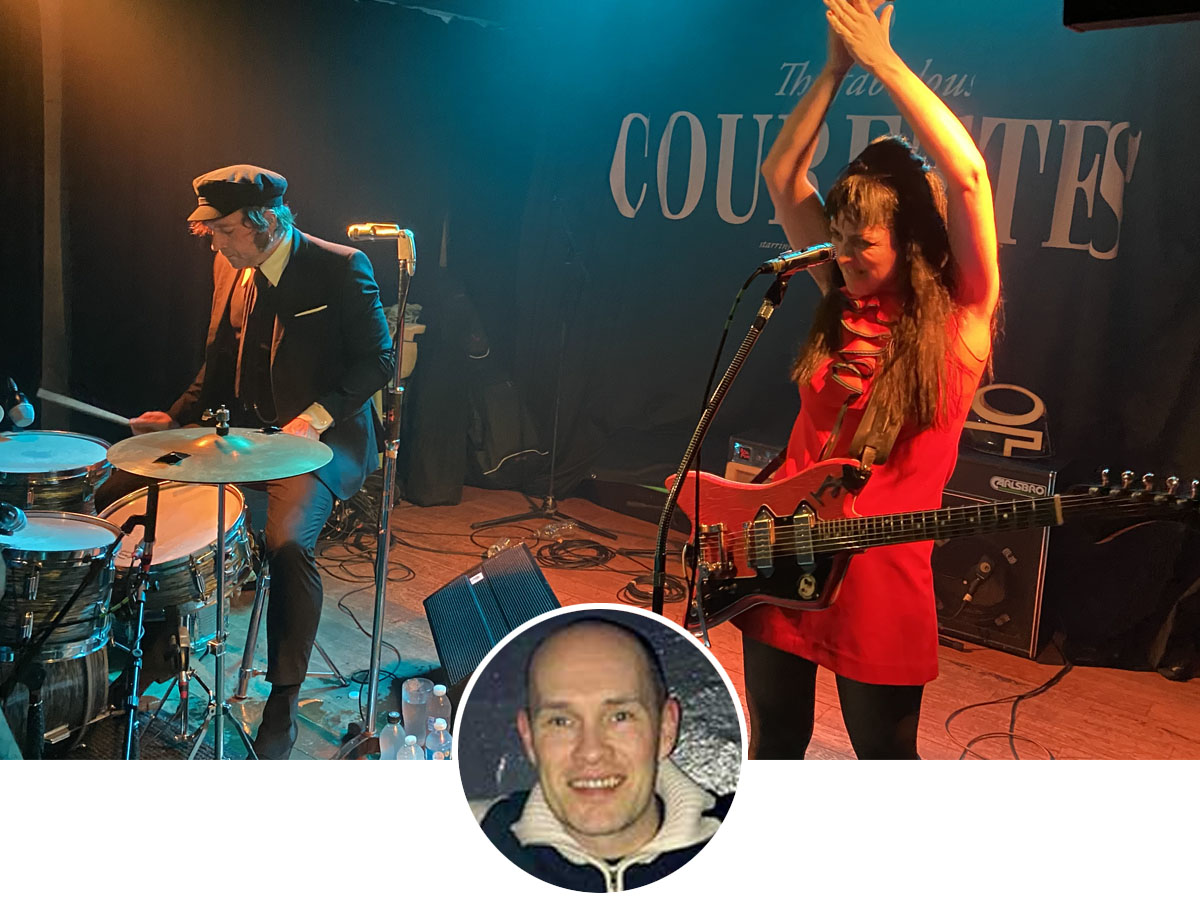 Concert: The Courettes
Venue: Glasgow McChuills
Date:  11 June 2022

Walking through the doors of one of the coolest (if not the coolest) pubs in Glasgow is always a pleasure, always a treat. Saturday night at McChuills on the High Street was, as ever, packed full of interesting characters, a solid drinks selection, eclectic music being pumped out by a sound DJ and a fantastic array of musical art on the walls, making it a must visit destination when in town. Throw in their live venue through the back with its imposing archway style shape and it all adds up to quite the mix.
The Courettes were the latest act to hit the venue and having seen many a band play here over the years, this was head and shoulders the best performance I've seen in McChuills and I've seen a few. The gig was promoted by Under The Wires – check them out as they put on some great shows across Scotland.
From the initial crash of drummer Martin's cymbals on Hoodoo Hop before the cat-like howl of singer/guitarist Flavia, the first track was up and running, the crowd vainly trying to keep up with the breakneck speed of play before the two minutes or so opener ground to a halt. Time for breath? Think again….
The songs came thick and fast, the 60s beat-era feel of The Boy I Love worked well, Flavia's vocal suited to the room, space given to her voice as her guitar stabbed and cut with consummate ease, Poison Ivy style. The 60s vibe continued with their paean to one Richard Starkey, R.I.N.GO. Has he heard it? I'd love to know!
The dream like Want You! Like A Cigarette saw the crowd providing backing vocals, rocking yet harmonious, an absolute love-in with the sound the band were making.
And so it continued. With the temperature in the room rising, the crowd -and more importantly the band – did not give up an inch in endeavour or (fuck you) attitude. At this point, We Are Gonna Die seemed an apt song to play. A dirty, scuzzy, lo-fi rock and roll track that gasped for breath, driven by incessant drums and guitar.
The crowd and band in unison with the unwritten rule that we never stop and so it was thus, Boom! Dynamite! setting the place alight before an explosive Misfits & Freaks and an on fire Hop The Twig helped bring a truly fantastic gig to a close.
Not one ounce of effort was left to give by Martin and Flavia, a two piece band who are true exponents of garage rock and roll, laden with those Spectoresque riffs and paradiddles.
Two things. The next time The Courettes are in town, go! Secondly, check out McChuills for a gig or a passing drink. And tell them I sent you.
Keep up to speed with The Courettes via their website here.
John Welsh
@welshjb
Links:
---
---
---