Into Music Reviews: A Scottish Lucky Bag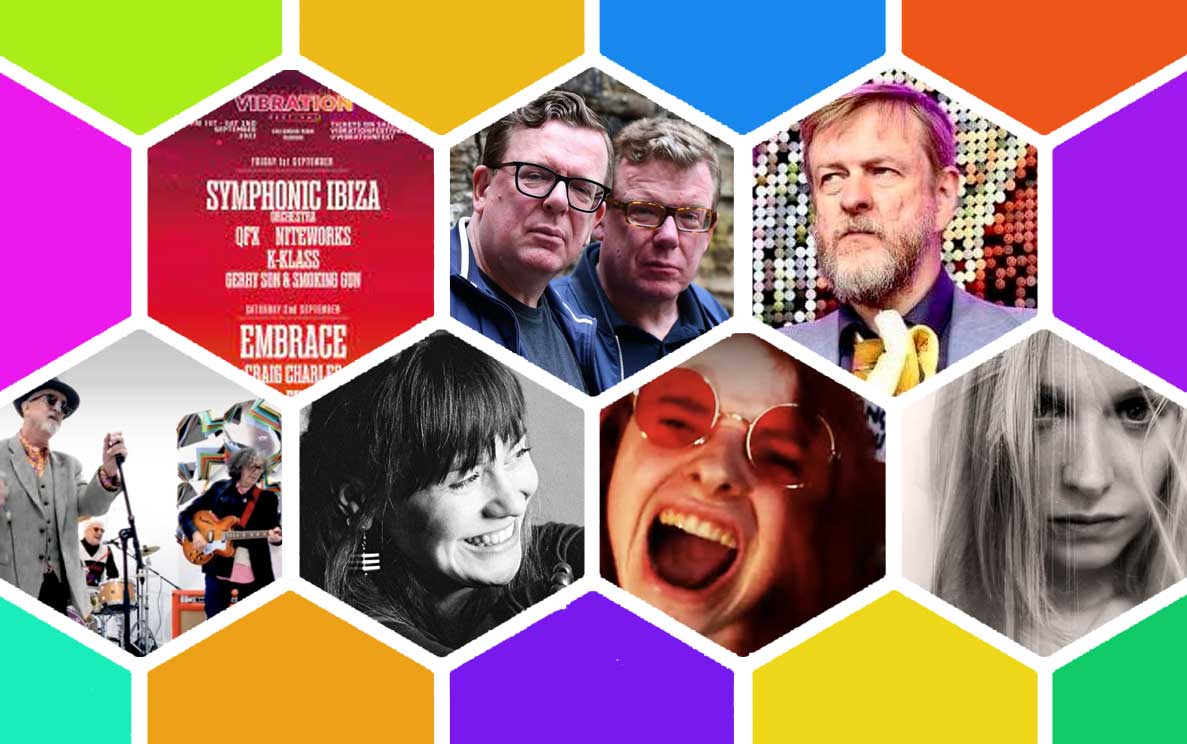 Now, I'm sure everyone reading this has fond memories of getting a lucky bag as a kid (or even an adult). Well, over here at Into Creative we've decided to re-create the lucky bag but with a musical twist. So please delve in and read through our latest article featuring new music, an upcoming festival, a gig review and new live shows all with a Scottish angle.
Festival: Vibration
Venue: Falkirk Callendar Park
Dates: 1-2 September 2023
There is simply no debate, Vibration Festival in Falkirk is the best boutique festival going on in the Central belt this year. We know this because it's been going on for a few years and has plenty to offer the discerning festival goer. Take last year for example where the line up included indie legends The Charlatans, The Zutons, Ash and The Darkness as well as Scottish talent such as Dead Pony and Brogeal, both bands have since wgone on to bigger success in the intervening months. Read the Into Creative review of the 2022 event here. 
With main, breakthrough, and acoustic stages, there are plenty of opportunities to discover new and familiar music. Add in a silent disco, bespoke food/drink and cool stalls selling an array of content and you are on to a sure fire winner. And we haven't even mentioned the park setting, in front of the imposing Callendar House. 
Vibration have announced their first batch of artists for this year which will see the Friday night focus on Balearic beats and dance tunes with the likes of K-Klass, QFX and the Symphonic Ibiza Orchestra taking to the stage. 
For Saturday, Yorkshire indie favourites Embrace will headline (they are superb live) and preceding them will be an eclectic mix of artists including Five, Space and Craig Charles. 
It's a well run festival which is suitable for all ages, with a strong and diverse range of music, including local/Scottish talent. This one is not to be missed. Get your Vibration tickets here. 
Embrace – All You Good Good People…
…………………………………………………
Artist: Goliath 
Single: Mary's Song
Label: Self released/usual streaming sites
Without doubt one of the most exciting artists to come out of Scotland in recent times, Goliath is back with a new single in the shape of Mary's Song. Incredible though it is, Goliath still hasn't got a record deal, that will surely change given his work to date (hey, Vibration, get this guy on the festival bill!!!).  
The track centres on the current cost of living crisis and the rising price of energy impacting households throughout the UK. It starts with a Beck-esque feel but soon mutates into something that is distinctly Goliath's, a whirlwind chorus resets the song and when it comes in again towards the end, it feels more intense, louder, frenetic. 
Goliath makes music on his own terms and by his own rules. Check him out now before he becomes a household name. 
………………………………………………….
Concert: The Proclaimers
Venue: Leith Links
Date: 17 June 2023
In the People's Republic of Leith there really could only be one outcome here, a triumphant homecoming of sorts for the Auchtermuchty twins, Craig and Charlie Read aka The Proclaimers.  
Beforehand, the pubs around Leith Links such as the Dockers Club and the Persevere Bar were awash with fans, mainly swathed in the Hibernian green. Indeed, with Scotland beating Norway with 2 late goals the atmosphere ahead of showtime had a football edge to it as the crowd awaited the twins and their band. 
What followed was a 24 song set covering the duo's entire career from the title track of 2022's Dentures Out album to set closer The Joyful Kilmarnock Blues. Lyrically on point with the likes of Cap In Hand and Scotland's Story the twins were accompanied by a solid band that really took the music to another level. 
No surprise that Sunshine On Leith turned in to a mass singalong with the occasional tear shed at the power and poignancy of the track. Long after the gig finished, as punters moved away from the Links to get the tram or whatever, that singalong continued into the night, smiles on every face which just proved how good the show was. We thank them, for their work. Yeah, yeah, yeah………..
Keep up to date with The Proclaimers via their website here. 
…………………………………………………
Festival: Freewheelin' Fiesta Music Festival
Venue: Glasgow Science Centre
Date: 12 August 2023                                                                                          
Science, hard to fathom but bloody exciting for the kids with concoctions, explosions and just mad, daft stuff. That's all on offer at the Freewheelin' Fiesta Music Festival but hold on a minute, music? Oh, yes, there are three acts also taking to the stage in this unique venue to really add something different to the day. 
Zoe Bestel will bring her brand of nu-folk to the stage. Her voice soft, brittle but utterly captivating. A respected singer-songwriter, Bestel has played all over the world and this is a welcome opportunity to see her perform in Glasgow. 
Alongside Bestel, the audience will be treated to two Glasgow institutions who don't need much introduction. BMX Bandits, led by the mercurial Duglas T. Stewart will also play a set which is sure to feature harmony-led tunes that have influenced a host of bands since they formed in the mid-1980s. Also playing, and hot off the heels of their recent sold out show at St.Luke's, will be The Bluebells. Mixing tracks from their two albums Sisters and new release The Bluebells In The 21st Century, this will be an opportunity for those who might not have secured a ticket for that recent show or for their ardent fans to take in the band at a different venue. 
The festival will also have a local community aspect with The Glasgow Barons who are a Govan-based community music collective appearing, plus there will be entertainment from Spangled Cabaret. 
This festival is clearly innovative, different and packed with variety. It really does have something for everyone. Get your tickets here. 
…………………………………………………
Artist: Dot Allison
Single: Unchanged
Label: Unboxed LLP under licence to Sonic Cathedral                                                                                          
Hard to believe that two years have flown in since Dot Allison released her last album Heart-Shaped Scars and Into Creative interviewed the Scottish singer-songwriter (see link here). 
Pleasingly, Allison is back with new music via new single Unchanged which precedes a new long player in the shape of Consciousology, due for release on 28 July 2023. The album sees input from the likes of the London Contemporary Orchestra, Hannah Peel and Andy Bell (Ride/Oasis). 
Unchanged is somewhat bolder and bigger than the previous album tracks yet retains that ethereal, unworldly vocal style that Dot Allison is associated with. Musical subtleties prevail until the last minute of the song which sees the track grow, blossom and flower. 
Allison said of the single "Unchanged is a love song, albeit one about being in a process with someone where you love, lose and grieve the love-bond alone, while the other person appears to remain unchanged throughout."
For more, head over to the Dot Allison website here. 
John Welsh
@welshjb
Links:
@VibrationFest
@enima-tek
@The_Proclaimers
@ZoeBestel
@DuglasTStewart
@R0Poem
@DotAllisonmusic
@SonicPRMusic
---
---
---