Into the Music Vaults: The Blue Nile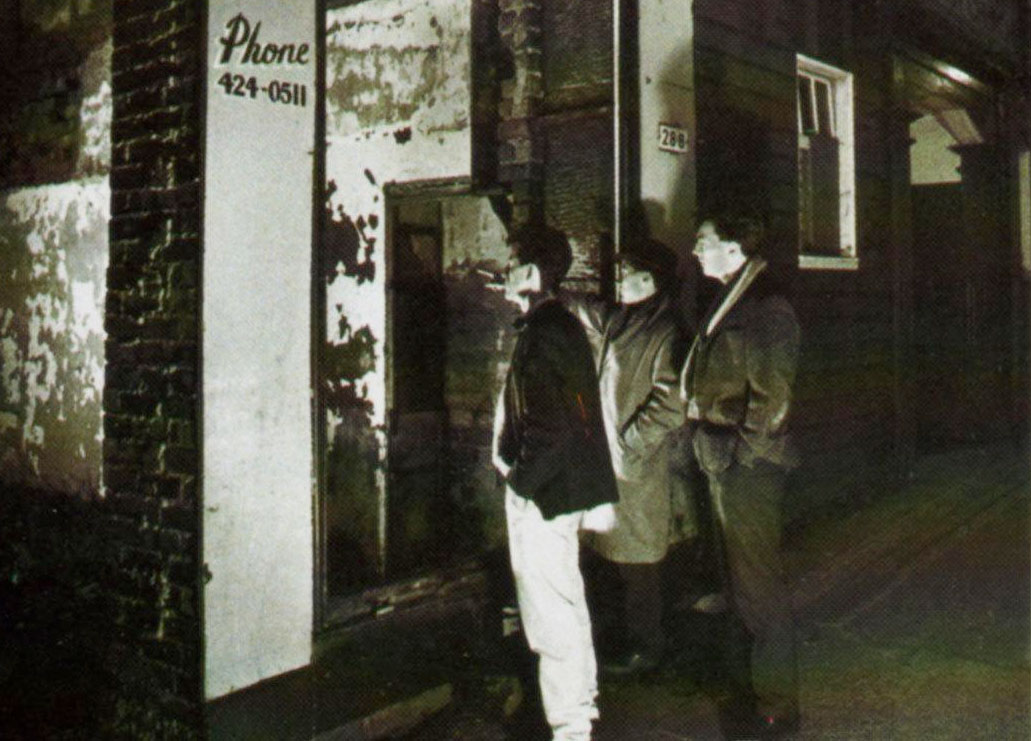 I am a music fan. Actually, scratch that. I'm an obsessive. However, the relationship I've had with cinema has pushed it damn close. From an early age, both mediums have intrigued, excited and inspired me in equal measure. From the simple association of sound and image, the unique language of light and shade to the ceremony of attending those magnificent, crumbling art deco playhouses with the heavy red velvet drapes, the perfect union of music and cinema has fired my imagination and continues to colour my own endeavours.
The films that initially captured my attention back then were the jagged, angular German expressionist movies of the 20's and 30's. I can still recall a childhood viewing of Murnau's Nosferatu on BBC2 with my brother and the disquiet we felt was real and strangely exhilarating. But it was their natural successors, the morally ambiguous '40s American film noir canon, that really made a mark in my subconscious. Worlds were formed and truths distorted in their disturbing and yet fantastical monochrome hinterlands and those movies – and their now iconic soundtracks – became touchstones that still inspire today.
I've long thought that my hometown was a city with more than a hint of the noir about it. To me, shadows and light pervade every aspect of this supposed 'dear green place', creating a visual style, a mise-en-scène that is unique. Back in the early '80s, the city was being forced into change. A once empirical force had become this beaten down, decaying industrial metropolis. Colloquial stoicism was giving way to hard-boiled cynicism; a loyalty to past masters, eroding like those magnificent factories and cinemas erected in more harmonious times. And the voice of its inhabitants was starting to change.
When I took my first steps in the 'rarefied air' of the West End of the city, I was still a relatively 'wet behind the ears' teenager. Schooled in footballing away days and musty, stale locals, I'll admit I wasn't particularly adventurous. The requirement to conform and set a straight course was more than tacitly implied. But like many before and since, I wanted something different, something that belonged to me. And here it all was, ready for the taking. From Friday afternoons consuming gallons of undrinkable filter coffee in bars, wearing heavy coats bought in second hand retro shops, to chatting to Louise Brooks look-a-likes in French sounding bistros, the scene of my movie was set. Now all I needed was a soundtrack. Now, at this time the Glasgow music scene was basically a plethora of pub rock bands and a handful of jangly Love wannabes. I always had a soft spot for the heavy – I had long hair then – but I also dug the sophomoric assurance of the less proficient janglies. Which side would I line up on in the denim wars? Tight and patchy or baggy and rolled up at the ankles? A real dilemma.
I know precisely where I was when I heard the song that sliced through my youthful pretensions and gave voice to my inner noir. No, it wasn't a shady back street at 3am or a smoky, neon lit bar inhabited by unfortunate sad sacks looking for an angle. I was in my Mum's house, a few doors from where Simple Minds' sound-scaper, Mick MacNeill grew up. On a vinyl covered radio with a coat hanger taped to a damaged aerial, the song Tinseltown in the Rain shifted my tectonic plates in less than 5 minutes. Even now, thirty years on, the song takes me on a journey. But this is not a nostalgia trip. At the time, I instantly felt the same way. The singer, Paul Buchanan's plaintive moan was more soulful than anything I'd ever heard from the blue-eyed Clyde delta. There was a texture and intimacy to the song that made me hunt out the recently released album, A Walk Across the Rooftops, and this inspiring platter rarely left my crappy turntable after that. Whether it was their intention or not, what I took from their music was their ability to transport me to a dimly lit corner of a place I thought I knew, and show me myself. And this was done with a sophistication that belied their own lack of rings on the trunk. Listening to the three note intro chord opening of Easter Parade right now, the visceral response is for a lump to form in my throat. And in that instant, this solitary man speaks for me, to me.
I know you, birthday cards and silent music
Paperbacks and Sunday clothes
I can picture him, in my minds eye. Crisp white shirt. He observes from the side lines. But his voice is of the city, his city. Our city.
In the bureau typewriter's quiet
Confetti falls from every window
Throwing hats up in the air
A city perfect in every detail
Transported, every time.
The Blue Nile were a band spoken of in hushed tones. As their music didn't make the upper reaches of the charts, all we had to go on was a video for the single, 'Stay' which was played regularly on STV when they didn't have an advert to run during their then threadbare day time schedule. This meant that it was seen by every house-bound muso, up and down the country! Some attempted to copy their effortless cool, virtually all failed miserably. The smart ones always follow their own path. The Blue Nile made a choice not to tour and an even braver one in not rushing out a follow up. Rumours abounded that they'd split or had recorded an album but were unhappy with the content. Meanwhile, the question was being asked; will the 2nd album come close to 'A Walk..'? That would be a crushing disappointment. For someone like me who craved their music, this was an itch five years in the scratching.
We needn't have worried. 'Hats' was released late 1989 and became an instant classic. From the opening electronic drum, muted guitar strum and strings of 'Over the Hillside', the album bore a hole into my heart. By the time we get to the heart rending, 'Let's Go Out Tonight', I was hooked, praying for the light. The killer track for me though is 'From a Late Night Train'; a wonderfully evocative piece of music that has buoyed me through heartache and low. A distant trumpet – with shades of Jerry Goldsmith's neo-noir score for Chinatown – plays the lament as Buchanan lets the mask fall. The keen sting of pain has never sounded so beautiful.
The cigarettes, the magazines
All stacked up in the rain
There doesn't seem to be a funny side
It's over now
I know it's over
But I can't let go
From a late night train
The little towns go rolling by
And people in the station
Going home
It's over now
I know it's over
But I love you so
The critical acclaim that followed wasn't replicated in sales but it did encourage the band to dip their toes in the water and play in front of an audience, which they did sporadically until 1997 and a performance at Glastonbury, of all places. I managed to catch them – before they returned to hibernation – at the Royal Albert Hall in London where they played every song they had, including their 3rd album – 'Peace At Last' – in its entirety. If their debut was the soundtrack for my early adult steps, with Hats perhaps mirroring the widening of my own world view, the release of 'Peace At Last' found me as it had its main voice; a careworn man at a crossroads. The lead song – 'Happiness' – begs a universal question…
Now that I've found peace at last,
Tell me Jesus, will it last?
But it was the incredibly moving, 'Family Life' that levelled me. A parent worrying about his children, a husband at odds with his wife, even now I cannot listen to this piece – orchestrated by award-winning movie composer, Craig Armstrong – without cracking like Buchanan's voice at the end.
At the end of that enormously satisfying show in London, Paul Buchanan had to tell the sell out audience that they had no more songs left to play. When the audience roared its disapproval, he soothed the 5,000 strong beast by making them a deal. If we do one more, he said, will you please go home? The audience cried out in affirmation. He then gave us a transcendent piano and vocal version of Tony Bennett's standard, 'I Left my Heart in San Francisco' before leaving to rapturous applause.
Since then, their output and public appearances have become even more rare. Are they still operational? Who knows? But that's the beauty of the Blue Nile. They skulk down the back alleys and derelict churches, the late night trains and disused factories, like a nameless anti-hero in an unmade film, but always to the beat of their own (synthetic) drummer. And I love them for it. I still use 'Exile on Main Street' as my rock out disc and Nile Rodgers' Chic will always control my feet. But it's the Blue Nile who inhabit every inch of the dark and solitary, crumbling corners of my soul.
Let's go back to 1985 and one of those aforementioned smoky bistros. As an impressionable young musician about town, I was often awestruck by the minor pop stars and celebrities I'd bump into. Occasionally they'd nod and smile whereas certain ones were downright mean and dismissive. One night, my friend and I found ourselves standing next to a very familiar face. It was Paul Buchanan. We eventually found the courage to approach him and he couldn't have been more friendly and encouraging. He didn't have to but he did. Perhaps he recognised a fellow shadow lurker. I don't know, but that gesture and his music have stayed very close to me. Has Paul found peace at last? I hope he has and I hope it lasts.
George Paterson
Stay
https://www.youtube.com/watch?v=d8pLLRYwNOM
---
---
---