Into Music Review: Vibrations Festival – Friday Night
Concert: Vibrations Festival
Venue: Callendar Park, Falkirk
Date: 03 September 2021

Forgive me Father, for I have sinned. I confess that it's been 334 days since my last lockdown concert (The Bluebells, Lola In Slacks, Mark W.Georgsson) and 548 days since my last non-lockdown gig (The Orielles).

Son, for your penance, go forth and indulge in live shows, repent at the alter of the stage, drink in the bass, guitar, drums, keyboards, vocals et al and spread the gospel – music is back!!!!
And so it came to pass, on Friday 03rd September 2021 just after 6pm, I wandered in to the Acoustic Garden stage to find The Salem 4 blasting out a hybrid brand of hoe-down skiffle and country, literally music to my ears. Stand-up bass, acoustic/electric guitar, sweeping drums and harmonious vocals were perfect in their beauty and form. The highlight being Michael Row The Boat Ashore. The ecclesiastical clergy crowd cried Hallelujah! Our absolution was complete.
Meanwhile, over at the main stage Midnight Ambulance were an instant hit, though the back story to them playing at Vibrations was slightly chaotic. Not originally on the bill, they were only asked on the morning of the festival to play after Shambolics unfortunately had to pull out. Not that you would have known as they put in an assured performance with tracks such as Smoking Sweets and new single 5am which coincidentally was also released today with accompanying video! Two of the band rocked boiler suits (seems to be a trend) and with a kick-ass drummer/vocalist this is one band who are going places. All the more astounding in that this was only their second ever live gig.
Up at the Breakthrough stage, the Dead Sea Souls put on the kind of sublime live performance that they are well known for. An expectant crowd saw the band rip through a brief set of hi-energy infused tunes. Highlights included the new track Rats, which singer Gary Burns dedicated to his young daughter and the funk/indie crossover of Trendsetter which has a hint of Disco Down by Shed Seven, some rocksteady and plenty of funk coupled with clever, observational lyrics went down a storm.
Back at the Main stage, Leeds indie rockers The Pigeon Detectives ripped through their set at breakneck speed. Singer Matt Bowman in particular was an absolute ball of energy, hurtling himself across the stage on each and every track which immediately brought the crowd onside with him.
Starting off with their top 15 hit This Is An Emergency, the set was well mixed with known singles and album tracks including Emergency, Everybody Wants Me, Take Her Back, Wait For Me and Wolves. An incendiary live act both visually and musically, catch them if you get the chance.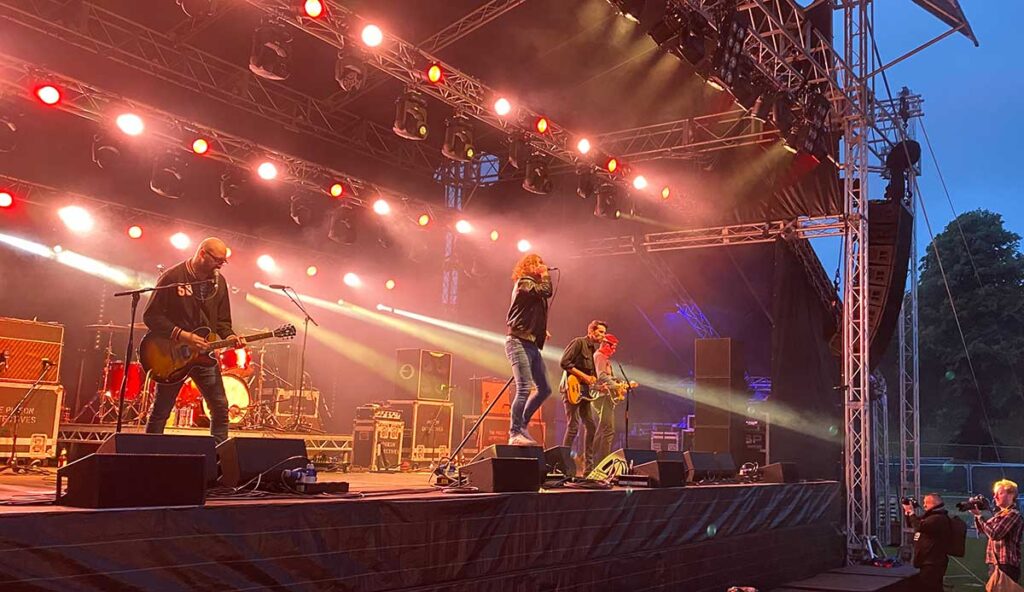 Elsewhere, there was plenty more to do at the festival with both a Secret and a Silent Disco, the former a hidden gem, the latter a good laugh. With plenty of artisan stalls, fun activities and food and drink options, Vibrations Festival really caters for everyone.
It was left to the effervescent Liverpudlians Cast to finish off proceedings on the first night of the festival and what a fitting band to do so.
Kicking off with Time Bomb from the 2012 album Troubled Times, singer John Power soon settled in and enjoyed good-natured banter and chat with the crowd throughout the band's set.
Played back to back, the trio of Four Walls, Sandstorm and Fine Time had the crowd positively rocking. The latter saw Keith O'Neill absolutely pummeling the sticks for all he was worth, I swear I saw the skins leaping off the drum kit.
And the songs kept on coming, personal highlight being the wonderful Live The Dream, though Flying and Guiding Star weren't far behind.
All in, a truly fantastic experience (it was heaven) and amazing to have live music back. So what are you waiting for? Get out and go see some bands and artists, rejoice, it's good for the soul.
Here endeth the sermon, brothers and sisters. Amen to that!
John Welsh
@welshjb
Links:
---
---
---