Into Scottish Creatives: Douglas MacIntyre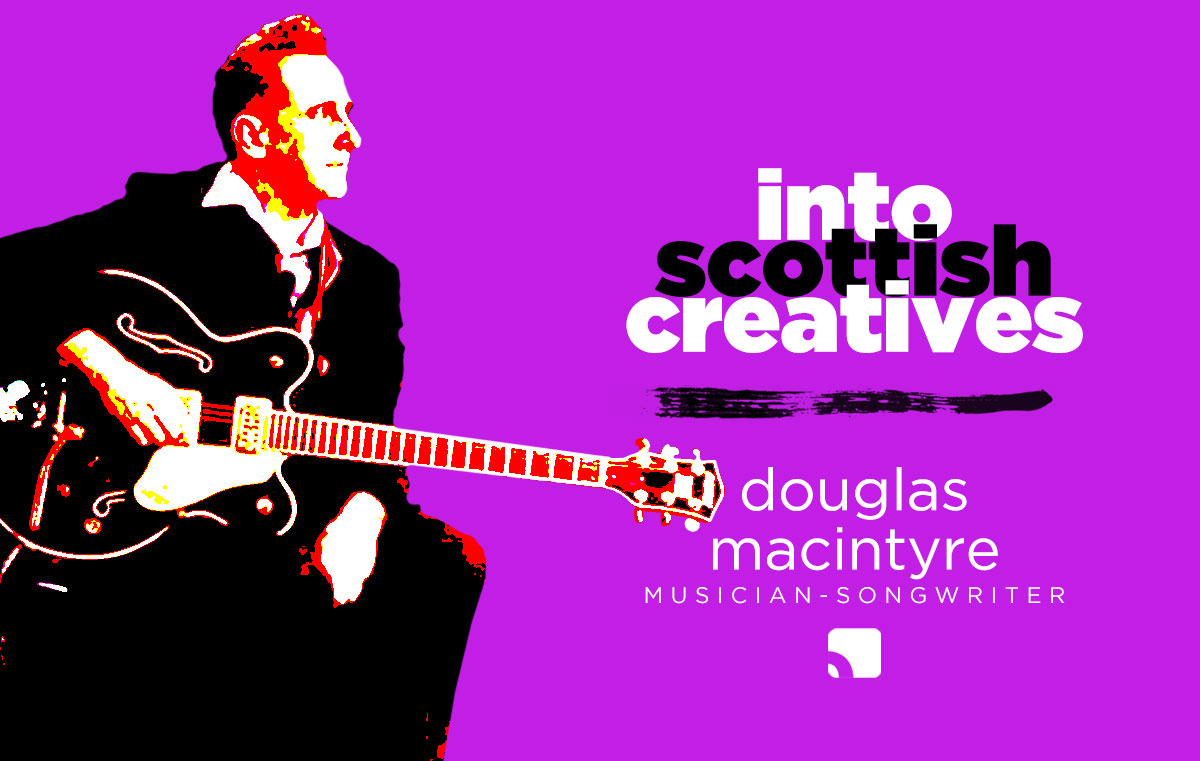 Into Scottish Creatives caught up with avant provocateur Douglas MacIntyre, one of the key Scottish creative characters to have emerged from the post-punk scene in Scotland. Douglas is heavily involved with Frets Creative which is a creative and artistic space in Strathaven as well as running the independent record label The Creeping Bent Organisation. And if that wasn't enough, Douglas, through his musical project Port Sulphur, has just released a 20 track CD entitled Compendium. Douglas was kind enough to take time out for this exclusive interview with John Welsh for our Into Scottish Creatives series.
Compendium is the debut album from Port Sulphur and runs to 20 songs split into 3 distinct though connected sections. Can you explain the origins of the album and what each section brings to the whole? 
The first track that was started was Fast Girls & Factory Boys, which I recorded on my own (apart from my then 14 year old daughter Amelia supplying vocals). I was happy with this track, however the other instrumental recordings I made at this period (about 6 years ago) I was dissatisfied with, I felt the influence of Bowie/Eno's Low album was perhaps too obvious.
I abandoned these tracks. However, after Fast Girls & Factory Boys started picking up radio support on BBC 6Music, I revisited my abandoned tracks and started deconstructing them and ripping them apart – dub was very much the guiding principle.
Thereafter I started using a "first take" ethos, whereby I had to make everything that was recorded work within the track, which often meant warping the overdubs to render them unrecognisable from the original overdub – effectively using the overdubs as source signals that were manipulated post-recording. I also started viewing the tracks from a more cinematic perspective, imagining which aural character could enhance the pieces. This is when I took a more collaborative approach to the project and started utilising the creativity of artists associated with The Creeping Bent Organisation. The three distinct sections of the album (Biblioteca, Paranoic Critical, Companion Set) came about more through random disassociation, utilising concepts taken from Oblique Strategies and The Dice Man. 
The album includes a number of well-known musicians who have all made great contributions to the songs. Was this a deliberate approach and what do you look for when recording with other artists?
The decision to work with other artists on these tracks was deliberate. I was looking for a non-authentic approach and adopted techniques from the cinema of Hitchcock/Tarkovsky, which worked far better for the project than my previous approach of playing all the music myself. I was fortunate that the bank of musicians I'd worked with via Creeping Bent over the years were happy to collaborate with me, which led to writing and vocal collaborations with Vic Godard, Davy Henderson, Monica Queen, Alan Vega, Jock Scot, Katy Lironi, Gareth Sager, James Kirk etc. This in turn led the album from sounding like the instrumental sections of the Bowie/Eno collaborations into something more lyric and vocal based.
The lead single Exploding Clockwork has a video by Grant McPhee who we've featured as part of the Into Scottish Creatives series. How did the collaboration come about?
I first met Grant when he interviewed me for his film (Big Gold Dream) about the post-punk period in Scotland covering Fast Product/Postcard. Thereafter we stayed in touch and he's made films for Creeping Bent projects by Jazzateers, Alan Vega/Revolutionary Corps Of Teenage Jesus and Port Sulphur. I think he's a major talent, his film Far From The Apple Tree is very good as are his music documentaries. We are currently making plans to collaborate on future projects.
When all this is over (Covid-19) can we expect some Port Sulphur gigs at some point?
There has been one Port Sulphur concert thus far, at the CCA in Glasgow, which incorporated film etc. I'm more interested in one-off events, and have plans for a live cinematic soundtrack next year based on the Bobby Fischer v Boris Spassky 1972 Chess Finals in Reykjavik.
You've been running an independent record label, The Creeping Bent Organisation since the mid 90s and it has released a plethora of records since its inception. What's the ethos of the label and what do you look for in an artist you'd ultimately like to work with?
The ethos of Creeping Bent is very much an indulgence of my own interests in music/art etc. Musically I like The Archies as much as I like Albert Ayler, so it's very catholic and broad. It's been a gas to work with so many talented artists over the years; Adventures In Stereo, Appendix Out, The Leopards, Alan Vega, The Nectarine No9, Bricolage, to name but a few.
In the first interview I did in 1994 for Creeping Bent to publicise our first event (Bent 001 – A Leap Into The Void), I was asked what my influences were to which I replied The Pop Group, Suicide, Subway Sect, Fire Engines, and strangely I ended up working with these people as the Creeping Bent years unfolded.
When you are not recording or managing a record label, you're running Frets Creative (busy!). Can you tell us a little of the strands that bring together Frets Creative. Also, what acts can we expect to see in the future as part of the Frets Concerts series?
I live in Strathaven, and felt there was a need for a centralised space in the town for local arts organisations to utilise, which in turn would give greater focus to Strathaven and local artists. With this in mind I established Frets Creative, which is an arts centre in Strathaven.
We have set up various strands of Frets covering creative writing and music lessons (Frets Words/ Frets Music Lessons) and are working with Creative Strathaven who will be setting up gallery space for artists and makers in Frets Creative.
My main responsibility is running Frets Concerts, which we run in the Strathaven Hotel. We opened October 2019 with an acoustic concert by Lloyd Cole and most recently had Norman Blake and Euros Childs in concert. We are planning on starting up again in October with The Bluebells and have acoustic concerts booked for Robert Forster, The Skinner Songbook, Roddy Woomble, Grant-Lee Phillips, with others to be announce soon.
You help organise the Sandfest gigs in aid of Downs Syndrome Scotland. The one at the Glasgow Concert Hall in Janaury 2018 felt as intimate as a house party. 
Our daughter Matilda (who was born in 2004) has Downs Syndrome, and during a daytime family & friends party we had in the back garden in Sandford we had some musicians around and decided to play a few songs. After doing some songs, Ken McCluskey thanks the "audience" and welcomed everyone back to "Sandfest" next year, so, it's Ken's fault!!
We then started doing annual concerts in Sandford Village Hall to raise money for Downs Syndrome Scotland, until eventually we organised Sandfest 2018 in the Royal Concert Hall (which raised over £50k for the charity).
Finally, thinking back to all the gigs you've attended, which one stands out the most as really memorable and why?
Focussing on concerts during my formative years, I first went to see the Sensational Alex Harvey Band at the Glasgow Apollo when I was 12, I think SAHB xmas concert is still the one that sticks out for me. It was like a Gorbals version of Brecht, with a Clockwork Orange thrown in. It was no surprise to me to learn that the Sex Pistols and The Clash were fans, or that Alex offered to manage the Sex Pistols – that would have been interesting. Other artists I saw at the Apollo were Bowie touring Low/Heroes, Be Bop Deluxe, Richard Hell & The Voidoids and Thin Lizzy.
In the post-punk period I'd go to every concert by Scars, Orange Juice, Josef K, Fire Engines etc. I was blown away by The Residents at the Queens Hall, Edinburgh, when they performed "The Mole Show" in 1983.
Compendium by Port Sulphur is out now and can be purchased here.
John Welsh
@welshjb

Links:
@creepingbentorg
@fretsacoustic
@fretsconcerts
http://www.creepingbent.net/contact.htm
www.fretscreative.com
---
---
---