Into Music Review: Public Service Broadcasting/EERA
Concert: Public Service Broadcasting/EERA 
Venue: Glasgow Barrowland
Date:  07 November 2021

With a new album to promote (which Into Music reviewed here) in the shape of Bright Magic, Public Service Broadcasting have been hitting the road to play the new tracks and some old favourites to venues up and down the country.
Now, normally I would describe this as a gig or a concert but that would be doing the band a complete disservice. This was an EVENT (which incidentally is how the band list the shows on their website). A fully immersive experience that was so much more than a band getting on stage, playing some songs and toddling off. With a light and laser show as a backdrop, visually it was impossible to take your eyes of what was happening on stage, behind it and also to the sides as beams of light, colour, film clips and graphics complemented perfectly the music the band so expertly delivered. 
Bright Magic is firmly rooted in Berlin, the record taking inspiration from the city's history, culture and heartbeat and the band used Bowie's Sound and Vision as their walk on track which was apt given it was recorded in the same Hansa Studio as PSB's current album. Playing the first three album tracks back to back, the immediacy of the light show was both startling and spectacular, particularly on Im Licht (in the light) before the band launched into Der Rhythmus der Maschinen, a heavyweight offering, the sound fulsome, loud and reverberating through the bones of the crowd.
Support act EERA (Anna Lena Bruland) joined the band to provide vocals, additional keys and percussion on a number of tracks. Earlier, the Berlin based musician had performed a short but fantastic set, highlights including Christine with its haunting vocal and stripped back guitar sound which went down well with the Barrowland crowd. Finishing off with recent single Ladder with PSB's Wrigglesworth and J. Willgoose, Esq. on stage, the song benefited from a full band sound with hints to Belly's Feed The Tree. EERA will release her second album, Speak on 03 December.
Progress was a track that showcased not only EERA's vocal range but also saw The Brassy Gents come onto the stage to add trombone, trumpet and saxophone, really fleshing out the track.
Elsewhere, PSB delved further into their back catalogue with Sputnik, bass beats and intricate subtleties combining to produce an abrasive cacophonous sound which was spot on the mark. An incendiary Korolev gave a platform for Wrigglesworth's powerful drumming while the synth sounds built up into a rock infused explosion, a sonic slab of dynamite.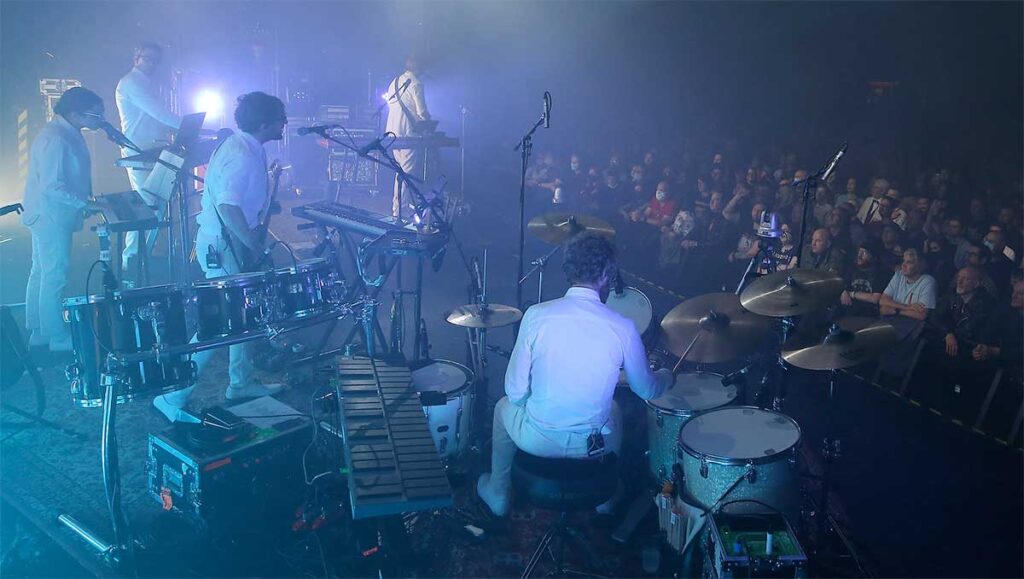 Blue Heaven was even better live than it is on the album, a poptastic melody and a gorgeous track culminating in a fading vocal which disappears before the track sparks back into life, both clever and affirming. Lichtspiel I, II and III followed, showcasing the band's ambient side, electronica and beats. This section of tracks demanded deference and it worked, just. Some inane chatter from one or two in the crowd was as unnecessary as it was unwelcome but fortunately that was short lived as the offenders were quickly "shooshed".
The visual backdrop to the start of The Other Side was stunning, the band in black and white silhouettes as messages from Apollo Control, Houston gave an eerie vibe. Go! had the crowd in fine voice as they sang back the title to the group with no encouragement needed.
A four song encore followed with the killer beats of People, Let's Dance flooding over the venue, before the funkadelic charms of Gagarin had the crowd laying down some shapes while the band were joined on stage by 2 astronauts! A closing Everest started with a solo lament on the flugelhorn before the band kicked in, the track ascending upwards, the brass section providing additional depth.
If you get the chance, go see a Public Service Broadcasting event, you will not be disappointed. As live experiences go, this was pretty unique. Berlin, sound and vision, danke schon PSB.
Keep up to date with Public Service Broadcasting via their website here and for news on EERA see her website here.
All photographs courtesy and copyright of long time PSB photographer Andrew MacColl. Exclusive deluxe editions of Bright Magic including a seperate booklet of Andrew's photos documenting the recording sessions for Bright Magic in Berlin are available exclusively at PSB's online store here.
John Welsh
@welshjb
Links:
---
---
---