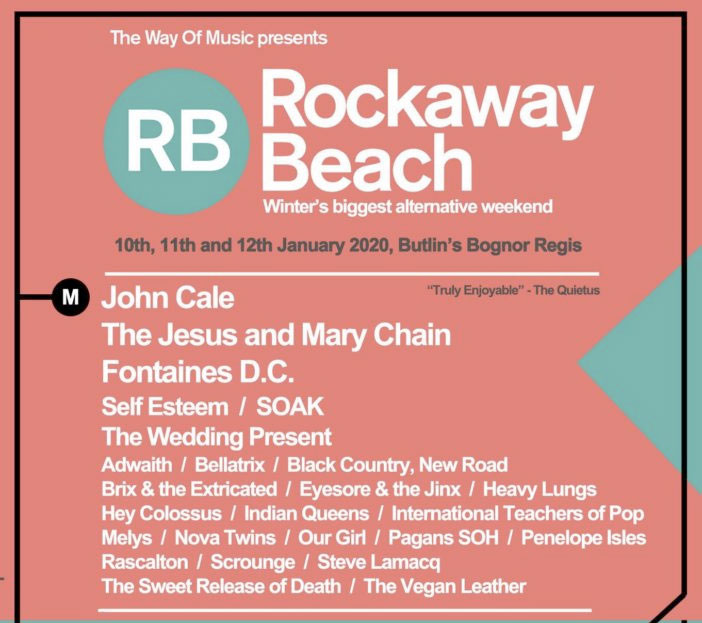 Act: Rockaway Beach Festival
Venue: Butlins, Bognor Regis
Date: 10-12 January 2020

The music festival calendar is pretty rammed in the summer months so to put one on 2 weeks after Christmas in a seaside resort takes some balls, right? Not to worry, Rockaway Beach have found the perfect formula to stand out from the crowd, enticing in music fans desperate to kick of the new year in style, to party hard, take in old and new music alike and with the added bonus of giant Space Invaders, penny falls and a swimming complex and spa to recharge the batteries (the spa is great by the way) at the Butlins complex.
We booked up for this festival early last year (before any bands were announced) which always gives that sense of anticipation and trepidation as to who will play, fingers crossed there will be bands you like. The headliners were announced soon enough, John Cale, The Jesus & Mary Chain and Fontaines D.C. – trepidation long gone to be replaced by "ya dancer" vibes.
All good, but the beauty of the festival experience is the opportunity to see and hear new bands and music and that was available in (buckets and) spades at Rockaway Beach.
Black Country, New Road were one such band. Singer Isaac Wood's vocal delivery is very distinct, the wonderful Sunglasses starts off with a deadpan delivery before exploding into an angst driven, desperate cacophony seeking out the burgeoning saxophone, violin and guitar. Their sound is different, unique and without doubt a band to catch live if you get the opportunity.
Headlining Friday night was John Cale. Earlier, the Welsh multi-instrumentalist who was such a key part of The Velvet Underground held a Q&A with music journalist John Robb, his stories of how he got involved with the New York scene, the maelstrom of ideas and clash of personalities that led to one of the defining and influential bands of all time was utterly captivating. His set too was excellent, spanning much of his solo career though the biggest cheer was reserved for the psychedelic, persistent and potent I'm Waiting For The Man.
Sandwiched between Peter Perrett and The Jesus & Mary Chain on Saturday are The Nova Twins. The trio fronted by enigmatic guitarist/vocalist Amy Love play hard, a belligerent, riff heavy set that goes down well with the crowd.
Suitably warmed up, headliners The Jesus & Mary Chain take to the stage, their sound cutting, edgy and imperious as ever. This is no best off either, the set a real mix of their back catalogue staring with Amputation from their 2017 release Damage and Joy and including stellar versions of Reverence and an ear splitting, feedback driven Sidewalking.
Early Sunday afternoon sees Scottish favourites The Vegan Leather effortlessly shake the crowd up with a set heavy on groovy electronica and pounding tunes, Unorthodox being a stand out.
Highlight of the festival was Melys, the Welsh 5 piece announced their arrival stating "we're from the 90s". With a captivating mix of songs sung in both Welsh and English, their melodies shone through, the gentle voice of singer Andrea Parker, the perfect accompaniment to the keys and guitar supplied by Aaron Watkinson. Latest single Llawenydd is a case in point, an epic song rising in its majesty, sublime. Chinese Whispers is introduced as the song John Peel chose as top of his festive 50 in 2001 and it's easy to see why.
The festival concluded with a set by Dublin band Fontaines D.C. Perhaps a punt by Rockaway Beach at the time they were announced as a headliner as their debut album Dogrel hadn't been released but the Irish band have been on an upward trajectory ever since and whoever booked them clearly has an eye and ear for talent.
Coming on stage to the sound of Sally MacLennane by The Pogues, the band quickly engage the crowd with an energetic Hurricane Laughter. They don't do much on the way of chat with the audience, preferring to concentrate on their craft, the music taking centre stage. Safe to say the crowd go nuts for staples such as Liberty Belle and Boys In The Better Band. The band slow things down for Dublin City Sky, a song that is reminiscent of the aforementioned Pogues, grandiose.
Would I recommend it, well, we are already pre-booked for 2021. Rockaway Beach, a glorious festival at a ridiculously apt time of year. Don't change it, cherish it, go!
JOHN WELSH
@welshjb
Links: