Into Music Reviews: MC50 at O2 Academy, Glasgow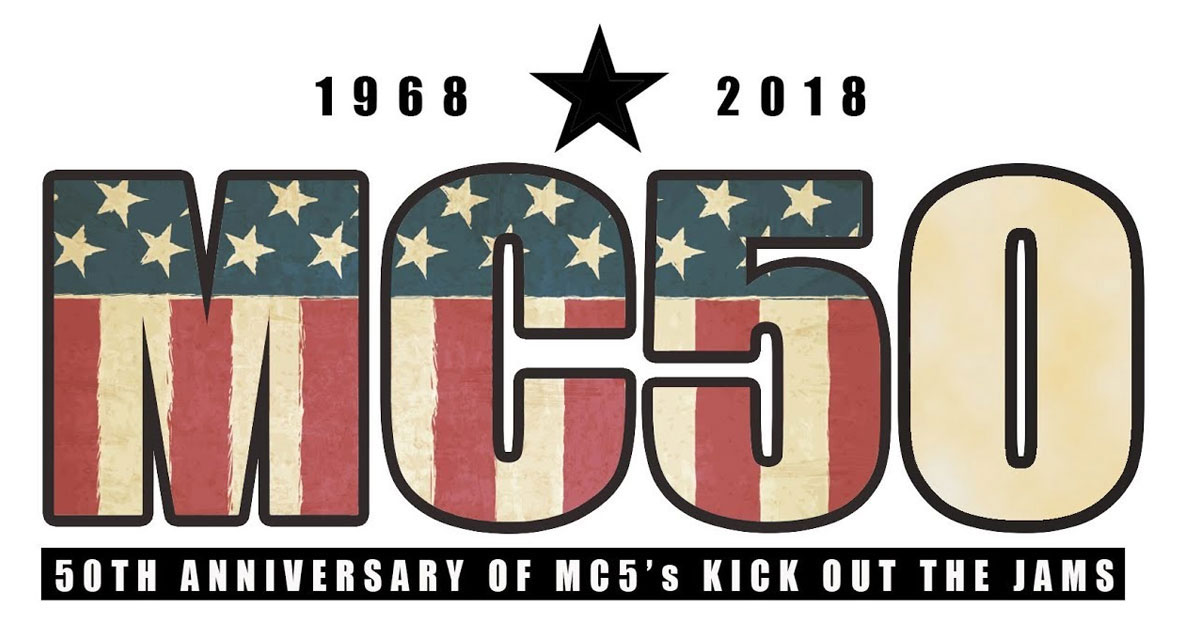 MC50: 10 November, O2 Academy, Glasgow
MC5's Kick Out the Jams is an album every record collection should have. A seminal piece of proto-punk that set the blueprint for a 1,000 other bands that followed in its wake. Hard to believe it was recorded 50 years ago or to be exact 50 years and 10 days ago from this show. Only two members survive from that time and it is Wayne Kramer who is keeping the MC5 flame alive and on the road.
It is a mark of the respect and impact the band made when you look at the line up he's pulled together for the 50th anniversary tour. Soundgarden's Kim Thayil on guitar, Fugazi drummer Brendan Canty, Zen Guerrilla frontman Marcus Durant and Faith No More's Billy Gould on bass. On some US dates he also called upon Matt Cameron from Pearl Jam/Soundgarden and Doug Pinnick from Kings X. He clearly has a good contact list.
This show was originally scheduled for the ABC but after the fire at the Art School it was moved to the Academy and as a result it was a fairly sparse crowd in attendance but those that didn't make the effort really missed out on a great show. Now I won't pretend to be an MC5 aficionado and a lot of the songs I didn't know but it didn't impact on my enjoyment of a straight forward rock 'n' roll show.
Singer Durant reminded me of Dan Ackroyd in his Elwood Blues guise as he strutted around the stage but what a voice. It was also rather weird watching Thayil playing mostly rhythm guitar instead of his usual lead role, but he was clearly loving every second and on occasion traded licks with Kramer. Billy Gould was relentless in his bass playing and wasn't taking any prisoners. It was up to Canty to provide the machine gun beat that the original band were so famous for and he was more than capable.
They came out and did the whole Kick Out the Jams album from the word go which meant we got the brilliant title track two songs in and probably the one song everyone knows best. It set the bar pretty high for the remainder of the show and it's credit to the band that they rarely dipped under that level. A lot of the songs I wasn't familiar with but 'Jams' songs aside the closer Call Me Animal and encores Sister Anne and Let Me Try were stand outs. Support act Michael Monroe joined the band on the encores, adding some saxophone to the proceedings.
Every so often it's just good to go and see a no frills, straight ahead rock show and to see a band really enjoy what they are doing and as a side note, if you were at the show and wondered why there was no merchandise, apparently it got stopped at customs. The glamorous life of a rock 'n' roll band.
Kevin Williamson
Setlist
Ramblin' Rose / Kick Out the Jams / Come Together / Motor City Is Burning / Rocket Reducer No. 62 (Rama Lama Fa Fa Fa) / Borderline / I Want You Right Now / Starship / Tonight / Shakin' Street / Poison / I Can Only Give You Everything / Call Me Animal /Sister Anne / Let Me Try / Looking at You
Links: Wayne Kramer Twitter || MC50 Website
Intro / Ramblin Rose / Kick Out The Jams
Call Me Animal
Sister Anne
Let Me Try
---
---
---