Into Scottish Creatives: Daniel Meade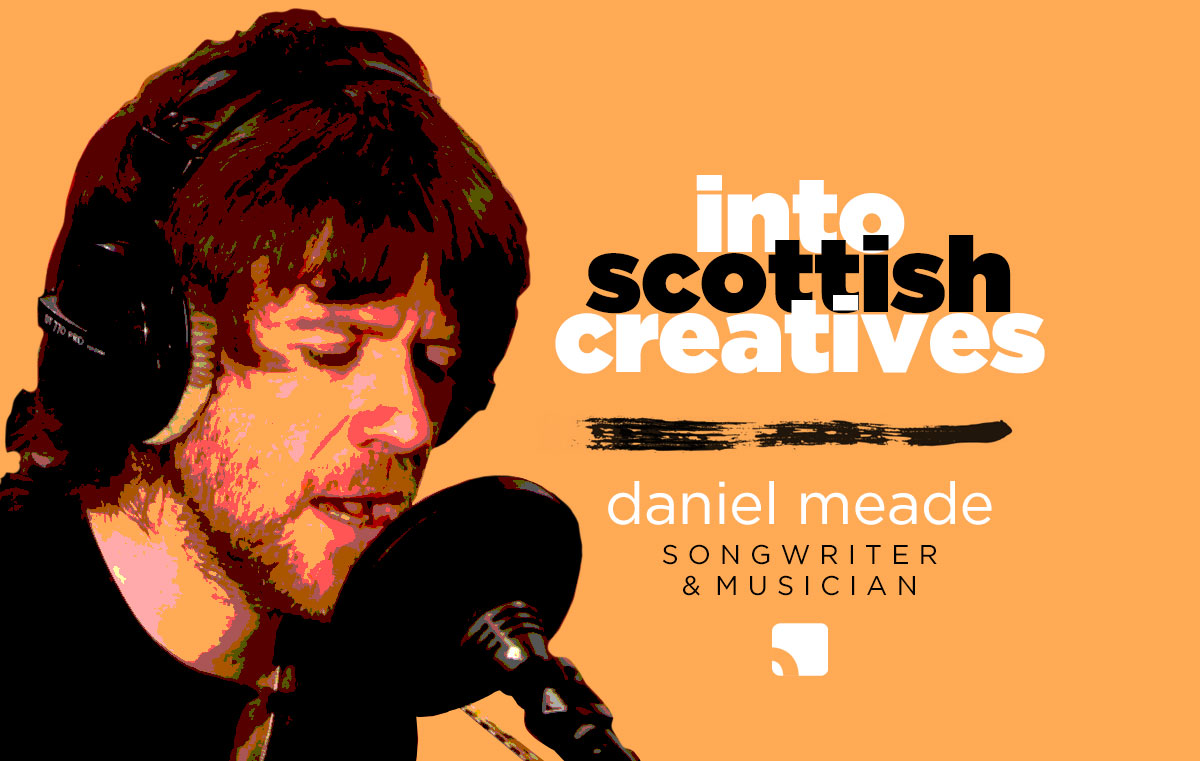 Daniele Meade is a Glaswegian songwriter and multi-instrumentalist musician steeped in the tradition of bluegrass, honky tonk, roots, boogie woogie and country blues. Daniel has featured in bands such as The Ronelles, The Meatmen, touring and recording extensively with his band The Flying Mules. We caught up with Daniel for an exclusive interview as part of the Into Scottish Creatives series.
Thinking back to the start of your musical journey, what artists first inspired you to pick up an instrument and play?
There were so many but I was most inspired by Jerry Lee Lewis, Chuck Berry and The Beatles I think. I started playing both piano and guitar around the age of 14 and it was all the old stuff that resonated with and got me going then, still does!
Glasgow can be a great place to play a gig but it can also be a tough crowd. Can you recall your first gig and tell Into Scottish Creatives about that experience?
My first Glasgow gig was playing guitar with The Pedestrians, the first band I was in with my brother Raymond and some of his mates when I was 17. It was at The Cathouse and I remember dogging off school to get to the soundcheck early! I think I sold around 40 tickets to folk from school so the place was bouncing. Pretty sure I'd have been nervous and excited in equal measure.
Throughout your career you've recorded both with a band but also as a solo artist. The dynamics I guess will vary quite a bit between the two. Do you have any particular preference or does it depend on certain factors? 
I love doing both as they present completely different challenges as a songwriter and musician. It depends on the style of songs I choose to record and what mood I'm in. With certain songs you get lucky and the elements are all there as you write them, drums, bass line, guitars etc.. So usually I'll take those for a solo record and figure out all the parts myself (except drums), like with albums When Was The Last Time or RUST. The excitement for me in that situation comes from the learning process and figuring out how to translate what's in my head to a finished record.
If I'm writing with a band or certain players in mind then I keep the demo stripped right back, so the other musicians can put their own spin on it and take it somewhere I couldn't on my own, like on The Flying Mules album. I think if you're playing and recording with other people it's important to allow room for their personalities to shine through, as it's that combination of different ideas and style that makes playing/recording with a band such a unique and exciting experience. I don't have a preference as both methods play an important part in my personal development as a writer, player and, more recently, a producer.
Your music is steeped in a mix of country, blues, boogie woogie, bluegrass and 50s rock'n'roll – can you explain how you came to record in Nashville with members of Old Crow Medicine Show and a host of other established names? 
Just a case of asking really.. I sent their manager an email to say I was going to be in Nashville the next year (2014) and would the band be interested in backing me up on a few songs. Just a total blag because they are one of my favourite bands ever. To my surprise he came back and said he'd forwarded my email on to the band and 'Good Luck'!
The following day I heard from their bass player Morgan Jahnig, who had just recently opened his own recording studio in Hendersonville, Tennessee. He asked what I had in mind, exchanged a few emails, we spoke briefly on Skype and I started sending songs, and that was it. The whole thing was pretty serendipitous as he was looking for more experience as a producer and had never recorded straight to tape (which I wanted to do for this) so he kinda used my record as a guinea pig project, which I benefited massively from. He was an absolute star to work with, put a band together for me comprised of OCMS members and top Nashville guys, let me stay at his house for 2 weeks and that's how we made it.
Even when he picked me up from the airport we drove straight to Alabama for a last minute John Prine gig he got the shout for that day, the whole thing was an incredible time. He's still a close friend now and I'll always owe him big time for all he did for me. Myself and Lloyd ended up opening & playing with them at the ABC in Glasgow later in the year, and joining them onstage for the encore was something I'll never forget.
Coming back to Glasgow, we are fortunate to have the annual Celtic Connections which covers a host of roots style music. You've obviously played this – how important is Celtic Connections for Glasgow/Scotland and also, as a fan, do you try to take in a few shows each year?
I've only ever played it as a member of Sturgill Simpson's pickup band in 2017, and as a last minute opener for my mate Mark W. Georgesson, so I'm not massively in the CC loop myself as an artist. But it's such an amazing and vast undertaking festival wise, and brings in so many incredible musicians every year.
I've heard of many international artists (and fans) coming to Glasgow for the festival and falling in love with the place. And quite understandably, it's one of the best places in the world to play and enjoy yourself. There's usually a good few shows I try to attend every year, schedule permitting of course! You can't be missing Roddy Hart's Roaming Roots Revue!
You've just released the Bullets and Bones EP – what was the recording process for this and can we expect any other new music from you sometime soon?
I recorded the EP at home during lockdown just to keep busy really! Got a real basic setup at home but it does the job. I played everything (apart from drums) so it came together pretty easy to be honest, a few days for the three tunes. It was amazing to hear it played on BBC Radio 2's Blues Show by Cerys Matthews, she's a legend for that!
Plenty in the new music pipeline yeah, next up is a project I'm buzzing about, a duo album with my good friend/long time collaborator/guitarist Lloyd Reid. We've been playing together around 12 years now and have spoken about doing it for about 6 or 7 of those years, so to finally have it done and ready to go is exciting. Fuck knows why it took us so long but we're there now!
We've managed to make something positive of the lockdown situation, both recording remotely from home studios, and knocked it out in a few weeks in the end.
Really happy with how the songs come across, and Lloyd's playing on it is ridiculous, can't wait for everyone to hear it.
You took part in the recent Love Glasgow, Hate Racism Lockdown Sessions – how did this come about for you and what was the experience like? (BTW, love the way the 3 songs were filmed with the split between guitar and piano).
Gary (one of the organisers) used to book me at Pivo Pivo many moons ago and he got in touch to ask if I'd like to be involved, which I did given the important cause it was for. It was actually a lot of fun to record with the split screen idea, glad you enjoyed it!
I'd never done anything like that myself before so putting it together was the hardest part. Slapped on a few retro effects to try keep it interesting for folk as well! The event raised over £10,000 so it was great to see it being such a success, the organizers did an incredible job and should be proud of themselves for pulling it off for such an amazing charity.
You've toured with Ocean Colour Scene as their keyboard player alongside your brother who plays bass for them – does that seem a bit surreal at times when you think back to when you were both growing up as kids in Glasgow? 
Yeah I guess so. I think because Raymond was a huge fan of the band when he was young, I remember him learning those songs on guitar when we were wee guys, practicing the riffs every day without fail, and that's how they ended up in my head. Fast forward twenty years and we're exchanging looks across the stage at a sold out Hydro show, playing those songs with them, it's a really cool thing. They're a special and iconic band and seeing what the songs mean to so many people, night after night, is a total buzz to be part of.
Lastly, thinking back to all the gigs you've attended, which one stands out the most as really memorable and why?
It would probably have to be the last time Jerry Lee Lewis was here, on his farewell tour in 2016 at the Clyde Auditorium. I'd seen him twice before so it wasn't the best I'd seen him perform (though he still had flashes at 80 years old), but I knew the minute he left the stage he was straight into his car and away while his band continue playing.
I ran round the back and, due to what can only be assigned to a security error, I saw him ushered into a waiting Rolls Royce, but the driver's door was left lying open, unattended! Egged on by Raymond I took my chance, ran over, clambered in the door and stuck my hand through the space between the seats.
He eyeballed me, and after what felt like an eternity grabbed my hand and shook it. I said 'Thank You Killer', as in for everything (I probably wouldn't be playing piano if it wasn't for hearing his records) and he looked a bit confused and said 'thank YOU' right back, he probably thought I was his driver! At that moment a security guard grabbed and launched me out the car but we got it done.. It was absolutely bonkers, what a night!
Daniel Meade's recent EP, Bullets and Bones is available on his bandcamp page here along many other releases spanning his career to date.
Feature image taken by Craig Chisholm Photography.
John Welsh
@welshjb
Links:
@dmeademusic
@Wipeout_Music
facebook.com/danielmeademusic
danielmeade.bandcamp.com
---
---
---