Into Scottish Creatives: Hifi Sean Dickson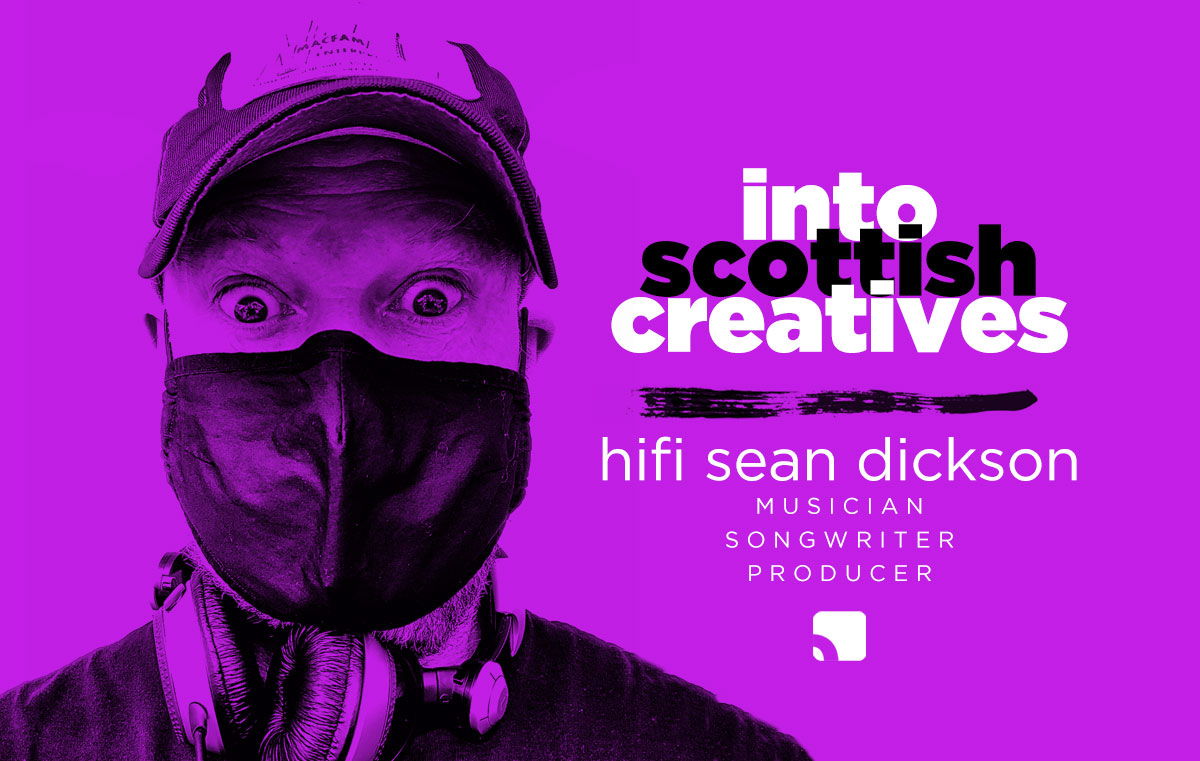 Sonic shapeshifter, (Hifi) Sean Dickson has come a long way. From the seminal C86 scene and appearances on Top of the Pops, to life as an arena rocker and now, a highly respected, dance chart topping DJ/Producer. Sean has experienced enough highs – and a few lows – to fill a dozen careers. His latest collaboration with vocalist David McAlmont – under the moniker McHifi – is shaping up to be one of his most rewarding yet.
Into Creative were lucky enough to speak with Sean recently as part of our Into Scottish Creatives series and as expected, his answers were frank, challenging and typically honest.
George: Duglas Stewart, Norman Blake and yourself all created unique and highly influential sonic statements from the same North Lanarkshire suburban streets. What was it about the 'hot blast' of Bellshill that helped forge those distinctive sounds?
Sean: You know what forged those sounds? 3 guys who were friends because we shared the same passion for music and for pop culture too. It was way before social media, of course, so you sussed out friends by what page you were on and we were so on the same page.
We would spend hours talking and studying music, never thinking that the world out there would one day be studying us, let alone making movies about us.
From Splash One supporting Primal Scream to indie chart superstars in your own right, The Soup Dragons' 1990 cut of 'I'm Free' broke into the mainstream, becoming one of the definitive songs of the year. How did you and the band deal with the transition from cult outsiders to nu psych pop stardom?
The ironic thing about The Soup Dragons was that there was more truth spoken about the pre 'Lovegod' album period than actually about the period from Lovegod onwards. 
The whole timeline, the history of when and why I wrote and produced certain things has always been embellished to make me out to be the underdog of a scene that seemed to go stellar. Yes I was influenced by acid house , drum machines , AKAI samplers you name it but it was as much psychedelic pop culture and its ethics to anything we were influenced by before. Then the 'who did it first' brigade took it upon themselves to make me look like the one jumping onto others ideas, which is so bullshit when you think about it.
'Lovegod' for instance, an album with the title taken from Prince – Lovesexy cover, fusing garage punk fuzz guitars with gospel choirs, samples of Charles Manson singing, clips from 60's psych movies, obvious Alan Vega / Suicide influences and lyrical subject matter about what's on the other side of death, the darker side of love,  John Waters trash aesthetics and most of all Catholic guilt. If the clue is not in the name of the album for that then what is?
All of that is so not baggy, indie dance etc. It just happens that 'I'm Free' was the 'kerching soundbite' and that is what the whole album is associated with. I think it's time people went back and actually listened to what that album was about before making historical judgements about it.
It pre-dated a lot of things, from an artistic & production point of view, and only now as it's not held to account anymore by inaccurate lines in the press. 
'There's always been a dance element to our records.' 
YES I did say that with reference to our record collections, which was 'cleverly' left out. The main issue at the time was that we were not the band hanging out in London with the right people, to get the right inches in the right places.  (The Music Business) was very 'Londoncentric' in those days, so all these years later, the music talks for itself. It has lasted and it's obvious to many that a lot of frustrating bullshit was thrown at the time. "OMG an indie guitar band using samplers and DJs playing their records." Remember, Mother Universe came out Summer of '89 and lots of DJs were playing it, a whole year before I'm Free was released.
3-4 years later, U2 are making dance records, Everything But The Girl making house records, but a few years earlier, I was being stoned for my ideas?
After achieving success in the UK, you toured the States, playing huge arenas with bands like INXS before breaking into the Billboard charts with 'Divine Thing', the video from which was highly regarded by the MTV generation.  What was the catalyst for your change in direction, from riff based rock to an even more dance orientated and experimental electronic sound?
It was not a 'change in direction'. I hate when people say that. It was very much an inclusion of moving forward and expanding on what we already were, with contemporary technology.  As I have always said, the sampler that appeared in my psyche in 1988/89 was like a psychedelic tool from above. With all of that stuff going on in my head, I got to play with once and for all.
I mean listen to Hotwired.  It's basically a rock 'n' roll album, with lots of technical psychedelic sprinkles.  Once again, the psyche and aesthetics predated a lot that came out later that year .
Following the demise of the final incarnation of the Soup Dragons, you created two critically acclaimed albums as part of The High Fidelity, the second of which saw a collaboration with long time supporter of your work, John Peel. Can you tell us how that friendship came about?
The first ever record the Soups made was a flexi disc for our bass player Sushil's fanzine, Pure Popcorn.  It got single of the week in NME, which was unheard of for a flexi and I think it still might be the only one that did. Something I need to find out for sure, actually. One day, me, just turned 17, and sitting at home. The phone rings and my Mum says, 'There's a guy from BBC on the phone for you.'  I picked it up and it was John's assistant who said we would like to book you for a Peel session. I blurted out we would love to but we got no money to get to London. He said,  'Give me 5 mins'. He came back on phone and said, 'John is dj'ing at Glasgow Uni next Sat.'  He said, 'Come along and meet him.' 
So I did. He gave me a big hug, pulled out his wallet and said, 'Here's £100. Come down, do the session and one day you can pay me back.'  The irony of this story is I always tried to pay him back, even in his later years when we became good friends. I was in his car and tried to stuff £100 into the glove compartment of his old Volvo and he sussed it. He went nuts and said take that right back. You know something, I really miss that guy so much. Me, and many others like me, have so much to thank him for. Janice Long too.  She's still a good friend, really championed all of us and made the music what it was back then. John and Janice opened up the world to us.
After The High Fidelity ended, you stopped making records for over a decade. Can you explain some of the factors behind your break?
Basically, I had an almighty personal breakdown and lost all confidence in myself. The move into DJing was not planned at all. I played records at Glasgow Art School and ended up running a party there with a friend and got a DJ name for it, my 'The High Fidelity' email address. For many years after, to keep involved in music, I just played away in the murky underground of after-hours clubs before deciding that the best way to regain my musical confidence was to make an album.  Working with some of my favourite artists, the album Ft. came about and now I cannot stop making records again. The obsession is back. That need to make the 'best ever record ever that I have ever heard' is back. It's a drug.
The release of filmmaker Grant McPhee's acclaimed document of the late 80's Scottish scene,'Teenage Superstars' has brought the music you and your peers created to the attention of another generation of independent music fans. Why have those artists and songs continued to influence and inspire, thirty odd years on?
Likely because we were/are real, honest and full of genuine naivety. All of those songs will stand the test of time because they were great at the time and still are. Captured youth, in all its unbridled glory.
You've collaborated with a wide range of distinctive and incredible talents over the years, from the aforementioned John Peel to Crystal Waters, Bootsy Collins, Suicide's Alan Vega and the sublime Jean Honeymoon. The summer of 2020 sees you team up with another remarkable voice, in the shape of David McAlmont, under the banner of McHifi to release the superb, 'Bunker to Bunker'. How did this latest collaboration come about?
When I made the album, Ft., David was one of the artists I asked to collaborate with. From that, we became good friends and realised we had a lot more to delve into, music-wise. So, we decided to become a duo and write the best album that we possibly could write and this is what we have and are doing at this moment; making music that sounds outside of everything else that is around at the moment. Create our own musical world. No one can touch us or deny us of what we are cooking up.
Live music has understandably been put on hold over the last few months. How has the enforced shutdown affected you professionally and personally?  
I basically lost about 4 months of shows in one phone call last month, all of the 'Summer Ibiza' ones too and lots all over the country. But during lockdown, I have become unbelievably creative and writing like crazy. Myself and David literally have the 'second difficult album' almost in the bag before the first one is even out!  2021 will see the first album released, with a few more singles on the way.  I'm very excited about this chapter in my musical life. It's up there with The High Fidelity's 'Demonstration' period which was artistically such a musical achievement. Well, take that and stick supersonic bells on it. That's what's next.
McHifi's debut single Bunker to Bunker is now available at Plastique Recordings Bandcamp
Interview by George Paterson @gfpaterson
Links:
@HifiSean
Facebook
YouTube
---
---
---