My Festive First XI of 2018 – Into Music's Writers' Choice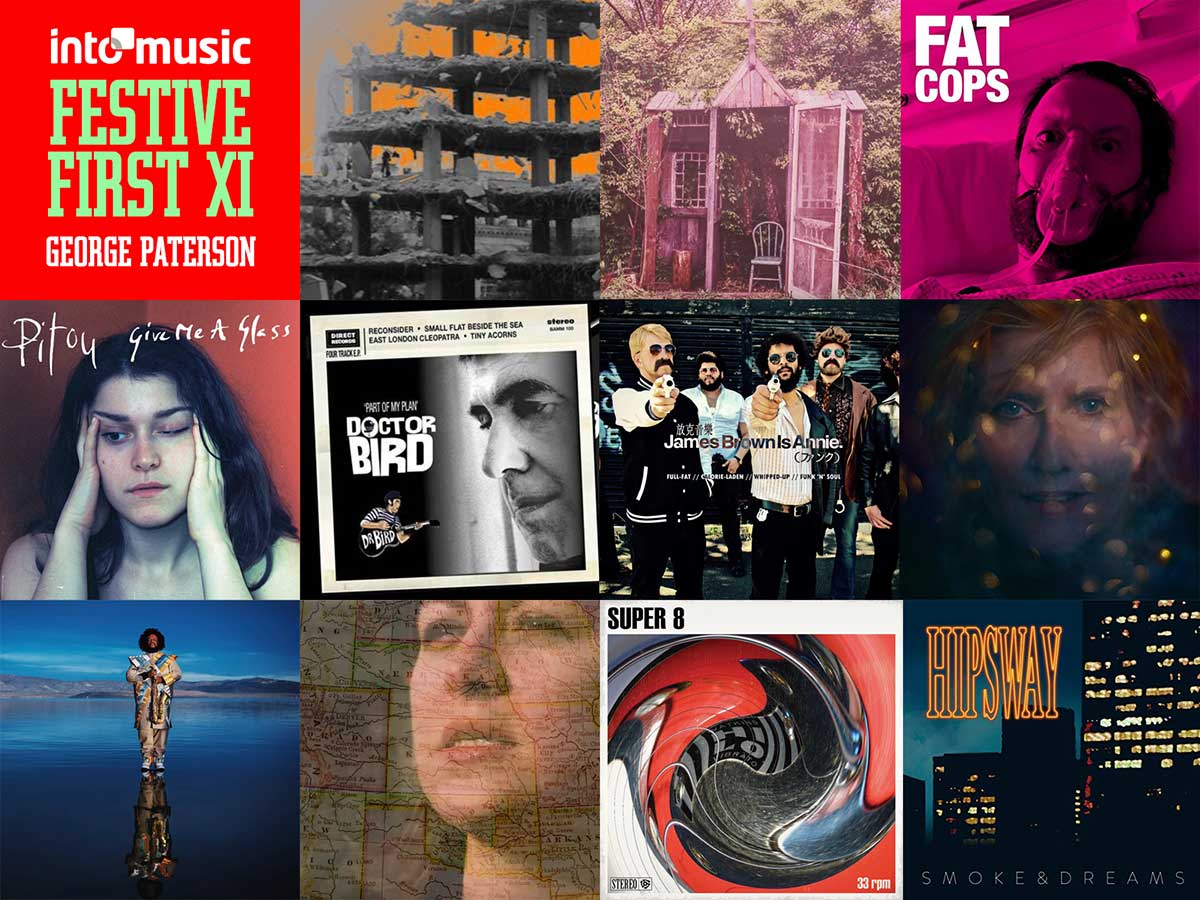 My Festive First XI – George Paterson has his say…
#11 Sun + Moon = Disguise – Dot Dash (TBM Records)
From their 6th Album 'Proto Retro' and produced by former Television and Lloyd Cole soundscaper, Geoff Sanoff, DC rockers Dot Dash mix some Stooges with Love and the results aren't as bloody as one would think. 2 mins 35 secs of riffy superbness.
https://www.youtube.com/watch?v=k-e2QjOfdiY
#10 Where I'm Headed – Marcus King Band (Fantasy Records)
High pitched, horny, sweaty and sweet Southern blues rock from Carolina-based 22 year old guitar prodigy Marcus King. If the thought of the classic Allman Brothers Band fronted by a match fit Frankie Miller appeals, you'll dig this. His 'Carolina Confessions' album is tipped for a Grammy and it's easy to see why.
#9 Fat City – Fat Cops (Fat Cops Records)
Take one Bluebell, one pub landlord and a couple of journo's, lock them in a rehearsal room and you have a supergroup that not only the Grey Brigade will love. Not as immediately accessible as the much lauded 'Hands Up Get Down' – imagine the Happy Mondays drank espresso in Hyndland bistros and not Special Brew by the Manchester Ship Canal – Fat City is a chiming Phil Spector meets Kris Kristofferson kind of thing. The song I return to most on their impressive debut. The Fat Cops might have a future in this game. If they live long enough, that is…
Available on Amazon
#8 Give Me A Glass – Pitou (Mink Records)
From the first bars of this moody yet melodic shuffle, Dutch vocalist Pitou weaves gorgeous patterns on an intimate theme. The maturity of the material and confidence of the delivery is that, in my opinion, of a soon to be major artist.
#7 East London Cleopatra – Dr Bird (Direct Records/Blaaam Records)
Heavy gigging London modernist, Bobby Tarlton (AKA Dr Bird), released his debut album 'Bedtime Stories' this year and the tracks – predominantly catchy blue-eyed soul belters in the style of Nick Lowe and Paul Weller – have made fans out of some of the English capital's top faces. This late 60's Van-esque track is the standout from an album that deserves to be heard far outside of the M25.
#6 Tomorrow – James Brown is Annie (Tollemache Records)
From their 2nd album, inventively entitled 'JBIA 2', Edinburgh based funksters James Brown is Annie take a big leap forward with this Hamish Stuart (Average White Band) produced slice of smooth soul. Will this be their 'lights in the air' moment? Mibbes aye, mibbes naw, but 'Tomorrow' and others such as 'Stand X' and 'Five Up High' – the latter with superb 'Leith as Bay City' video – shows that they're definitely on the right track.
#5 My Favourite Dress – Eddi Reader (Reveal Records)
A welcome return from one of Scotland's most evocative voices. Best track on her excellent 'Cavalier' album, 'My Favourite Dress' sees a reminiscing Eddi waltz down Argyle Street in a bid to recapture self respect and worth. Heartbreaking and quite beautiful.
#4 Street Fighter Mas – Kamasi Washington (Young Turks Recordings)
Tenor sax tyro – and occasional Kendrick Lamar, Snoop Dogg and Nas accomplice – Kamasi Washington took some giant steps closer to the jazz major leagues with his latest album, the sprawling self produced, 'Heaven and Earth'. At times both futuristic AND retro, this 3 hour long, three part suite was utterly breathtaking in terms of composition, arrangement and vision. Hard to pick just the one track but 'Street Fighter Mas' showcased enough of his own notable chops to merit inclusion ahead of 'Testify' and 'The Space Travelers Lullaby'.
#3 Alabama – Tracyanne and Danny (Merge Records)
Written for best friend, and former Camera Obscura bandmate, Carey Lander, Tracyanne Campbell's moving tribute is expertly delivered, wrapped in a jaunty country tinged chugger, co-written and performed with new musical partner, Bristolian 'Crybaby' Danny Coughlan. And when she sings, 'I couldn't hope for a better soul, when I'm an old lady I'll still miss you like crazy', it really does bring a lump to the throat. A great single with bonus points for that top bridge and key change.
#2 Angels and Neil Diamond – Super 8 (Futureman Records)
Easily the most prolific artist featured in my Festive First XI with not one, not two but THREE album releases in 2018, not to mention the stand alone singles 'It'll Soon Be Christmas' and the bonkers but brilliant, 'If Cats Had Hands'. Super 8 main man Paul 'Trip' Ryan walks a curiously inventive path and his wall of sound may be in need of a bit of pointing at times but when it comes together, as it certainly did on the heartfelt and poignant 'Angels and Neil Diamond', it really hits the mark. An under-appreciated talent who deserves a wider audience.
#1 Saturday Night (Down in the Garden) – Hipsway
Undisputed number one ear worm of the year. I've woken up singing this tune more than any other in 2018, and by some distance. Genuinely can't get it out of my head. A band clearly comfortable in their own skin – no pun intended – Hipsway have had a year to remember culminating in a never to be forgotten night at the Barrowlands just before Christmas. The self-funded 'Smoke and Dreams' stands comparison with their much-loved debut album but 'Saturday Night…' – and the delve into their past – isn't as thorny and tortured as it could've been. Instead, their trip back to the 80's is a joyful and uplifting one. A record from the soul and for the heart of any Saturday night. And most bloody mornings too. Not so catchy next time lads, eh?
And that's it. Getting it down to 11 was a pain in the arse. No doubt I wake up in a sweat at some track that I've missed but there you have it.
Happy New Year to all the staff and readers. Here's to another musical belter of a year.
George Paterson
---
---
---