Into Music Live Review: Spear of Destiny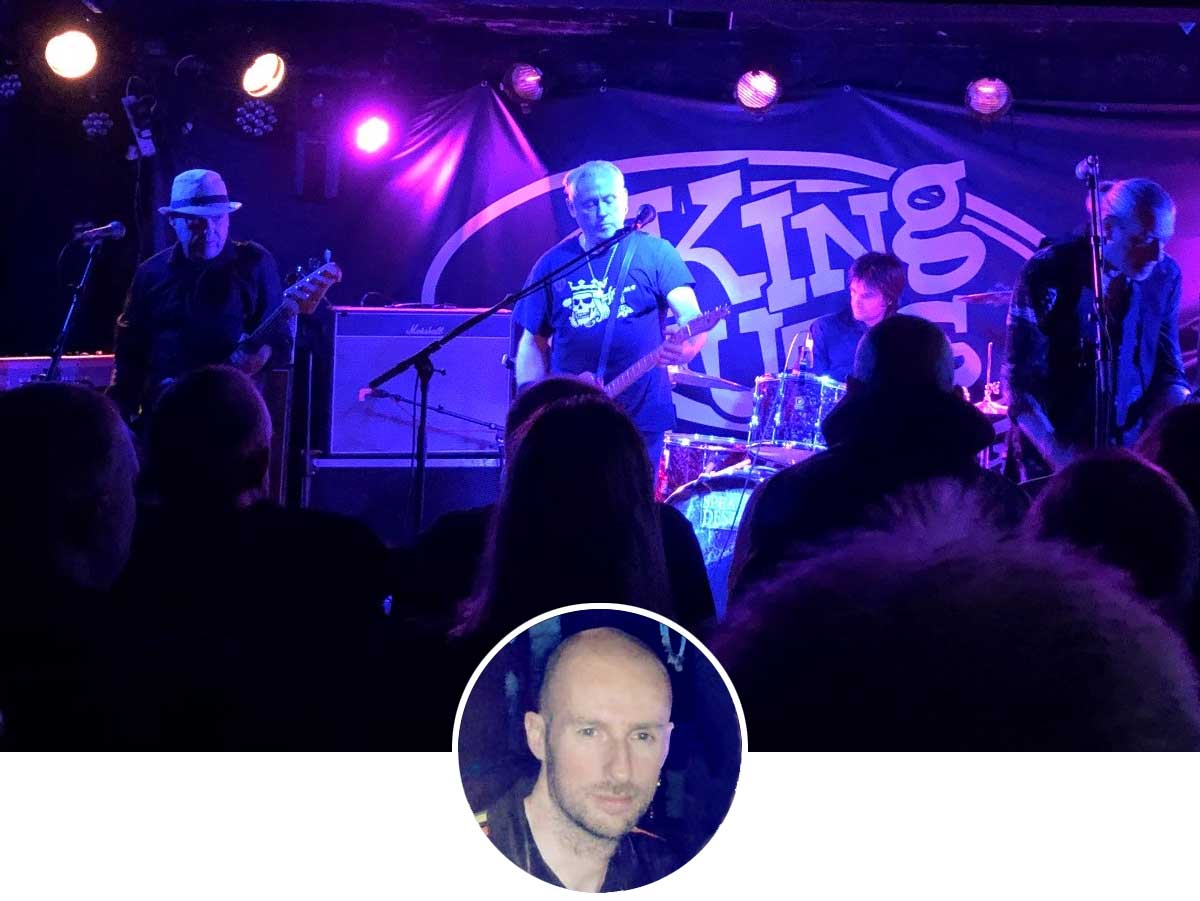 Concert: Spear of Destiny
Venue: Glasgow King Tut's Wah Wah Hut
Date: 15 December 2022

I'll be entirely transparent and admit that I was unfamiliar with Spear of Destiny when I agreed to do this review. That's a big part of doing these things though: exposing the ears to fresh sounds and the soul to new experiences. However, having had a look online prior to the gig, I'm not sure how Spear of Destiny passed me by, especially given the stuff I used to jump about to in sticky-carpet nightclubs in my teens and 20s, doing my best to avoid spilling the pints of snake bite that lubricated those halcyon, pre-Spotify days.
The venue for the Glasgow leg of Spear of Destiny's Ghost Population tour was King Tut's Wah Wah Hut, a small, intimate venue, but one that has attracted many a big name over the years and has built a solid reputation for itself as one of Glasgow's go-to places for a positive live music experience. As is often the case in Scotland, especially in winter, the crowd was clad in black jackets, sipping pints as they looked forward at an empty stage, excitedly awaiting the arrival of a band that have been around for four decades, classed by Louder Than War as "criminally underrated". My jacket was brown, but I blended in okay, despite my playful Christmas beanie hat.
Two-piece support band, The Duel, set the crowd up nicely with their blend of new wave riffs and simple yet effective electronic beats, providing the bed to Tara Rez's energetic, often politicized vocals. At the end of their punchy, engaging set, Rez said of Spear of Destiny, "You're in for a treat by the way."
Maybe one of the reasons Spear of Destiny had missed my radar in the past was their name. Rightly or wrongly, a band's name has the power to attract or repel a potential new listener, and the first thing I thought of when I heard the name Spear of Destiny was, That sounds like something it's necessary to acquire in World of Warcraft or Spyro the Dragon in order to unlock a new dimension or defeat a mortal enemy. That said, there are many average band names out there, such as Years & Years, Ocean Colour Scene, Depeche Mode, Def Leppard, The Jesus Lizard and – worst of all – Take That. Regardless, it was necessary to put a block on any preconceptions and judge everything on the performance and sound.
When the band walked on to the reception of a rapturous crowd, I couldn't help thinking they looked like six guys from six different bands. The well-dressed drummer, wearing shirt and tie, was accompanied by a bassist in a what looked like a sun hat, a keys player in a shirt that wouldn't look out of place on a Hawaiian beach, a pony-tailed guitarist and a horns player that reminded me of Scottish musician and broadcaster Vic Galloway. The only member who looked like I had expected was guitarist and lead vocalist, Kirk Brandon. As they prepared for their opening track, I clocked five mics on stage and – if I'm entirely honest – I was concerned. Two guitars, bass, vocals and drums is fairly standard, but five vocals as well as keys and horns (the main horn being a saxophone), I took a deep breath and expected the musical equivalent of a hoarder.
However, as soon as the crowd's cheers faded and the band burst into Ghost Population opener, Shine, all of my preconceptions were blown out of the water. My plus one, Jonesy, a muso and someone I've known since 1983 – a mere year since the formation of Spear of Destiny – looked at me with a knowing smile. In the space of a single verse and chorus, the band's name and my observations about image were rendered entirely meaningless.
I remember Travis – arguably with another average band name – being asked why their third album was called The Invisible Band. They said it was because a band should be judged on how they sound, not how they look. It was perhaps a strange thing to think about at that very moment, but it was apt, because judging Spear of Destiny exclusively on how they sounded – even on that first track – well, they'd just gained a new fan. Tight, powerful and everything musical blending together perfectly, I was blown away. It sounds clichéd to say it, but Shine is an anthemic number, made all the more so with the gusto in which it was performed live. It's the kind of earworm that deserves to be blasted out of the Pyramid Stage at Glastonbury on the Saturday night, the inebriated crowd singing back the easy two-word chorus in varying degrees of tunefulness. Hearing it right in front of my face at King Tut's, it was as uplifting an end to a turbulent year as you could ask for, everyone no doubt hoping that 2023 would offer something in the way of a turnaround. Although still kicking about here and there, COVID was finally on the way out, but no end of other grim things had taken its place, at a time punters need live music more than ever. In that moment though, hope and joy were the only emotions I was experiencing, brought to a packed room of black jackets via the power of music.
Even when all five vocals were at play (which wasn't too often), not once did things come across as over-busy or unnecessary. Although there have been a number of line-up changes since forming, this is testament to the many years of experience the band has, individually and collectively, playing to each other's strengths like a well-oiled premiership football team and having honed their songwriting and performance abilities to expert level. With nods to Joy Division, New Order, The Cure and at times Talking Heads, The Cult and bassist Craig Adams' previous band, Sisters of Mercy, I did wonder why horns would be necessary in a band largely categorized as new wave/punk/rock.
However, just like any guitar solos that featured, the horn parts were tasteful and fitting. Lead guitar and saxophone plus multiple vocals could have led to a cacophony of noise akin to those jazz bands where the members compete to see who's the most advanced when it comes to scales, improvisation, frills and modes. This never happened though, the horns adding something I never thought a new wave punk outfit would ever need. The Specials and even Madness popped into my head on a couple of occasions, but these were minor nods, the overall vibe being one that contributed to the Spear of Destiny sound, one that despite being fairly easy to put into a genre, also offers a degree of uniqueness.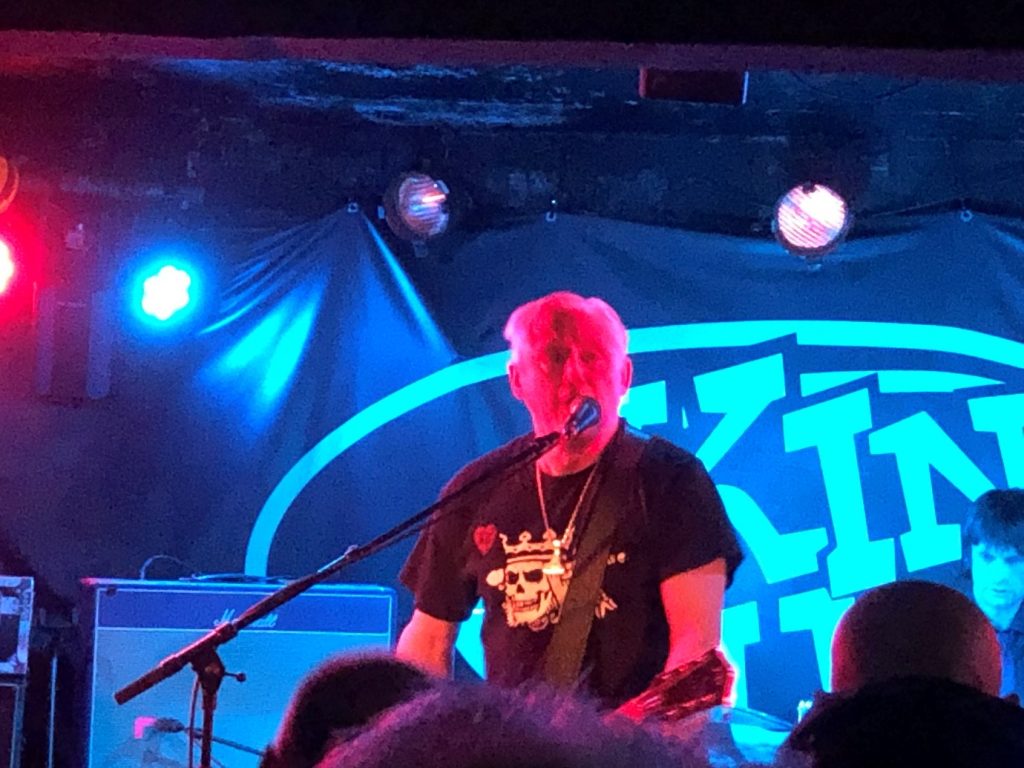 The rhythm section in a band can sometimes be overlooked, but Spear of Destiny's was as solid as they come, with drummer Phil Martini and bassist Craig Adams providing the ultimate backbone, the former showcasing his talents with metronomic and creative aplomb throughout the gig, but specifically on the fourth track from Ghost Population, Neolythic By Design. Hearing it live for the first time, the crowd lapped up the new material, but it was clear that some punters were excited for the tracks that got them into the band in the first place, such as Never Take Me Alive. Not to disappoint, Spear of Destiny honoured their seasoned fans with their encore and it was heartening to see a fan, standing directly in front of me and Jonesy, experience that joyous transformation only live music can achieve – from standing nodding to instantly pogoing, spilling a pricey pint and bouncing towards the front of the stage, carefree about any spillage and with fellow punters sharing his enthusiasm rather than berating him for it. I loved this visual of how much Spear of Destiny mean to their fans.
Interestingly, apart from the occasional photo, this was a gig where mobile phones were barely seen. It might have been the age of the band, the average age of the crowd, or because it was such a blindingly good performance that it deserved everyone's full attention…
Whatever the reason, Spear of Destiny excelled and delivered, gaining two new fans in the shape of me and Jonesy. After the gig, the merch table was understandably rammed, hopefully with as many new fans as old. Personally, I can't wait to see them again.
Ghost Population was released on October 18th 2022 via Eastersnow Recording Company and is available on CD and limited edition cream vinyl. Head over to the Kirk Brandon website here for more details.
Dickson Telfer
@DicksonTelfer
Link:
@SonicPRMusic
---
---
---