Into Music Reviews: Slayer || Lamb of God || Anthrax at SSE Hydro, Glasgow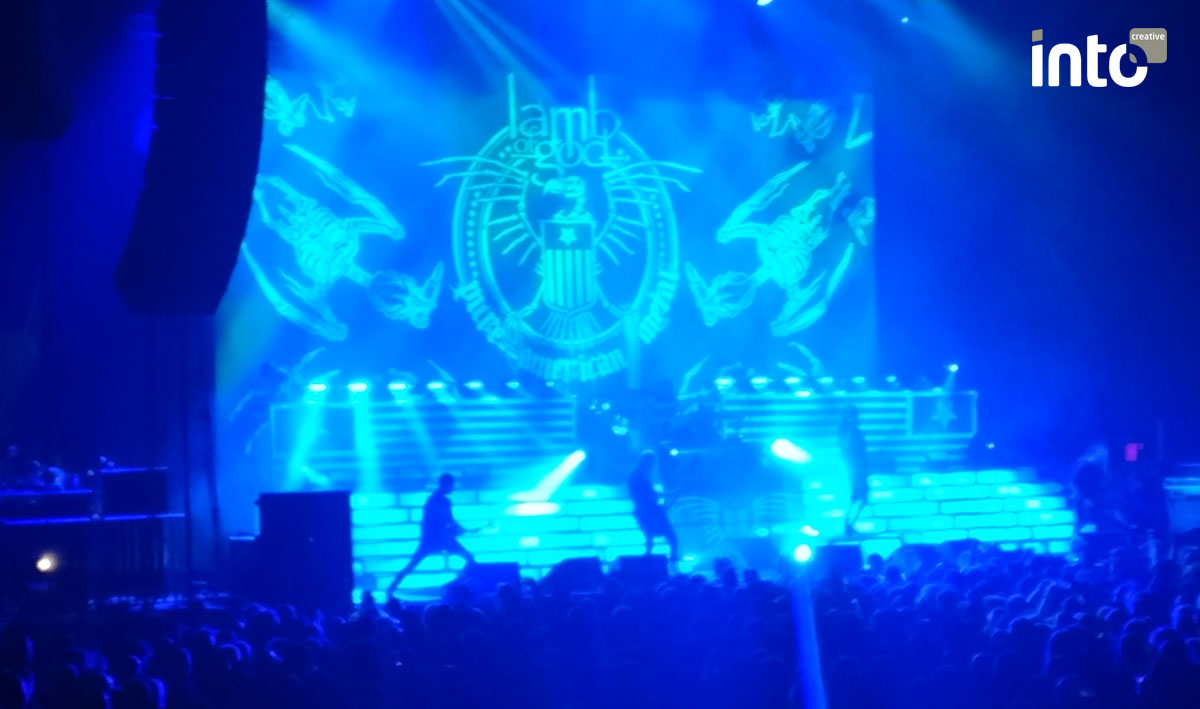 Acts: Slayer || Lamb of God || Anthrax
Venue: SSE Hydro, Glasgow
Date: 12 November 2018
I should start this with full disclosure.  Despite my love of heavy metal and hard rock I've never delved into the darkest deepest recesses of thrash metal.  I've dabbled round the edges with the likes of Metallica and Megadeth but nothing much beyond so when the offer of a free ticket came along for Anthrax, Lamb of God and Slayer I thought it was time to see what this was all about and if indeed I'd have another genre to explore. Given there were two of the big four thrash bands on the bill plus the highly rated Lamb of God this was as good a chance as any.
Sadly after nearly four hours I had to come to the conclusion that thrash just isn't for me. There were moments that were good, some of the riffs sounded great but the constant return to play as fast as you can meant there was no sustained run of music that I found listenable. There was no variation of shade it was all one-paced, although, that pace was relentless and at some point, I just became bored.  Of the three bands I saw (sorry Obituary you were on just too early) Anthrax were the ones I 'enjoyed' the most. At least singer Joey Belladonna tried to sing and at times sounded not unlike Ronnie James Dio. I did quite enjoy their cover of Trust's Antisocial and closer Indians. If I was to venture into any of the bands' back catalogues it would be Anthrax.  In contrast the vocal delivery of Lamb of God front man Randy Blythe is one of the reasons I just find it hard to take to this area of metal. The guttural death growl delivery that so many thrash bands seem to favour just puts me off and not really knowing any of the songs I was lucky if I could make out a handful of lyrics over the night. Now I'm more than sure that the discerning thrash fan knew every word and I'm also sure that folk would recommend that I listen to this band or that album but I think Metallica will be as far as I venture into this arena in the future. I did try to keep as open a mind as possible but there was not enough to really grab my attention.
On the more positive side I loved how each band got a full stage show and, in particular, Lamb of God had what looked to me like a full-on headline stage show. All three bands seemed to get pretty much the same loud PA and from where I sat there seemed to be a real metal family feel about the event and that the bands weren't really competing with each other and had a genuine mutual respect.
The crowd looked like they absolutely loved it and I guess this was a stellar line up for a thrash fan.  The circle during Lamb of God was also great entertainment.  Headliners, Slayer, on their final tour, even to this thrash rookie were in total command of their environment and some impressive back drops and stage theatrics kept my interest going to the end. I did especially like the crosses on the curtain at the beginning spinning round to be upside down.  Nice touch.  In the end though I was really beginning to flag with the constant barrage and I was almost grateful when it came to a close but I did at least stick it out to the end.
I took myself out of my comfort zone for an evening and although it had its moments, they were too few and far between. On the flip side I can see how people love these bands and I'm only commenting on them from my perspective. Possibly if I'd been born 10 years later this might well have been the type of music I would have listened to but it's really not for me and I don't see that changing any time soon.
Next up some symphonic black metal. Possibly not.
Kevin Williamson
Setlists:
Anthrax
Caught in a Mosh / Got the Time / Efilnikufesin (N.F.L.) / Be All, End All / Fight 'Em 'Til You Can't / Antisocial / Indians
Lamb of God
Omerta / Ruin / Walk With Me in Hell / Now You've Got Something to Die For / 512 / Engage the Fear Machine / Blacken the Cursed Sun / Laid to Rest / Redneck
Slayer
Repentless / Blood Red / Disciple / Mandatory Suicide / Hate Worldwide / War Ensemble / Jihad / When the Stillness Comes / Postmortem / Black Magic / Payback / Seasons in the Abyss / Dittohead / Dead Skin Mask / Hell Awaits
Encore:South of Heaven / Raining Blood / Chemical Warfare / Angel of Death
---
---
---