Into Music : Upcoming Gigs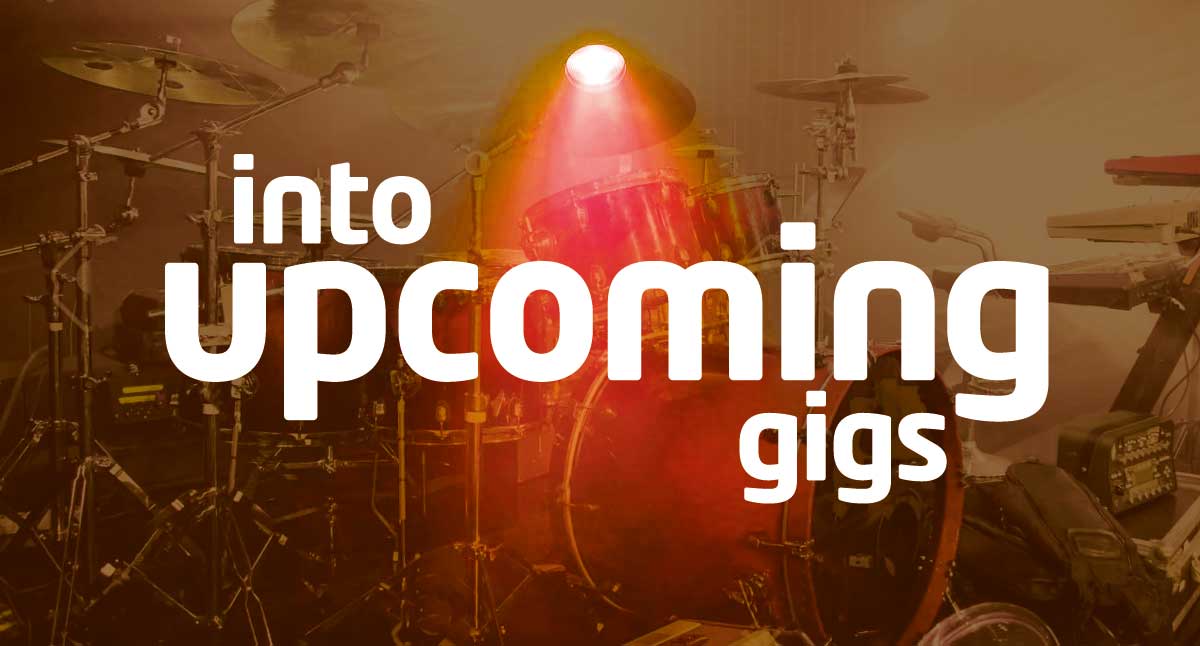 While many have their eyes on the office party, over here at Into Creative we are firmly looking forward to some upcoming gigs over the festive season and beyond. There are limited tickets available for some so have a read of our recommendations below and get yourself along to some great live music, you won't regret it.
Concert: Spear of Destiny
Venue: Glasgow, King Tuts Wah Wah Hut
Date: 15 December 2022
Take one of the foremost, rocking live acts going and add in perhaps the coolest small venue in Glasgow and it all adds up to what should be a cracking gig. Spear of Destiny have been going since the early 1980's and their hunger and appetite to put on a show is evidently undiminished. It's not so long ago we saw them in Edinburgh (read the review here) and if that show is anything to go on, you are in for an absolute treat.
Since then, Kirk Brandon and co have released a brand new album in Ghost Population and the new songs such as Ballad of the Dog, Pilgrim and Forever Their England showcase a band at the peak of their powers. No doubt there will be a sprinkling of tracks from the band's bountiful back catalogue such as Mickey, Land of Shame and Liberator to go alongside those new, choice cuts.
Brandon of course just doesn't stand still, whether it's with other projects like Dead Men Walking, Theatre of Hate or the aforementioned Spear of Destiny, both touring and releasing new music on a regular basis. With a solid group behind him including Adrian Portas and Craig Adams, the Scottish dates are expected to be extra special. So don't delay, head over to Kirk Brandon's website here for details of the U.K. tour (including Glasgow and Dunfermline) and to source tickets.
………………………………………………………………..
Concert: Gun
Venue: Glasgow, Barrowland
Date: 10 December 2022
When it comes to live gigs, it really is difficult to top a homecoming gig in your back yard. That's exactly what local heroes Gun are doing this weekend with a show at the iconic Barrowland venue. New album The Calton Songs sees the Glasgow band reinterpret some of their back catalogue in an acoustic style while also debuting the fully electric track Backstreet Brothers.
The show will be loud! Gun will plug in the amps, crank up the volume and rock out as only they can. With a back catalogue extending to 8 albums, from initial long player Taking on the World to the aforementioned The Calton Songs, the five-piece are sure to get a warm welcome. There's a handful of tickets left so if you are quick, head over to the Gun website here and secure yourself tickets to what will be a great show. The band also play The Lemon Tree in Aberdeen on 11th December.
………………………………………………………………..
Concert: Ist Ist
Venue: Glasgow, King Tuts Wah Wah Hut
Date: 13 April 2023
Based in Manchester, Ist Ist have been quietly going about their business for a few years, building up a solid reputation for their post punk, atmospheric indie sound. It takes balls to release your debut album during the pandemic but that's exactly what Ist Ist did with the excellent Architecture.
New album Protagonists is due to land early in 2023 and if new single Mary in the Black and White Room is anything to go by, it could easily be one of the albums of the year.
Having delved into their back catalogue there are a range of apparent influences (Interpol, The Strokes) but their sound is ultimately their own and fresh as hell. Crunching bass, jagged guitar and raucous drums sit well behind the distinctive voice of singer Adam Houghton.
I for one will be hoping to get to King Tuts for this one, bigger things beckon for Ist Ist so get your tickets early via the band's website here.
………………………………………………………………..
Concert: Dehd
Venue: Glasgow Barrowland
Dates: 17 February 2023
Now, I know I SHOULD make more of an effort, but I am inherently lazy when it comes to getting to a gig early and seeing the support act(s). However, with Dry Cleaning heading out on a headline U.K. tour in February, there's no doubt in my mind the support act Dehd could well end up being the story and highlight of the night/tour.
Hailing from Chicago, the indie-pop three-piece having been going since 2015 and make incredible, authentic and original music. Take their new single Eggshells for example, it starts off with a hazily strummed guitar before morphing into a psychedelic, shoegazing pop infused track before grinding to an abrupt halt then kicking in with booming reverb before, well, coming to another abrupt but final ending. It's different, grabs the attention and it's utterly adorable.
New album Blue Skies, released earlier this year has been met with significant critical acclaim and no wonder, it's stuffed with melody, harmonies, wild tunes and sound songwriting that reminds me of Beck, The Lemonheads and Teenage Fanclub. Head over to the Dehd website here for full details on the U.K. tour with Dry Cleaning.
………………………………………………………………..
Concert: His Lordship
Venues: Edinburgh, Caves & Glasgow Stereo
Dates: 02 & 04 April 2023
His Lordship announced themselves on the live scene in 2022 by leaving a blazing, scorched path in their wake wherever they performed. Unfortunately, having had the dreaded lurgy, I had to miss their last Glasgow show but that won't be happening come hell or high water when April comes around.
New single I Live in the City continues where the band left off, raucous, raging and rapturous rock and roll of the highest ilk. Guitarist and singer James Walbourne comes with a CV that saw him play with The Pretenders and The Pogues while drummer Kroffer Sonne has beat the skins for The Pretenders and Willie Nelson amongst others.
Primitive, rocking, no holds barred scuzzy music in abundance, this is sure to be one of the gigs of the year. So be there or be square and if you're not, then you ain't no punk you punk. Oh yeah! Head over to His Lorship's website for full details of their U.K. tour here.
John Welsh
@welshjb
Links:
---
---
---