Into Books Review: Dashboard Elvis Is Dead by David F Ross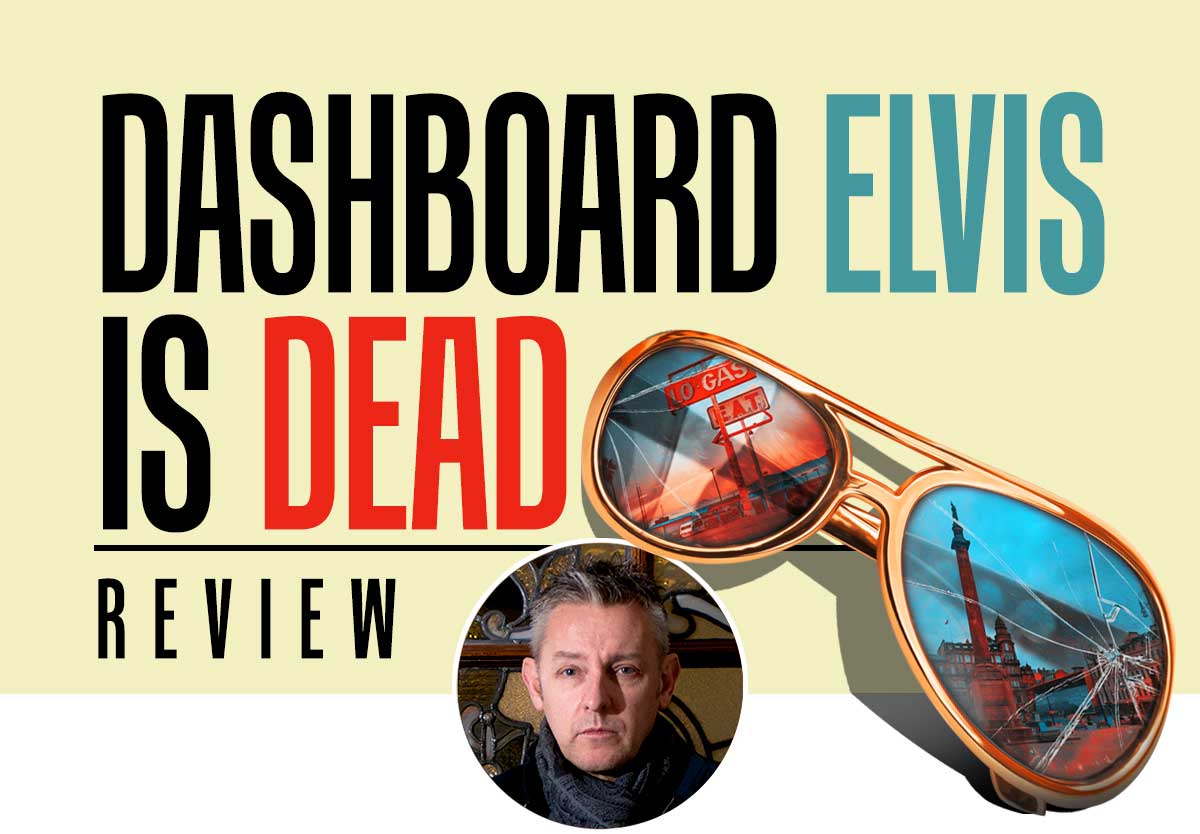 Book: Dashboard Elvis Is Dead
Author: David F Ross
Publisher: Orenda Books
Book Trailer…
Review by George Paterson @gfpaterson
Following the success of his fifth novel, the Saltire Society shortlisted, 'There's Only One Danny Garvey', Ayrshire based architect turned author David F. Ross returns with his own comeback special and most ambitious book to date; Dashboard Elvis is Dead.
If L. Frank Baum's 'Road' had been 'Red' instead of 'Yellow Brick' and had been paved by a 19th Century aristocratic Russian, it may have played out something like this…
Judithea 'Jude' Montgomery is a fortysomething, mixed race American photo-journalist.
Arriving in Glasgow, the birthplace of her father, just before the Independence referendum of 2014 and armed only with a camera, an Elvis shaped souvenir and a bag of unanswered questions, Jude needs to hook up with Jamie Hewitt, one time leader of Scottish one-hit wonders The Hyptones, a band whose embryonic career imploded spectacularly during a shambolic US tour thirty years earlier – an event witnessed at close quarters by the then teenaged Jude – rising politician Anna Mason and successful artist – and Jude's estranged foster sister – Rabbit.
And like Dante before him, weaving in and out of the allegorical, Ross also places an elucidating, at times regretful version of himself – as a fictitious first-person minor to major narrator – at the centre of this purgatorial maelstrom.
Don't want a silver dollar,
A Rabbit's foot on a string…
Culturally post-modern with a denouement that is more hellish than divine, Ross has fashioned a travelogue, given it a Nouveau Beat feel and decorated the van with instantly familiar decals – Madonna, 9/11, failed Scottish rock band – turning 'Dashboard Elvis' into a literary Möbius strip that is as compelling as it is twisted.
For my lucky penny though, as memorable as the titular lead of his previous novel was, this book's protagonist – the tortured soul of DEID, Jude Montgomery – is the most compelling character that the author has created. Restless and reckless, Ross' anti-vamp displays the courage and curiosity of Baum's Dorothy coupled with the simmering fury of a fellow childhood trauma survivor, Lisbeth Salander. Add in the ill-fated, medically altered capriciousness of a Belle Baxter and you've got Ross' Byronic heroine.
Already no stranger to tragedy, Jude bends, twists and ultimately breaks, dropping her guard as her two very different worlds collide.
An exploration of self, family, guilt and of race, 'Dashboard Elvis' wears this skilled storyteller's conscious – and unconscious – influences, not so much on his sleeve but on a bare, charred forearm like a collection of battle scars forcing the reader to confront some unpalatable truths.
'It is the function of art not to console or sustain, much less to entertain, but to disturb by telling a truth which is always unwelcome.' said Leslie Fiedler in his still influential 1960's work 'Love and Death in the American Novel'
Ross himself asserts that 'There is no truth, only perspective.'
Whatever your truth is, the following stands. If 'There's Only One Danny Garvey' was the author's big leap forward, then 'Dashboard Elvis is Dead' might well turn out to be David F. Ross' Bob Beamon moment. And like that former University of Texas student, the world will be anxious to know where he lands next.
Dashboard Elvis is Dead: Book Trailers – Written by David F Ross.
Designed & Produced by Into Creative.
Vocal by Dakota Farmer
Dashboard Elvis Is Dead is published by Orenda Books and available now:
https://orendabooks.co.uk/product/dashboard-elvis-is-dead
---
---
---