Into Music: Upcoming Gigs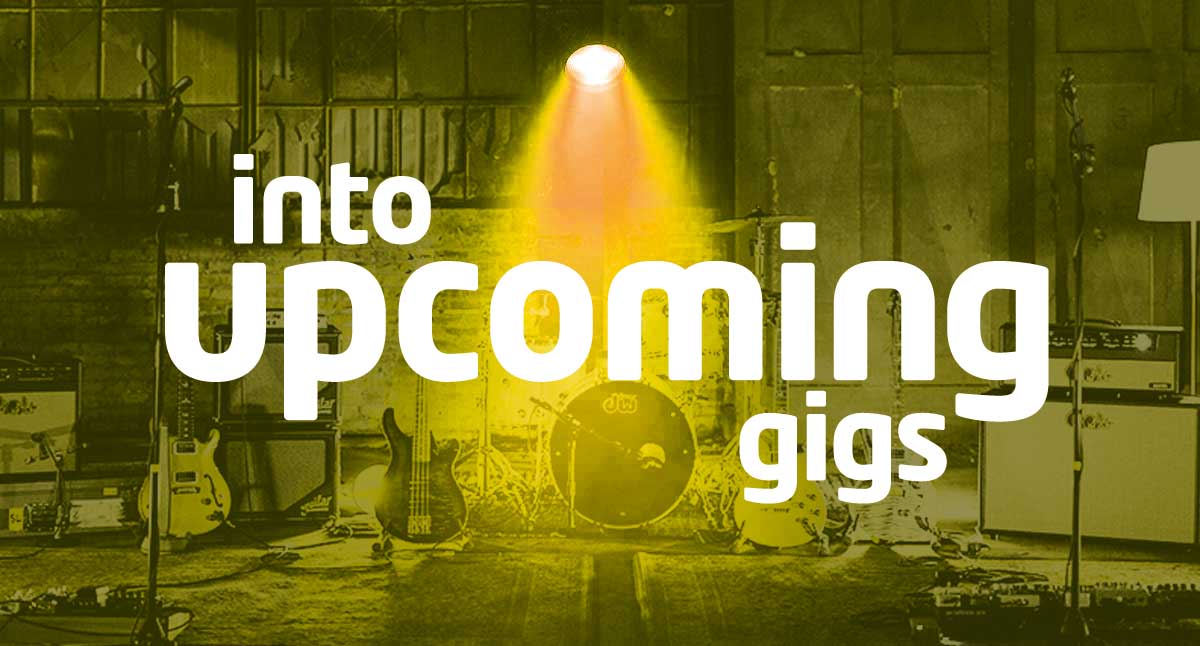 Having a look through at the listings at the moment and there are some absolutely fantastic gigs on the horizon. That's the good news, the bad news is that on occasion, there are clashes so choices have to be made which ain't always easy! 
So, we've come up with five shows that YOU really should be going to in our most humblest of opinions. Read on for the lowdown, gig-goers. 
Concert: Iraina Mancini
Venues: Edinburgh Sneaky Pete's/ Glasgow Stereo 
Dates:  6 & 7 September 2023
Now, we are huge fans of Iraina Mancini over here at Into Creative, so much so that we made the bold prediction in our April new music article (here) that early single Cannonball has a damn fine chance of being the single of the year. Five months on and the passage of time has only reinforced that claim. With her debut album Undo The Blue now also released, Mancini and band are hitting the road with a full on U.K. tour, encompassing fourteen dates.
 The latest single What You Doin' includes collaborations from Miles Kane and Kitty Liv and is a glam-rockin' synth-stomper that'll have you shaking yer hips and moving your feet in a convulsive, hypnotic boogie. 
Speaking of the single, Mancini said,
I wrote it about someone not being able to see what's right in front of them, and if they don't act soon, then you're not waiting around! It's got a lot of attitude and confidence. I love the live feel the song has, it was great to have Miles Kane (guitar) and Kitty Liv (harmonica) come down to the studio and jam on the track. Their parts added an extra sprinkle of magic to the song. 
For more on Iraina Mancini, her music and the U.K. tour, including those Scottish dates, visit the website here. 
………………………………………………………………..
Concert: Kid Congo Powers
Venue: Glasgow Room 2 
Date:  25 October 2023
Put simply, there's not many out there that have had the rollercoaster ride of life that Brian Tristan aka Kid Congo Powers has had. As a young teenager he was known as "The Prez" after forming The Ramones West Coast Fan Club and quickly established himself as a face on the nascent LA punk scene. 
Writing about music in for various fanzines and publications, yet having never picked up an instrument, it seems fate was destined to intervene when he met Jeffrey Lee Pierce outside the Whiskey a Go Go. That chance encounter led to Kid picking up a guitar and forming The Gun Club and, from there, onto The Cramps (where the Kid Congo Powers moniker was born), Nick Cave and the Bad Seeds, and various other bands, including returns to The Gun Club and now to Kid's own band, The Pink Monkey Birds.
Quite the CV and it's all captured in the excellent memoir, Some New Kind of Kick, released last year, which we can't recommend highly enough. 
A short U.K. tour will see dates in Newcastle, Glasgow, Nottingham and London and this is sure to be a hot ticket. Powers once said of The Gun Club,
We set out to destroy music, as much as create it.
and that much is true, with songs like For The Love of Ivy, Sex Beat, New Kind of Kick (The Cramps), The Ship Song (Bad Seeds) and In The Heat of the Night. 
For more on Kid Congo Powers head to the website here and for tickets to the U.K. tour visit the website here. 
………………………………………………………………..
Concerts: Beans on Toast
Venues: Glasgow Stereo/ Edinburgh La Belle Angele
Dates:  22 & 23 February 2024
Into Creative were fortunate enough to catch Jay McAllister aka Beans on Toast when he played in Glasgow in 2022 (see review here) so it's great to hear he's back with a new album (his 16th) in the shape of The Toothpaste and the Tube and with an accompanying tour. 
At times everything is way too serious whether that's in work, personal life or even in music, but you can't put Beans in that category. A genuinely cult artist who weaves and bops through life with a smile on his face all the while making music that is whimsical, uplifting and down to earth. That said, he does not miss his many targets with stinging lyrics about what is going on in the world including topics such as climate, politics, AI and war. It's the delivery that counts! 
The tour is split in two with the first half being November through to December before a break and then recommences February to March and it is February that will see Beans on Toast venture north for shows in both Glasgow and Edinburgh. 
Ahead of that, the new single, The Golden Lion is out, which is a homage to the traditional British pub. Beans says,
The characters in 'The Golden Lion' are real people, as is the bizarre history of the town that the song alludes to. I played a show at the pub last year and was so inspired by the town, the pub and its people that I couldn't help but write a folk song about it. As with the town, the song is quintessentially English, mysterious and boozy. 
For more on Beans on Toast, the album and tour head over to the website here.
………………………………………………………………..
Concerts: Girl Scout
Venues: Edinburgh The Caves/ Glasgow Stereo
Dates:  28 & 29 September 2023
A four-piece from Stockholm, Girl Scout have released a number of singles over the past twelve months and are quickly forming a burgeoning reputation on the indie scene. Laid back harmonies and rhythmic melodies are their raison d'etre and it's great to hear the band are about to embark on a U.K. tour along with Coach Party. A win/win, with two great bands on tour together. 
Girl Scout have a new EP in the pipeline in Granny Music and a single, Bruises, will precede that on 13 September. Guitarist, Victor Spasov, said of Bruises,
It's a song about reaching a certain age where you realise that the grown-ups and people around you aren't really grown-ups but are just kids stuck in older bodies. It's a song about trying to understand and forgive the wrongdoings or faults that people close to you may have and, in some ways, the whole track is a reminder for myself to try and choose love and patience instead of anger and irritation. 
For more on Girl Scout visit their website here. 
………………………………………………………………..
Concert: JAWS
Venue: Glasgow King Tuts
Date:  26 September 2023
Formed in Birmingham in 2012, the shoegaze indie popstars are back with a brand new EP in If it Wasn't for my Friends, Things Could be Different which is due for release on 15 September. This is their first new music since 2019 for a band that already have an impressive three albums in their back catalogue. 
Lead track Sweat is just under four minutes long and is an impressive return for the band. Of the song, singer Connor Schofield said,
Sweat is about dealing with your anxiety in the moment, everything slowing down and trying to take it as it comes when in an overstimulating situation. 
With an already cracking live reputation, it is great to see them back. Be sure to catch JAWS on their U.K. tour. For more, head to the band website here. 
John Welsh
@welshjb
Links:
---
---
---